This DIY Milk Jug Greenhouse Will Give Your Plant A Home In Just A Few Minutes
by Fatherly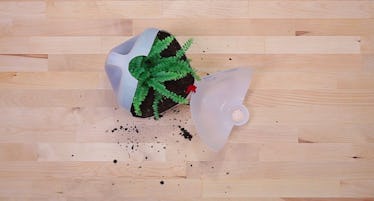 Got milk? Of course you do, your kid drinks it so much you recently Googled if it's possible for milk mustaches to become permanent (the internet says no, except maybe in the case of Lions coach Jim Caldwell). And while you may have mixed feelings about how much money you personally are pumping into the dairy industry, there is one upside you probably never realized: Those empty milk jugs might save you from having to make a trip to Pottery Barn.
How? Simple: in just a few minutes, that empty cow juice container can be transformed into a mini greenhouse that doubles as a lesson in resourcefulness for your kid. By the time you're done, you may find yourself thinking that milk was not a bad choice after all (no offense, Mr. Burgundy).
Materials
Empty one-gallon milk jug
Twine
Soil
Plant
Tools
Directions
Use scissors to cut out one half of the top of your empty milk jug. Be sure and cut out the side that does not have the handle.
Cut 2 holes in both the cut out section of the milk jug and the intact milk jug.
Tie the cut out section back to the milk jug using the twine.
Put soil in the milk jug.
Place plant in soil.
Let it grow.
This article was originally published on