8 Brilliant Birthday Cakes You Can Actually Make
Birthday cake recipes absolutely anyone can handle.
by AC Shilton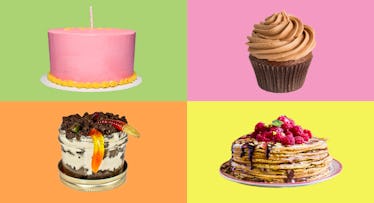 There will always be something special about a homemade birthday cake. What the final product lacks in polish it more than makes up with character. Plus, working together on the cake with your kid is more memorable than dashing into a grocery store and grabbing a generic slab of sugar.
Of course, not every cake idea you find online is doable, especially if you can't remember the last time you actually used your oven. Certain styles of cake — like sky-high layer creations, or anything requiring intricate shaping or carving, should be left to the pros, says Jessica Schwarz, owner of Silverwood Bakery, a McKinney, Texas-based custom cake shop. "I've seen a lot of purse cakes or makeup cakes [cakes that are supposed to look like these objects] that just look like lumps."
We've compiled a list of fool-proof options that look good, taste amazing, and won't turn out looking like lumps. If you're stuck for ideas, scroll on.
RELATED: 10 Great (Store-Bought) Birthday Cake Ideas
DIY Birthday Cake #1: Dirt Cake
The whole point of this cake is that it's supposed to look gross, so it's the perfect option for the un-artistically inclined. The cake is actually pulverized Oreos mixed with pudding and whipped cream, and the whole thing is topped with a few strategically placed gummy worms. Serve it in a flower pot and watch the kids' faces as you dish it out.
DIY Birthday Cake #2: Dress Cake
If you've got an old Barbie hanging around, you can probably pull this cake off. Using 4-5 layers of cake, stacked with a later of frosting between them, build a base to plunk your Barbie into. Once she's inserted into waist high into the cake, you'll shave the layers into a bell shape. Just go slow, it's not as hard as it looks, says Schwarz. Add frosting, a few ruffles, and voilà!
DIY Birthday Cake #3: Cup Cakes
If you bake them in muffin tin liners, you eliminate the harrowing step of trying to pop the cake out of the pan in one piece. And, because of their small size, you mostly negate the risk of having a cake that's burned around the edges and raw in the middle. For best frosting results, Schwarz recommends using homemade buttercream, not anything from a can. "It's just really goopy," she says of the canned stuff, and that makes piping it into a neat swirl next-to-impossible. She whips butter and powdered sugar in equal amounts until it's light and fluffy. Then, pipe the frosting onto the (cooled!) cupcakes with a pastry bag. Use an extra-wide tip for best results, which can be found at most craft stores.
DIY Birthday Cake #4: Clutter Cake
For those that have zero frosting skills, this is the cake for you. "Basically, you just top the cake with a ton of candy, or cookies," says Schwarz. Sticking KitKats to the sides, or throwing gummy bears or macarons all over the top covers any mistakes you made in baking or frosting process.
DIY Birthday Cake #5: Pancake Cake
If you're a dad whose entire recipe repertoire is flapjacks, we've got you covered. Cook off a dozen or so pancakes and stack them with some sort of filling in the middle. "I might recommend a salted caramel layer, but maple syrup would work too," says Schwarz. Top with a final drizzle of syrup and add a candle.
DIY Birthday Cake #6: Treasure Map Cake
The artistically inclined can totally ace this. Start with a square sheet cake. Frost the cake, then add a layer of fondant over the top of the frosting. (Schwarz suggests doing this because store-bought fondant is gross, and most people will want regular frosting underneath the junk they peel off. Then, grab your vodka, things are about to get fun. "You can make edible paint by mixing vodka with food coloring," says Schwarz. Mix a few colors, and paint your treasure map directly onto the fondant. "The vodka evaporates almost instantaneously," she says, so don't worry about your kids getting boozed up.
DIY Birthday Cake #7: Plain Old Layer Cake
Sometimes the basics really are best. To make and frost the perfect layer cake, Schwarz says the trick is to frost it in three steps. First, do your crumb coat. This is a thin layer that basically will be messy, since you'll probably pick up some crumbs along the way. Then, put your cake in the fridge and let that layer harden. Finally put on a second coat of frosting, smoothing it with long strokes. If you can't get it to look seamless, don't sweat it. You can always cover your mistakes with shredded coconut, crushed cookies, slivered almonds or fresh fruit.
DIY Birthday Cake #8: Donut Cake
If you can't even navigate a boxed cake mix, don't despair. A dozen donuts can save you. Arrange the donuts in a circle on a plate, and pipe frosting over the top of them. Add another layer of donuts, sticking them to the frosting. Finish with one final layer, some flourishes of icing, and a few sprinkles for good measure. Finally, call your kid's dentist to apologize in advance for the damage you're about to do.
This article was originally published on