Get Ready To Meet Your Toddler's Very First Spider-Man Cartoon
by Harlan Sharpe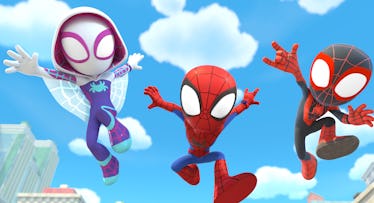 MARVEL'S SPIDEY AND HIS AMAZING FRIENDS "Marvel's Spidey and his Amazing Friends" tells the story of Peter Parker, Miles Morales and Gwen Stacy, who together form Team Spidey and embark on heroic adventures to protect their community. (Marvel)
When you were a kid, you probably watched at least one Spider-Man cartoon. And, if you're of a certain age, that Spider-Man cartoon was probably the 1981-1983 show Spider-Man and His Amazing Friends, which ran in reruns for like a million years.
But, will your kids start with that Spidey cartoon? Probably not! A far more energetic and inclusive Spider-Man series is about to launch, and, let's face it, this is the one your kids are probably going to watch.
On August 6, and August 20, Disney Jr. is debuting two new animated shows, Marvel's Spidey and his Amazing Friends (8.6) and Mickey Mouse Funhouse (8.20.) Here's a high-octane exclusive trailer. Be warned! This trailer is almost as hyper as your toddler!
Here's what Disney says about these two new shows.
"Marvel's Spidey and his Amazing Friends" is the first full-length Marvel series for preschoolers and follows the adventures of Peter Parker, Gwen Stacy and Miles Morales and their adventures as the young heroes team up with Hulk, Ms. Marvel and Black Panther to defeat foes like Rhino, Doc Ock and Green Goblin and learn that teamwork is the best way to save the day.
"Mickey Mouse Funhouse" continues the Disney Junior legacy of highlighting Disney's #1 star, Mickey Mouse, and his pals for the preschool audience. Harvey Guillén ("What We Do in the Shadows") voices a brand-new character, Funny, an enchanted talking playhouse, who takes Mickey, Minnie, Donald, Daisy, Goofy, and Pluto along to imagination-inspiring lands.
You can sign-up for Disney Jr. right here.
This article was originally published on