These Printable 'Dino Ranch' Party Decorations Cover All the Bases
by Rebecca Jane Stokes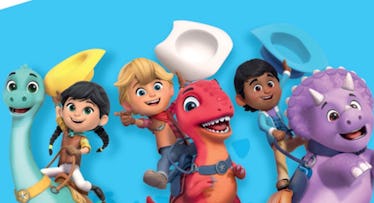 Credit: Disney+
It's a double-edged sword when your kiddo discovers a brand new TV show that they love. You're thrilled that they've found something new that makes them happy, but you know that the fresher the programming the more difficult it can be to find party decorations when they inevitably start asking for them.
That's why it brings me great joy to tell you that the fine folks at Dino Ranch are a step ahead of the curve! Just when you were starting to worry that the uber-popular show was going to leave you hanging, they've released the Dino Ranch Party Park, and we've got access to the adorable stuff to sure to make your Dino Ranch bash a blast. With one click consider your party planning needs covered and then some.
The digital file includes Dino Ranch-themed invitations, a birthday banner, table décor, posters, a cake topper, cupcake flags/toppers, gift bag covers, games, and lots of other choices goodies for devoted fans of the show! Frankly, if you've ever planned a toddler's birthday you know just how frantic the process can become no matter how good your time management skills may be. If your kid is a Dino Ranch fan, this party pack won't just make them happy, it will make your life just that much easier too.
Dino Ranch is available to stream on Disney+ and follows the adventures of the Cassidy family as they tend to critters on their "pre-westoric" dinosaur ranch. I love the way the show promotes connecting with others despite our differences. In addition to feeding their hunger for dino trivia, the show also features some pretty excellent lessons about conflict resolution, and that's definitely something you can feel good about when you're adding the finishing touches to your kid's Dino Ranch birthday party.
Dino Ranch streams on Disney+.
This article was originally published on