Dean Norris on Beer, 'Breaking Bad,' and Crying Like Real Dad
"I taught my son things, and it made me cry."
by Donna Freydkin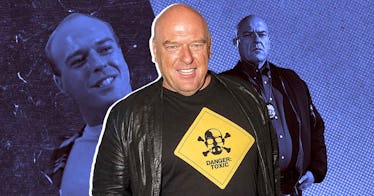 Getty / Warner Bros. Pictures / Sony Pictures Television
Dean Norris, the dude who played the bombastic and well-meaning if off-putting DEA agent on Breaking Bad who busted Gustavo Fring (Giancarlo Esposito), may look damned intimidating. He's not. Though, like Hank, he does like to drink beer.
Norris, a Harvard graduate who's been in everything from 1989's Lethal Weapon to 1990's Total Recall to 2006's Little Miss Sunshine, is now headlining the sitcom United States of Al, playing a veteran whose son, also a veteran, befriends his Afghan translator (notably, to the collective dismay of the Internet, not played by an Afghan actor). All that aside, the CBS show is getting solid ratings to date, and Norris is stoked. So stoked that he answers every question with his trademark full-body guffaw slash whoop slash chuckle.
"You know, people are intimidated if I need back them to be. I can play that card. But I tend to smile a lot. I don't think people generally are intimidated by me. (Showrunner) Chuck Lorre, he loves it when I'm angry on the show. When he hired me for Big Bang, that's the look he wanted. He thinks it's funny when the character gets annoyed and pissed off."
The dad of five talks to Fatherly about beer, fatherhood, and that aforementioned crying situation.
So what's it like being back on TV and being part of an ensemble show again?
It's great actually. I love working. I really do. In particular, this sounds really pedestrian but I love working in L.A. so I can get home at night. It's a really good place to be. It's a comedy so the days are fun. It's hard work sometimes but everyone is funny and having fun. I'm not depressed-Hank.
Your list of credits is fairly insane. What role do you get asked about the most?
Definitely Hank. Although oddly enough, some old-time fans will go all the way back to Lethal Weapon and Total Recall, which I had a weird face thing on. How did they even know that was me?
Big props to you for raising five kids. That is no small undertaking. What's been the most meaningful part of fatherhood for you?
There's so much to say. It's a scary thing, first and foremost, so there's that. My oldest son is graduating this year from high school and going into college and I just had a birthday. I get home and there's a letter on my desk that he'd hand-written. He said all the things you'd want your son to say to you, about how I taught him things, and it made me cry.
I don't even know if he knows how much that letter meant to me. All those things you worried about, you realize that you somehow made an impression and you got through. man. It was an old-fashioned letter. It was great.
Is he going to Harvard like his old man?
I'm not a pushy dad in any way. He's a straight-A student and didn't apply to Harvard. I didn't say anything. Everyone finds their own way. It's his choice.
You also launched a beer, Schraderbräu, which is always sold out. Any plans to restock? And I hope you're having one now.
Hahaha, I wish. I'm in my car, darn it. Hopefully maybe by Octoberfest. It's kind of a special edition thing but it's pretty popular. It's a good beer. I'll work on it.
United States of Al airs Thursdays on CBS. It streams on Paramount+