How a PG-13 'Deadpool 3' Could Actually Be Great
Shawn Levy could make this "family friendly" Deadpool the best one yet.
by Richard Newby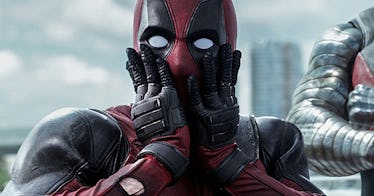 20th Century Studios/Disney
Deadpool has entered the building. That building just happens to be Marvel Studios. The merc with the mouth, now synonymous with actor Ryan Reynolds, will get a new lease on life in the MCU. Last week the news broke that director Shawn Levy will direct the third entry in the series, following two successful collaborations with Reynolds, Free Guy (2021) and The Adam Project (2022). Although screenwriters Rhett Reese and Paul Wernick, who wrote the first two entries are returning to pen the new one, there are already concerns among fans that Deadpool 3 will sacrifice its R-rated raunch for PG-13 hijinks. But would that be such a bad thing?
First off, I want to make clear that both Bob Iger and Kevin Feige have previously stated that Deadpool 3 will be rated R, so this could all be moot. But we also all know that plans evolve, and when dealing with the biggest franchise in the world, known for its strictly PG-13 offerings, and connective tissue that entices everyone to see every entry, we should at least brace ourselves for a Deadpool film that's a little different from what's come before.
Levy, beyond his collaborations with Reynolds, is also known for his directorial work on Night at the Museum (2006) and its two sequels, Real Steel (2011), and Stranger Things on which he also serves as executive producer. What all of those films, along with Free Guy and The Adam Project have are massive amounts of heart, enough to at least make you misty-eyed by the end. I still haven't recovered from those final scenes in The Adam Project. These films are emotionally involving experiences that ultimately have a core theme of love. And its love — not dick jokes and massive amounts of hemorrhaging — that the Deadpool films have thrived on.
Now I'm not saying I don't love copious amounts of gore and swearing, but when I think about Deadpool (2016) and Deadpool 2 (2018) I think the relationship between Deadpool and Vanessa (Morena Baccarin) in the first, and Deadpool's journey of self-healing, a task that requires more than his mutant healing factor, in the second film. It's the character motivations that come first, and his relationship with other characters, and Levy has always thrived on interesting characters and unique bonds, even amidst relatively straightforward plotting. Of course, alongside the emotional core of Deadpool films, there are also insane action sequences. Levy has proven he has the chops for that with both Free Guy and The Adam Project, working to Reynold's strengths as both action hero and comedian with cleverly crafted fight sequences, that still packs a punch even though they aren't bloody.
A PG-13 rating would also permit for a humorous meta version of censorship, with Deadpool commenting on the fact that he can't say or do some of the things he used until Disney censored him. This also wouldn't be too different from the comics. For all the insistence that Deadpool is an R-rated character, the vast majority of his comic appearances, excepting the MAX series, fall into the realm of PG-13, and they're still just as funny as ever. And if we're really being honest, a PG-13 can be pushed very far. Just take The Batman for example. So, I think the question comes down to: do you like Deadpool because he can say "fuck"? or do you like Deadpool as a character with an emotionally compelling journey? The two aren't mutually exclusive, but knowing that Levy will deliver on the latter, makes the former less essential.
Deadpool 3 is in pre-production. Deadpool and Deadpool 2 are both streaming on Hulu.