David Harbour's Stepdaughters Think He's a Dorkier Dad Than the Red Guardian
"They just can't stand it. They just think I'm an idiot."
by Donna Freydkin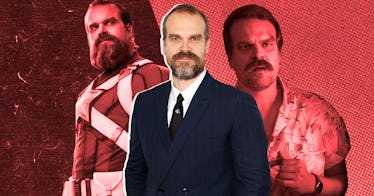 Disney / GETTY / Netflix
At one point during Black Widow, David Harbour has the ultimate embarrassing dad moment. You know, that time you tugged on your well-worn, much-loved, thoroughly frayed Weezer concert T-shirt, only to have it split at the side? Or when you tried to resurrect those high school soccer glory days, only to wind up with a busted knee and an even more busted jersey? That kind of moment.
you find yourself rooting for the unabashed and utterly oblivious washed-up superhero Red Guardian, as played by Harbour. Known until now as quietly heroic police chief Jim Hopper on the Netflix series Stranger Things, Harbour brings pathos, humor, and a deep desire to relive something that never was to what would otherwise have been a one-note bad guy. His Red Guardian, bloated and horny, adds levity to the Marvel blockbuster. And Harbour is here for it. "I really do like underdog characters. I had that in Stranger Things as well. I do like people that on the surface are sort of ordinary, but have this incredible strength and spirit and heart inside them. I'm not so interested in people that are super-capable, doing things that look super-capable and I'm more interested in people that are not that capable and overcoming their inability to do something extraordinary," he says.
Now married to singer Lily Allen — they live in New York and with her two daughters from an earlier marriage — Harbour talked to Fatherly about the joys of playing underdogs, and why his stepdaughters think he's a loser. Just don't call him the Crimson Dynamo!
David, oh David, that prison break scene … it was the highlight of the movie for me. One of the highlights.
I bet you'll never look at me the same way again when we catch each other, picking up our kids from school. It was a very funny sequence. I mean, it's funny. He has this ego to him, but also there's this tragedy of what he's become. And I think he both knows that and doesn't want to know — I feel like happens when you try to put your pants on after a good, long time of sitting on the couch and eating donuts, you know? I think that age is such a beautifully horrible thing in our lives. And so anytime I can show characters confronting age in that way, I love it. So I'm glad you liked that scene. It was one of my favorite ones to shoot.
What's it like being such a key part of the Marvel universe and playing such a mysterious character?
It's very hard to find stuff about him. I mean, to be honest, I liked that aspect of it a lot, as opposed to people who come with a lot of expectations and association. I find very difficult to surmount people's expectations. And so when you are able to bring a fresh character to someone — you're able to do what you want to do. Most people will appreciate and take this person as he comes. I really loved that aspect of it. And then to join this universe and this family is incredible.
You get to talk with these guys about mythology and what they're doing and they love it. They love it so much that there's a purity in what they're doing. Of course, there's lots of money to be made. But in general, I do feel like Giancarlo Esposito and those guys, they just love it. They're just little nerds who just love to see superheroes on screen. So that's a very pure take on it that I really liked.
Let's discuss your very impressive dad bod in the film. That took work?
It was just so many donuts. You don't know how many donuts. It was very, very easy training. You think you're going to play a superhero in a movie and you're like, 'I'm gonna have to do as many sit-ups as Chris Evans and eat boiled chicken.' And they're like, 'No, no, grab the donuts and tacos, get yourself down on the couch.' So that's what I did.
All jokes aside, it's really nice and refreshing to see a superhero who doesn't look like Thor. And I do love Thor.
Even in terms of diversity of the body, I really liked that Red Guardian has his body. I'm constantly going to the movies feeling ashamed of myself for not eating a certain way or not working out all the time. I like to feel represented as an ordinary person.
You have two stepdaughters. How do they view Black Widow?
It's nice to give them examples of women that have intelligence and passion and interests and skills and capability as opposed to just beauty. It's very important. But we haven't really talked about it. They haven't seen the movie. I think they're a little young for it. The older one is kind of getting into Stranger Things, but first of all, I'm a stepdad. I do think there's a lot of love between us, but I do think that they can't like any dad. They just can't stand it. They just think [I'm] you're an idiot. They're two girls, like on the move doing their thing.
What can you say about the next installment of Stranger Things?
This show keeps getting bigger in a certain way. I think this season, at least for Hopper, is very intimate. I mean, he's a prisoner now. We get to see him re-emerge from this father figure that he was. The journey, the arc, is really satisfying. It's just going to take time. Good stuff just takes time. I wish it was sooner, but once you get it, you're going to love it.
Black Widow is streaming now on Disney+ Premier Access.
This article was originally published on