Dan Brown's 'Wild Symphony' Sneaks Classical Music Into a Clever Picture Book
Here's how the author of 'The DaVinci Code' created a new musical code for some musical storybook animals.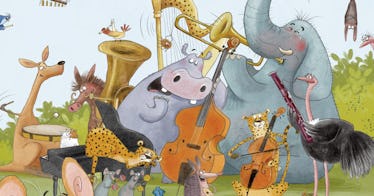 Dan Brown/Rodale Kids
Sure, you can be
that "Basic" Parent you swore in your single days you'd never become. You can do that (discredited) Baby Mozart thing, thinking your kids' future math SAT score will jump up a few points via some sort of Tchaikovsky Osmosis. You can play alive Clair De Lune solo on that out of tune flea market ukulele that you just busted out of the attic. Maybe you'll sign up for that special form of torture known as baby music class, with the promise of rapidly developing your kiddo's brain pathways (It kind of does.) Or here's a better idea: why not introduce your progeny to classical music via one of the most successful mystery thrillerwriters of all-time, who just happened to write his first children's book, Wild Symphony? You'd have to be living under a sacrilegiousrock not to know about Dan Brown's blockbuster novel turned Tom Hanks-starring-film, The Davinci Code, which made a bajillion dollars and was translated into over forty languages. But what you might not know about this best-selling author, is that in addition to being a prolific wordsmith, he's a maker of music too: "I studied creative writing and music composition and wanted to find a way to fuse the too. Wild Symphony was how it happened," says Brown. Led by Maestro Mouse, Wild Symphony takes the reader along for a verse and tune-filled ride. From clumsy kittens to dancing boars, eager elephants to impatient ponies, each page is dedicated to a specific animal and its individual personality. But what sets this book apart is the free interactive app, which uses augmented reality to play original songs when a camera phone is held over each page. There's a nifty QR code at the beginning of the story alongside these adorable instructions: "This is not a normal book. You can LISTEN (not just look!). If you want to, scan this square. Music soon will fill the air."Beyond this three-part harmony of literacy, music, and technology, Brown also made it his mission to deliberately share some life lessons and bite-size wisdom. As the son of teachers, who were raised sans-television and instead fed a much smarter diet of Dr. Suess, Maurice Sendak, and Richard Scarry, Brown fondly remembers growing up on a school campus: "everyone around me was a student or a teacher and everything seemed like a teaching moment as a kid. Those early morals that were taught to me served me well in life, and I come back to them." Fast-forward to today, each page of Brown's playful poetry includes a take-away message etched in the signs, fences, and banners of the animals' natural habitats. Some highlights include timeless lessons, such as resilience ("Falling down is part of Life. The best thing to do is get back on your feet!"), mindfulness ("Tomorrow will be soon enough. Slow down and enjoy today!), and independence ("Time with family and friends is fun. Time alone can be special too."). If some good old-fashioned morals combined with musical animals and augmented reality hasn't quite sealed the deal for Wild Symphony, of course, you can expect that Dan Brown will hook you up with secret codes too. You didn't think the creator of The Davinci Code was going to leave your Inner Detective hanging? This book has some fun surprises in store, in the form of finding a hidden bumblebee floating around the pages, and deciphering letters embedded in the hide of the illustrated animals. Brown even clued us into a super-secret advanced code that requires the ability to read music. (Extra-credit if you can decipher the musical staff with three letters in the front of the book, that (aw shucks) spells out the initials of Brown's mom!)
While Wild Symphony is ultimately a multi-media, multiple-intelligence, and multitasking read that's a ton of fun for kids, most parents know that a picture book also has a ghost-audience: the adult holding up the covers, intonating each word in his most animated voice. The lessons of Wild Symphony are, of course, valuable to your kiddos, but Brown offers some golden nuggets for parents too. That sacred reminder that "adults have a kid in them, and good parents are also kids at heart. They can identify with that magic that excites kids." And like Brown, you can reconcile and revel in being a hybrid-being: "The kid in me wrote
Wild Symphony, and the adult in me wrote about Mary Magdalene and codes."So grab your sleuthiest magnifying glass and your smartest smartphone, and get ready for a book that blends classical and high-tech sensibilities. Feel even better about the fact that you bought a book by a moral-impartingauthor who walks the walk: Brown is donating proceeds from his US royalties to support music education for children worldwide, through the New Hampshire Charitable Foundation.Mellifluous reading plus good deeds? No doubt sounds like music to our ears.