Craig Robinson Would Dig Being the Next Barney
The 'Office' star just teamed up with the author of "Go the Fuck to Sleep."
by [email protected]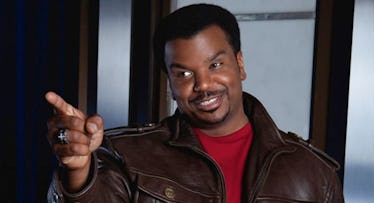 Before Craig Robinson was famous for deadpanning his way through nine seasons of The Office or screaming "Fuck yeah!" while ascending to heaven in This is the End or crotch-punching James Franco in Pineapple Express, he was a grade–school music teacher. He liked that gig. He wasn't desperate to move on, just eager to chase other successes. His meteoric rise pulled him from Chicago to Los Angeles, but it didn't change his eagerness to be an educator. Thus his new children's book, Jake The Fake Keeps It Real, which he co-authored with Adam Mansbach of Go The F—k To Sleep (and Obama biopic Barry) fame. It's a book about discovering talent, fitting in, and gross-out humor, but mostly it's a book about the lessons Robinson learned as a student at a prestigious magnet school.
Fatherly recently spoke with Robinson about education, poop jokes, and his advice for both kids and parents.
Writing a children's book is probably not the most lucrative thing you could be doing with your time and you're not a parent. What was the appeal of the project?
I taught kindergarten through eighth grade music in Indiana for a year and then in Chicago for three years before I came to Hollywood. I've always had a connection to children. Back when I was in Chicago I would always take the kids from church somewhere, ice skating or whatever. That was me, always getting the kids together. So I wanted to keep that connection alive. I was introduced to Adam Mansbach, who I'll call the true author, and Keith Knight, the illustrator, and it all came together. Adam interviewed me about my experience and basing it on my life made sense to keep that connection alive.
How was it working with Adam Mansbach? He's very specifically famous in the children's book world. He's like the Sid Vicious of picture books.
I was nervous. But he was cool. He knows what he's doing. I could tell him something, like how I disciplined or was disciplined, and he could send it through his brain process and turn it into genius. He's a genius, nothing short of that. It was easy to talk to him. He'd bounce stuff off me, "What do you think about this?" It was a lot of that collaboration going on. It was very silly, very fun.
And then the poop jokes.
How much of your real life experience made it into the book?
There are some tenets of the plot that are facts from my life. I went to a magnet school. I'm a musician. There's some other stuff that fits my life but I don't want to give away the ending. That becomes kind of a shell for you to find out about Jake and watch his journey.
Extracurriculars are huge at Whitney Young, the magnet school you attended. Did you go there for any particular activity?
My mother taught at Whitney Young. So that was like, it was a ride to school. But yes, it was definitely about the arts. It's a good school, it's one of the top schools in Chicago. So I was fortunate to get in there.I did a little bit of musical theater. Very little. I played the Tin Man in a church play of The Wiz. That was awesome. I kinda miss that.
Do you reflect on your time as a student and teacher versus the state of education today?
Some of what's going on is heartbreaking. I'm searching for what to say to children. I can put this book out, make them laugh, and then go to the schools. They go, 'How do you do it? How do I do it?; And we sit and rap about it. But I don't know. It's a different time with people on their phones and so much information being thrown at kids. They have such short attention spans and not a lot of consequences, like when I was growing up.
Something has gotta be done. I'm picking up my baton and seeing what I can do with it.
Seems like your parents' influence stuck with you.
My parents were extremely influential. My mother taught music, so I followed in her footsteps when I graduated. My father was an attorney. He ruled with an iron fist. It was like, my mother's super sweet and my father is, 'This is how it goes.' Being an attorney, he didn't' want to see me get in any trouble. He was like, 'You make sure the toughest thing you face is gonna be in his house.' Their words and their influence always come back to me. I know right from wrong even though I don't always choose the correct one. And they're the reason my talent has been cultivated and I'm as successful as I am.
Would you ever consider making a children's album?
I would! I thought about doing that back in the Barney era because when I was teaching I would get all these music books for kids and I'm like, man, there's something here. I could do something with this. Lisa Loeb just did a children's album and I did two songs with her on that. So it's fun. Last year was a big year for me to enter the the dramatic world with acting and it's shaping up now to be a kids' year because I have the songs with Lisa and then I have this book out.
Yeah, Morris From America was great. What is it about the family stuff that draws you in?
I hope to have a family one day myself. And like I said, having a connection with the kids and being able to use my platform to inspire them and shine a light. What's a greater gift than that?
Sounds like you have big plans for Jake.
Yes, yes, yes! There's gonna be two more!
Maybe he's the next Wimpy Kid?
We'll see. Come on! Make it happen, people!
The book is meant to be fun and entertaining, but it also feels like it has a message. How would you sum that up?
There's talent there, you just have to find it. You have to be unafraid. It's okay to have some fear but don't let that stop you. Go on that journey and tackle it. Go in like you own the place. You own this life. It's yours.