'Cobra Kai' Season 4 Finally Fixed the Show's Biggest Problem
Here's why Season 5 will be even better.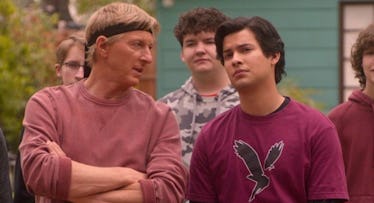 Credit: Netflix
Cobra Kai, which follows the titular Karate Kid Daniel LaRusso (Ralph Macchio) and one of his many nemeses, Johnny Lawrence (William Zabka) thirty-plus years after the events of the movie trilogy, dropped its fourth season on New Year's Eve. If you've slept on the series so far, you really shouldn't have. The show has great parenting lessons and balances nostalgia pretty well with a great Netflix binge. But, there's always been something amiss with Cobra Kai, until now. Here's why its excellent fourth season fixed the show's biggest problem and why the next season will be even better. Spoilers ahead.
Set in the San Fernando Valley where Daniel is now a successful car salesman and Johnny is… less so, the 1980s machismo and cultural appropriation is rife throughout the first couple of seasons of the show, in particular, which is told from Johnny's ignorant perspective and is certainly A Choice.
As many cultural commentators have surmised, this is likely baked into the nostalgic franchise helmed both behind and in front of the camera by white men, despite it being about a sport that has deep roots in Asia. As of season three, there were no Asian writers on staff, and the lack of racial diversity on the show, particularly in central roles, is glaring.
Despite this, the show has a legion of dedicated fans responsible for catapulting it to the top of Netflix's most-watched ranking since the fourth season dropped. I'm still by no means a fan, but I do appreciate how season four has begun to rectify some of the show's problems.
In addition to following Daniel and Johnny, Cobra Kai lets us into the lives of a new generation of karate kids, in particular Daniel's daughter Samantha (Mary Mouser), Johnny's estranged son Robby (Tanner Buchanan) and Johnny's neighbor Miguel (Xolo Maridueña), who are all enemies, of course, and multiple karate showdowns ensue. By spotlighting its younger stars and female characters, including bad girl Tory (Peyton List), Cobra Kai tackles its toxic masculinity, at least.
The feud between Sam and Tory is at the forefront this season, and serves as the climax of the All-Valley Karate Tournament, where Daniel made his name way back when. Sam has been the most interesting, or at least most realistic character, of the recent seasons, grappling with what she perceives as weakness stemming from her PTSD after being attacked by Tory at one of the aforementioned karate showdowns in season two. (Miguel's physical rehabilitation after being temporarily paralyzed during the fight had potential, but of course, Johnny ruined that by trying to scare the disability out of him.) Tory, too, comes into her own, dropping the bad girl facade every so often to show glimpses of vulnerability, insecurity, and need.
It's through Sam that Daniel and Johnny are able to see that their rigid mentalities don't fly with the new generation. "We're stuck in our ways, but these kids can use what we teach them and create their own way," Daniel says in the finale of the ten-episode season as a kind of topic sentence for the story arc.
He and Johnny have decided to team up (lol) to combat Johnny's karate school Cobra Kai, which was taken over by Johnny's former sensei in the movies, John Kreese (Martin Kove), in season three. Needless to say, this doesn't go well, and Daniel and Johnny continue to make up and break up as they have monotonously done for the majority of the show.
Kreese, too, was pretty one-note as a villain early on in the series, however by building up his backstory and with the addition of Karate Kid Part III foe Terry Silver (Thomas Ian Griffin, who has aged impeccably and has made me suddenly a lot more interested in this show!), he gains some much-needed nuance. This is one thing Cobra Kai does increasingly well: by bringing in even more reprehensible characters each season, it gives the previous Big Bad something to play off of, providing a focus on character rather than making Johnny's ignorance and Daniel's self-righteousness be the driving force of conflict.
The cameo of yet another villain, The Karate Kid Part II's Chozen Toguchi (Yuji Okumoto), at the end of season four, hints that he will make good by playing a pretty big part in taking down Cobra Kai for good in the already-renewed season five.
Another exciting prospect this season is the men reckoning with their broken relationships with their fathers and reckoning with the relationships they've built with father figures. Miguel is hung up on his dad, who he's never known, and has a lot of feelings about father-figure Johnny hooking up with his mom. A lot of work has been done to peel back Kreese's layers the past two seasons, and how he tried to be a role model for Johnny and Silver but lead them down the wrong path. Even little Anthony LaRusso (Griffin Santopietro), who's all grown up this season, gets a father-son arc, with Daniel and Amanda (Courtney Henggeler) struggling to parent the one child who has no interest in karate when everything they do is tied up in it.
By really delving into these relationships rather than the frankly played-out one between Daniel and Johnny, Cobra Kai season four moves towards a reconciliation of nostalgia with today's more diverse TV climate.
Cobra Kai streams on Netflix. Season 5 is expected late this year.