Cleo Wade's Amazing Kids' Book Is a Must-Read for New Parents
Because it's fine to make mistakes, folks.
by Donna Freydkin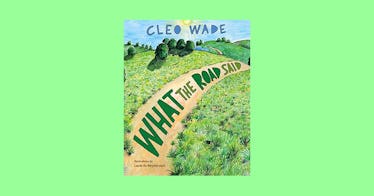 Author, activist, poet, and new mom Cleo Wade has been dubbed the millennial Oprah, for her thoughtful, grounded, and lyrical approach to life. And now, the mom of Memphis, who just turned one, has penned a book for kids that we, as parents, can only call delightful. It's about the journey, and in the manner of Oh, the Places You'll Go! by Dr. Seuss, it lets kids know that there's no linear way to navigate life. Sometimes, shit happens. Quite often, actually. And the best-laid plans are laid to waste.
"I had such an unconventional path so early on that I think I was so well acquainted with the idea that taking a risk is only as valuable as being able to accept it," says Wade.
In a culture where we act as human adversity obstacles, sheltering our kids from tough choices and tougher challenges, this book takes a different approach:
But what if I go the wrong way?
The Road curved a little,almost as if it was giving me a hug, and said,Do not worry. Sometimes we go the wrong way on ourway to the right way.
"Whatever you can say to eighth-graders should be the same thing you could say to a six-year-old should be the same thing that you should say to a 36-year-old or a 66-year-old. And so I knew that I wanted it to feel like that. I wrote the last part of the book when I was pregnant. I would say there was one page that took me forever to write. And it was actually the first page of the book," says Wade.
"I didn't write that until after I had Memphis. And I was like, 'Oh, I think I get it now.' So it really was something I wrote before, during, and after having a kid. And so in that respect, it's so special because I think it started as something I wrote for my childhood self. I was remembering how hard my eighth-grade life was. So it was cool because I ended up at what started as something about my childhood self and ended up being something for my child."
She and partner Simon Kinberg (the scribe who wrote a bunch of X-Men movies and the first Robert Downey Jr. Sherlock Holmes) have slowly found their sea legs as new parents, especially during a pandemic when the whole concept of having a village wasn't a reality.
"We have had some childcare help over the pandemic because we both work in really intense ways. We've been so, so fortunate. That's been the number one thing that I felt the most fortunate for, besides my family's health during this," says Wade. "I had a friend give me really good advice when I had Memphis. She said, 'Just figure out what your things are with your baby and just always do those things.' Simon is the bedtime dad and really likes to do bedtime. I do the morning time and I like to do bath time. And those things are non-negotiable and then we're kind of fluid throughout the rest of the day."
For her and Kinberg, their day jobs bleed into their lives in every way.
"Writing is the most inexpensive form of therapy. So I think that both of us being writers is really helpful. I have a little writing room, and Simon has his own little writing room. And so I think that to have those spaces where you can write, whether it's for work or for fun, is so critical," says Wade.