Classic Children's Books for Every Age
Books for kids often capture the absurdity of reality in ways that adult novels can't.
by Jayme Moye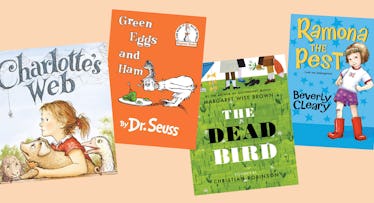 Amazon; Barnes & Noble; Scholastic
As evidenced by the Harry Potter phenomenon, the best children's literature is also engaging reading for adults. The same goes for children's picture books. You've no doubt felt more than a twinge of nostalgia while reading Where the Wild Things Are by Maurice Sendak aloud. That's because the story works at the adult level too, doling out evocative metaphors on how to lead a satisfying life. Bruce Handy, a contributing editor of Vanity Fair, remembers being a new father and becoming increasingly fascinated by the children's books he was reading to his kids at bedtime. "The best ones spoke to me as well as to my kids, whether through their sheer artistry or their insights — or often both," he says.
Inspired by his foray into children's literature, Handy began writing children's book reviews for The New York Times, and, in August 2017, released his book Wild Things: The Joy of Reading Children's Literature as an Adult (Simon & Schuster). He recommends rereading whatever books you loved best as a child. "It's an interesting way to find out how you've changed over the decades," Handy says. "And how you haven't." It's also a powerful way to connect to your younger self, to your fears and passions.
Once you've gone over your personal classics, make sure you introduce the five books here to your kids.
Charlotte's Web by E.B. White
1952
The magical friendship between Wilbur the pig and Charlotte the barn spider makes for a timeless, captivating read. Handy calls it "expertly crafted." And if you're pining for more E.B. White, check out his first children's book, Stuart Little. It's another gem.
The Dead Bird by Margaret Wise Brown
1958
A heartwarming picture book that deals with the emotions of death, this story was reissued in 2016 with superb new illustrations by Christian Robinson. "It's very profound in its quiet, simple way," says Handy. Green Eggs and Ham by Dr. Seuss1960
The story of "Sam-I-am," who relentlessly pesters an unnamed character to try a plate of green eggs and ham, is arguably one of the funniest things ever written. "We all grow up with it and maybe don't realize quite how strange and demented and original it is," says Handy.
Ramona the Pest by Beverly Cleary
1968
This was the second book in Beverly Cleary's widely popular Ramona series, and it stars the gregarious Ramona Quimby, who is just starting Kindergarten. Handy considers it a great novel, full of insight and humor.
The Birchbark House by Louise Erdrich
1999
Best known as an adult novelist, Louise Erdrich is a National Book Award winner and Pulitzer Prize for Fiction finalist. She wrote The Birchbark House and its four sequels as a Native American counter narrative to Laura Ingalls Wilder's Little House series. "It's a beautiful book," says Handy, "harrowing in parts, and it's also good history."
This article was originally published on