Chris Pratt Talks About "Falling In Love" With Chris Hemsworth
Between 'The Tomorrow War' and 'Thor: Love and Thunder,' Pratt is one busy working dad.
by Donna Freydkin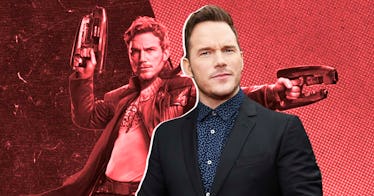 GETTY / Disney
When the world first began opening up this winter, with folks slowly and blearily and haltingly emerging from the lockdown horrors of COVID-19, Chris Pratt found himself in Australia. There he was, smack in the middle of the Marvel version of a fantasy summer camp for superhero parents, filming Thor: Love and Thunder and reprising his career-making turn as Guardians of the Galaxy leader Peter Quill/Star-Lord. He did his MCU thing with Matt Damon, Natalie Portman, and the other Chris: Hemsworth, the god of thunder himself. And Pratt found himself not just star-struck, but utterly smitten. "You kind of fall in love with him," says Pratt.
That deceptively effortless ability to connect with others could also be Pratt's own superpower. He's a pro at seemingly not taking himself all that seriously while being hyper-serious about the work he's paid a lot of money to do. That's him, musing about the intended purpose of a rather puzzlingly phallic face roller used by his groomer before a day of press. That's him sporting what passes for an actual mud mask while shooting his next series, The Terminal List. And yeah, that's him checking to make sure his Instagram filter and hair are both "on point" while promoting his new thriller, The Tomorrow War.
Pratt may have turned geniality into an art form, but he's no pushover. You won't be seeing any photos of Lyla Maria, the daughter born to him and wife Katherine Schwarzenegger last August, due to privacy concerns. Nor will you be invited to go fish or feed the pigs at his private sanctuary, Stillwater Ranch, located at an undisclosed location in his native Washington State. While speaking to Fatherly, Pratt explains why his life isn't a proverbial open book, and why despite fighting for humanity in his new movie, The Tomorrow War, he's not all that worried about the future.
In Amazon's The Tomorrow War, which you also executive produced, you're battling deadly aliens to save the world for our kids. Seems oddly prescient, given the year we've had. What drew you to do it?
It was just really original. It was something that I hadn't seen before. And also the title itself was not based on a TV show from the '90s or the reboot of a reboot or based in the Marvel comic book world or the DC comic book world. It was a really great original idea that felt poignant. It felt fresh, it felt resonant.
Given that we've just lived through something akin to an apocalypse, does the film feel even more relevant?
In hindsight, the release of this film post-pandemic — granted we filmed it pre-pandemic — it takes on a completely different light. You're talking about a massive global effort to rid the world of a brutal force using the power and strength of science. In hindsight it really feels resonant in a way that I couldn't have possibly expected when we made the movie.
You've got two kids, son Jack and daughter Lyla. Do you worry about the future, and what it's going to look like for your kids?
I don't. I try not to spend too much time worrying about the future. I actually, honestly, don't worry about the future that much. I just think that no amount of worry is going to prevent them from experiencing the world just the way that the world is. And I think that there was plenty to worry about in 1980 when I was growing up and there was plenty to worry about in 1950 when my mom was growing up and my dad was growing up. I'm not sure that anxiety prepared them to raise us more effectively.
So I think that there's this real vision shift that's required in the psyche to focus our perspective towards what we have versus what we don't have. It doesn't mean it won't get worse. But all that means is that you have to focus on what you have right now. And all we can really do is just focus on preparing ourselves for those moments and building strength and fortitude in our children to face those things, rather than anxiety.
Speaking of anxiety, how does having a baby compare to when you were a first-time dad with Jack back in 2012?
There's a certain level of parenting a 9-year-old that's going to be different than parenting a 9-month-old. But I do think there's been enough of a break in between my son being an infant and my daughter being an infant that I have to relearn some of that stuff. I've been out of diapers for a really long time with my son. And so now I'm back in it with my daughter.
It's a little bit easier the second time around, with certain things. Katherine, my wife, it's her first child and I see the first child anxiety that she feels sometimes that I know that I felt with Jack. I don't feel it quite as much, but I empathize with it. It's a slightly different experience.
You've been very careful about not posting pictures of either kid on social media. Why?
I wasn't always that way with my son. I had shown pictures of my son periodically. It's a really strange space to be in. Being a person who's well-known is not anything I grew up with. I don't know a great number of people from whom to glean wisdom when it comes to this, because wisdom is born and experienced. And there's just not a lot of people who have experienced that to the same degree that I have.
Strangely my wife, Katherine, she grew up in that type of a household and that type of environment. She was a child of a big famous movie star. And her mom is well-known as well. Katherine had the experience of a childhood that was very much protected from the public eye. For me, I just look at it and I thought that was something I'd really like. Social media wasn't around then. You to be mindful about not showing your children's faces. You no longer own that. We should have the right to say we're not interested in that. So it means it's a little bit complicated because I get really paranoid.
You're also in Thor: Love and Thunder. I know you're about to share every plot twist and spoiler, so start whenever you're ready. Is it the most rock 'n roll Marvel movie ever made?
Yeah. It's a very rock 'n roll story in both journey and destination. I think they had a lot of fun making it. We certainly had fun. We were out there doing it. It's wild. Taika is a real visionary.
It's awesome that it marks the return of Taika Waititi as director after helming Thor: Ragnarok, which is basically the best Thor in my expert opinion.
They're employing new strategies for creating these vibrant universes by using volume, which is a fairly new way of compositing in background behind actors. So instead of green screen, they're shooting things in the volume. It's a strategy that was I think developed by (Jon) Favreau when he did Jungle Book and he's used it on the Mandalorian and you've seen it in other things. You can actually have a real background behind actors, so it's not green screen. And it's all pre-lit by these big digital panels behind you. It made for a really fun experience and, Taika has been great.
In this one, it's Chris versus Chris. Discuss.
Chris Hemsworth is just truly the best. He's the best at what he does and the best in the business for what he's doing. He works his ass off. He's so incredibly generous and collaborative, thoughtful, flattering. Does not have an ego. Doesn't push anybody around and is totally welcoming. You kind of fall in love with him. Everyone kind of falls in love with him when they work with him because he's got that kind of charisma that you just really want to be around.
What about Natalie Portman, who plays Jane Foster?
I didn't get to work in scenes with her, but I've seen some images of her and she was perfectly nice and I got to meet her at a dinner, but other than that, I didn't really get to see her or work with her.
I have to say, you're a pro at saying a lot of … nothing much when it comes to Marvel. How are you as an executive producer? Meaning, what does the job entail for you?
No one can be worse than you, so you have to set the tone. You have to know your lines, you have to be in a good mood. You have to set the stage, you bring the excitement, you bring the energy, you hopefully foster relationships with some people that you can expect might be looking up to you. You can help calm people's nerves, give them a pump up when they need it. You remind them why they're there.
Some of my favorite people in my life were the coaches I had growing up. And my dad was my football coach and I had a great wrestling coach and great football coaches and great baseball coaches, great track coaches. And I had a wonderful relationship with them because I just loved what they were able to bring out of me. And I was always the captain on the teams that I was a part of. I take that role really seriously. And I just love it. I love showing up to work and being able to help bring the best out of people.
The Tomorrow War is out on Prime Video on July 2, 2021.