"Be Mine in Joy": Read an Exclusive Love Letter from the Late Chris Cornell to His Wife
Vicky sees Cornell's legacy in their two children.
by Donna Freydkin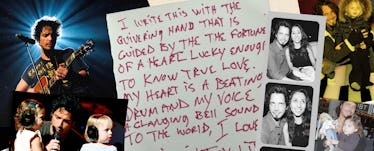 Getty; Vicky Cornell
Chris Cornell rocks. Although he died in 2017, saying Cornell rocked is just wrong — his contributions to music and culture are immortal. Back in 2011, Rolling Stone declared that "Cornell's voice packs so much power that over the past 20 years superstar collaborators have lined up to work with him." The New York Times called his vocals "a baritone with endless reserves of breath and the seething tension of contained power." Suffice to say that the Soundgarden and Audioslave frontman, he of the enigmatic smile, deftly incisive wordsmithery, and otherworldly proficiency on lead and rhythm guitar, was a musician for all time.
Here's the thing about loss: It doesn't get any less excruciating with the passage of time. While to his fans, Cornell's death four years ago is tragic, it's something else entirely to his widow Vicky and kids Toni, Lily, and Christopher. It's the equivalent of emotional sepsis, a gaping hole where once they had a dad who brought his little kids out on stage (clad in sound-protective headphones) to see him playfully croon Hunger Strike. Who grinned and bopped his head appreciatively as his son Christopher banged away on the drums during a jam session at home. Who carved pumpkins on Halloween and gamely collected candy with his brood.
Cornell, who battled addiction throughout his life, lives on, through the depth of his musical catalog, plus his family's continued activism. Toni and Christopher have launched the national education initiative Stop the Stigma: Tackling the Stigma of Addiction through Education, in conjunction with the Chris and Vicky Cornell Foundation, to help tackle the stigma around addiction and educate teens about the science of substance use disorders.
But memories are ephemeral and fleeting. It's why Vicky Cornell shared a deeply intimate letter her husband wrote to her, and why she talks to Fatherly about the searing pain of losing Chris.
How do you keep their dad's memory alive for your kids?
Chris is constantly kept in the present. We speak about him, we play his music, we share memories, we work in his legacy and I include my children in that.
We continue the great charitable work that he did personally and through the Chris and Vicky Cornell Foundation. Giving back was important to Chris and it is something we did together as a family, so we still do that and it keeps his memory and what was important to him alive.
The fans also really help; through social media, we hear so many amazing stories about how Chris impacted so many through his music and lyrics. It is amazing to see how many people he touched. The love his fans have for him continues to lift us and keep his memory alive and present.
How do you make your kids understand just how much their dad loved them?
We didn't subscribe to a traditional upbringing, our kids traveled the world with us so the foundation he established with them in regards to his love, the importance of family, life lessons, and more is deep within them. They had a full-time daddy and got to be part of his work. Our kids were so much a part of our working lives — they really got such a unique experience both at home and at work and that really had an impact on their lives in such a positive way.
Who do you lean on when it all gets to be too overwhelming?
My family — my parents have always been my strongest support and because of touring we were blessed that my family was a constant part of our lives — I always have them to lean on, as do my kids. Chris and my mom had a very very close relationship. My dad was very much a father figure to Chris. My brother also has been a constant in our children's lives and I'm grateful — it truly does take a village.
Grief doesn't just disappear after a prescribed amount of time. How do you deal with the grief you're feeling when it feels like you're the only one feeling it?
There are certainly moments where I feel like there is no one who understands. Grief can make you feel all alone no matter how much support you have. There are moments where it consumes me and when I feel that I just find my reason — which is my kids, Toni and Christopher — and as strange as it may sound, Chris. He's still my reason, I wouldn't have it any other way.
How are you coping now, as opposed to in 2017? Meaning, I don't think (in fact I know) that time doesn't heal all wounds. All-time does is make you more used to the shittiness you're going through every day.
In a way it is worse now — in the beginning, you have the false sense that he may come back or that you will wake up from the nightmare, there is also a survival mode that kicks in then. But now, the reality has set in that this is forever.
Has that been true for you? Where do you find your light?
My children are my light. They are my reason and my whole world. Watching them grow up, finding happiness and their own passions fills my heart and soul — I know Chris would be so proud of the young adults they are turning into. They are both so much like him in different ways — I see him in them every single day.
This article was originally published on