The 25 Best Children's Museums in the U.S. to Visit in 2021
by Emily Kelleher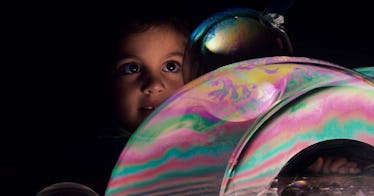 GETTY
When you need to get out of the house —preferably to a place where the occasional tantrum won't earn you a dirty look — children's museums check all the right boxes. And while most fantastic kids' museums were closed during the pandemic, summer 2021 is a different story.
The best children's museums offer educational fun and plenty of potential playmates, rain or shine. These children's museums come highly reviewed by parents, whether for their interactive exhibits, stroller accessibility, toddler accommodations, or the simple fact that they entertain adults as much as kids.
Here are our favorites children's museums across the United States — while most have reopened for the summer, be sure to check museums' websites for the latest information.
Admission: $18, free for kids under 2
This interactive museum features both the national toy hall of fame and the world video game hall of fame, plus rotating exhibits on things like the DC Superheros, the Berstein Bears, and the history of pinball machines and women in games.
Admission: $23 for adults, $13 for children, $18 for seniors and students
So it's not technically a children's museum, but with a collection of dinosaur skeletons, a reproduction of the world's biggest animal, the blue whale, and a movie about the place to boot, the Museum of Natural History has plenty to offer families. Besides the collections of animals (including real elephants) and plants and reproductions of early humans, the museum features interactive exhibits like a butterfly conservatory, and age-appropriate tours, lectures, drop-in classes, and season-long ones.
Admission: $19 during the week, $22 on weekends, free for kids under 1
This hands-on museum encourages as much learning as it does fun. Permanent exhibits include a kid-sized city outfitted with a grocery store, hospital, garden, and bakery, an indoor river where visitors can float boats and toddlers can play in a pond, an Alice in Wonderland themes hedge maze, an urban garden, and much more. There are scheduled activities every day, from storytime to arts and crafts, live theater, and an end-of-the-day parade. The museum invites children with developmental disabilities and those on the autism spectrum to visit at special times before it opens to the general public, offering a quieter space with specially designed activities.
Admission: prices vary by day, ranging between $25-$30 for adults and $20-$25 for kids. Purchase tickets online ahead of time to save a few bucks
At The Children's Museum of Indianapolis, which holds the title as the largest children's museum in the world, kids can step inside an international space station, work in an archeology lab and see a full-size dinosaur skeleton. Seasonal exhibits include ice fishing, four golf courses, race car racing, and a 25-foot treehouse. They offer free daily classes on topics like 3D printing and DNA, plus theater shows, animal feedings, and art and music workshops.
Admission: $17.95 for visitors 1 and up, free for members
The wonders of waters exhibit invite kids to float boats along with the stream table or create human-sized bubbles, while Tiny's Diner encourages visitors to work together to take orders, make and serve food and clean up. The Here We Grow Farm teaches kids about growing food and tending to livestock, and the art studio is fully stocked with supplies for the aspiring Picasso. There are plenty of indoor playgrounds plus a soccer field, and special areas for toddlers to hang out.
Admission: $14, $12 for those under one and over 60, free for members
This hands-on museum brings the beauty of its city to light. Kids can play on a 500-foot ariel adventure course, complete with 70-foot slides and a 90-foot high platform offering panoramic views of the city. Little critters can dress as their favorite animal and climb through pretend ant holes and forage for acorns. Inside, kids can bring their inventions to life at the assembly plant, operate a fire station or veterinary office, or join a cooking class in the teaching kitchen. At the Altitude exhibit, visitors can climb an indoor mountain, take a gondola ride, or cross a swaying bridge. This museum might even convince your kid to brush their teeth with the village of healthy smiles exhibit, where visitors are invited to run their own dentist's office, scrape sugar bugs off a giant tooth and practice their own dental hygiene skills in front of a mirror.
Admission: $22, $15 for Florida residents, free for military members and their family, members, and kids under 1
Burn some energy at the indoor rock wall or outdoor playground and wellness center. Or fire up the imagination at the play supermarket, police and fire station, construction zone and cruise ship, or learn about glass, the ocean, and how to make your home environmentally friendly.
Admission: $15, $12 for seniors or people with disabilities, free for kids under 1
At this indoor museum on the upper west side, kids can drive a NYC firetruck or an MTA bus, splash around in a 22 foot long outdoor water table, or rescue animals with Dora and Diego. Tickets are currently timed and include admission to all exhibits for a two hour window.
Admission: $13 per person, free under 1, pay-as-you-wish on Thursdays from 2-5 pm
When this local favorite opened its doors in 1899, it was the first museum of its kind. Today, the museum highlights cultures and communities near and far. Its mini Brooklyn offers visitors the opportunity to take on the role of grocer, performer, builder, and more in shops modeled off of real small businesses throughout central Brooklyn. The family-friendly art studio, Color Lab, focuses on work from local black artists. Past exhibits have included a collection of photos of Syrian children and an interactive exhibit on Native American communities throughout New England. There was even a past exhibit celebrating the iconic Brooklyn block party. Parents on Trip Advisor warn that the museum is geared toward the under 10 crowds.
Admission: $18, free under 1
The Boston Black exhibit celebrates the history and culture of Boston's diverse black community, while the Japanese House exhibit lets visitors explore the home of a silk merchant from Koyoto, Japan. In the Countdown to Kindergarten exhibit kids can prepare for school by riding a bus, sitting for story time, and making new friends (parents can practice by asking "teachers" questions about developmental milestones and school readiness). The Green Trail teaches kids sustainable habits, while the STEM lab offers rotating activities and cutting edge tools. Parents say the big-ticket entrance fee gives way to many days worth of activities.
Admission: $20 for adults, $18 for children, free for members
Fernbank isn't your typical natural history museum, although it does welcome guests with life-sized dinosaur fossils. This Atlanta museum has 75 acres of forest to explore through elevated trails and interactive outdoor exhibits. Parents say the well-maintained trails make the forest easy to maneuver even with a double stroller, and indoor exhibits will keep families busy even in the event of rain.
Admission: $14.95, free under 1 and for members
The Arroyo Adventure area allows kids to climb into a mega-sized hawk's nest, learn about erosion or make their own bricks. The Physics Forest allows visitors to create their own rollercoasters and launch bottle rockets, while the nature exchange offers an opportunity for kids to bring in treasures they've found in the outdoors and exchange them for something else cool.
EdVenture, Columbia, South Carolina
Admission: $11.95
Visitors can climb inside a 40-foot tall statue of a 10-year-old boy named Eddie and learn about how the human body works. The Flight exhibit features a paper airplane launch pad, flight simulator and more, while the News Room lets kids take on the role of news anchor for the day.
Admission: $12
A Jack and the Beanstalk playground helps little kids get their energy out. At the Star-Spangled Center, kids can practice voting, signing the declaration of independence, and learning about presidents. Rotating exhibits include Curious George: Let's Get Curious, which encourages kids to learn about math and science, and a Hot Wheels-inspired one where visitors design cars and race tracks. Families enter for free every third Friday of the month from 5:00-8:00 pm.
Admission: $11.50 for adults, $8 for kids
This beautifully designed building contains a slew of interactive exhibits designed to get kids interested in science, many of which celebrate local culture and industry. Visitors can ogle at a miniature replica of Kansas during the 50s, or check out the Bridging Art and Science exhibit featuring photos from a National Geographic weather photographer. The Aviation exhibit encourages visitors to design their own planes, map out a route, and explore a luxurious private jet all while learning about the local industry. There are live science shows on weekends and various regular shows in the dome theater.
Admission: $15, free under 1 and for members
Play in a pretend town featuring a car wash, navigate a laser maze and run through the noodle forest at this museum for open-ended play. There's a gallery area for smaller visitors, a four story play area, and tons of rotating exhibits like the recent Hot Wheels: Race to Win.
Admission: $15 adults, $13 kids
Kids can learn about money at the central bank, bury themselves in sand aboard the museum's cruise ship, test their green thumb in the pretend garden or slide down a fireman's pole in the firehouse.
Admission: $14.95, free under 1 and for members.
The Building Big exhibit lets kids build mega forts, without the cleanup, while the Noodle Forest takes sensory play to the next level. Kids can try and learn how to ride a tricycle in the pedal power area, and take it through the bike wash once they're done. There's a show-free crawl zone for kids ages 3 and under, with an adjacent big kid zone for older siblings or friends. Nursing is allowed throughout the museum, but there's a special area for extra privacy.
Admission: $5 teen and adults, $8 kids, free under 1.
The Treehouse Museum is all about imagination. Visitors are encouraged to don costumes and play pretend in replicas of houses from around the world (in Japan, you can put on a kimono and eat play sushi) a sized down steam engine train, and the desk from the oval office. After that, try your hand at printing a copy of the declaration of independence on a printing press or playing life-sized chess. Parents say this museum is clean and well maintained.
Admission: $12, certain families qualify for reduced admission
The Star Trek: Core to Cosmos exhibit features voices of local kids explaining scenery throughout the universe, from forests to outer space. In the Urban Garden, kids might watch Tilapia swim in an aquaponics tank, find worms in the compost area, or feed chickens. Trip Advisor reviewers point out that it's not the biggest or most interactive museum, but there's daily programming included in the price of admission. Outside food can be brought in.
Admission: $12, free under 1
The Children's Museum of Houston packs several outings into one. Kids will be drawn in by the spy exhibit, and stay for the challenge courses, a low elevation ropes course just for kids. A Cyberchase exhibit based on the PBS show of the same name challenges visitors to protect cyberspace from an evil hacker, while the Constructioneering exhibit challenges kids to get creative while designing buildings. At the kidtropolis exhibit, kids get to try out being an adult, keeping their city running by working, earning and spending money, and taking on the roles of city leaders, shoppers, business owners, and voters. Parents warn that there aren't too many activities or areas catering to kids under 4.
Admission: $19, free for kids under 1 and those under 15 on the first Sunday of every month. Discounts for museum members and Chicago residents.
The Chicago Children's Museum has something for everyone, from multiple high-tech indoor playgrounds to a fully stocked pretend grocery store and car wash, art studio, woodshop and dinosaur exhibition lab where visitors can dig for bones. Specially designated infant crawl areas will keep little ones safe, while nursing rooms and bottle warmers accommodate their families.
Admission: $16 for adults, $14 for kids
This place contains all the basics of a good children's museum, from a theater, a garden, an art studio, workshop, toddler area, and water room. Parents say it entertains for hours. Temporary exhibits include one exploring emotions inspired by Pixar's Inside Out, and permanent exhibits include a workshop where kids get the opportunity to use real tools to take apart toys and appliances and learn woodworking.
Admission: $15, free for kids under 2
Visitors can put their imagination to work making a stop motion claymation movie, or visit the tech lab to play with robots. The music studio contains every instrument you could dream up, while the innovation lab inspires visitors to invent creations of their wildest dreams. The sketch studio allows visitors to populate a virtual city with buildings they draw themselves, while the AR sandbox allows kids to create their own topographic map with kinetic sand. The children's creativity museum is now open on the weekends.
Admission: Free for kids under 3 and California public school teachers, $19.95 for kids aged 4-12 $14.95 for seniors, youth, teachers, and people with disabilities, and $29.99 for adults.
Examine living cells and a bacteria-filled terrarium, look at yourself in an anti-gravity mirror, check out a model of the Bay Bridge and try your hand at what it would be like catching a drop of water if you were the size of a doll. Kids can also learn about the science of gardening, launch their own rockets and play with magnets.
This article was originally published on