Cheyenne Jackson Talks His New Netflix Show And What's Ahead On the 'Saved By the Bell' Reboot
Working while parenting and homeschooling preschool twins in a pandemic is no joke.
by Donna Freydkin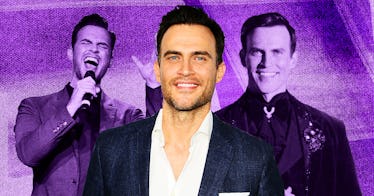 Getty/Netflix
Cheyenne Jackson is every dad when he recounts a mundane event that morphed into something resembling a national holiday. "I took the kids to Petco the other day and they were acting like it was Disneyland," he says of his 3-year-old twins, Ethan and Willow.
Jackson, who lives with his husband and mother-in-law (more on that later), has been in strict quarantine since March. That means homeschooling his kids, doing their hair, and trying to look quasi-groomed from the waist up when he's doing interviews to promote his latest release, the Netflix series Julie and the Phantoms. He's a diabolical ghost slash club owner who toys with the titular Julie and her band, the Phantoms. It's, shall we say, a fairly drastic switch from his varied but uniformly twisted turns on Ryan Murphy's American Horror Story anthology, playing a fashion designer, a warlock, and a shrink. "It's really nice to actually be in something that my kids can see soon, for a change," he says.
He's also in Peacock's upcoming Saved By the Bell reboot, a nostalgically cheesy trip down memory lane for every single one of us who came of age in the '90s. Jackson talks to Fatherly about playing a ghost, revisiting Bayside High, and why hazmat suits are his new normal.
Nice to talk to you, even while the world feels like it's ending.
It's ending on both sides of the coast. My kids are three. They're not really missing out too much. I converted our guesthouse into a preschool. If they were older, it would be a different story. We're just trying to survive. We've been in strict lockdown since March. It makes me feel safer.
We take turns teaching them. My mother in law, who's 78, lives with us — I didn't get to grow up with a grandma. It's going well. It's not all rainbows and butterflies. It comes with mother in law stuff. But she's really patient and she's great with the kids. She's taking the majority of preschool and it's pretty great. The kids are still excited to go to school. It was really important to keep to a routine. I do their hair every day. I do feel better when I put on a shirt with buttons. From the waist down it's been sweatpants for seven months.
At least you can promote Julie from home. What made you do the show? It's a departure from Ryan Murphy, to say the least.
It's all Kenny Ortega. We did The Descendants together. He's just such a light and force of goodness and kindness. He's not jaded. I loved being on set with him. He creates a playful environment. It was nice to be in something my kids could see.
A year and a half ago, he called me about this project and said he had a juicy part for me. I'm a magician who flies who is also a ghost. I love that the story is based on sadness. The main story is based in loss and reality. We can all relate to losing somebody.
And now you're back at work for real, on an actual set.
I just started back last week — I finished up some episodes of Saved by the Bell, the reboot. It's been crazy. Testing every 48 hours on set. Two masks. You have your face shield up until they say action. You do your own last looks. You touch your own props. Hazmat suits. It's so strange but I'm so glad there are these protocols and we can move this machine along. So many jobs are at stake.
What's the vibe, the feel, of the rebooted show? Same tone as the original?
I grew up with that show. It was always on. I met Elizabeth Berkley about 12 years ago in New York. We've been friends since. When this came to fruition, Elizabeth called me to play her husband. It's a single cam show — it pays homage but it's a whole new thing. It's lighthearted and fun but the original was multi-cam with a laugh track. This is shot on a single cam and it's really fast. It's the characters you love. It's an homage to the original. I'd say it's in the same tone but just quicker.
I follow you on Instagram and damn, your posts about your kids melt my jaded, cold heart.
Fatherhood is my everything. I believe it's why I was born. I always knew I would be a dad. Finding the right person, the right time in my life — I was the only boy babysitter on the block. I taught Sunday school in our church. It was in the cards for me. I'm so glad it happened at this time and we had twins and we're done.
It's been the most challenging time of our lives but I've been seeing the benefits. When this is over, we'll be able to look back and miss all this quality time we have, that we may never have again. The other day, it was before the kids' naps, in the middle of the day. We just took a bath — I have a big bathtub. My son looked outside and looked at me and said, 'A bath in the middle of the day?' I may never get this chance again once I start back on the set on a normal schedule. I want to soak up this time. I look at pictures of them at the beginning of the pandemic and they already look different. I want to deepen the bond even more.
What's your parenting philosophy, if you have one?
Our parenting philosophy is honesty. We tell the kids everything within reason. I grew up in the woods with no running water in Idaho. You didn't shield the kids too much from life. We tell them what's happening with the pandemic. They know why we have to wear masks. We make it OK to talk about all the feelings that you have. I kept a lot inside as a kid and I had problems emotionally later on. The way I see it is, you're not raising kids. You're raising people. Their feelings matter.
Every night at the dinner table we do best-worst. We talk about the best part of our day and the worst part of our day. I want to keep that going.
That's great. We do that too, actually. Let's close out with Saved by the Bell. Where would you fit in at Bayside High School?
I'm neither preppy nor nerdy. I was just right in the middle. I had friends on the track team. I was on the track team. I had friends in the theater department. I tried to not stand out too much. I was super tall. I stood out because of what I looked like. I tried to get good grades and hang out with the nice kids.
This article was originally published on