Women's World Cup Champion Carli Lloyd on Empowering Girls Through Sport
Confidence, baby, confidence!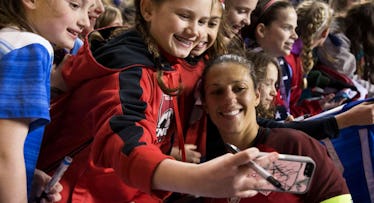 Every time you like and share this post, Johnson & Johnson will donate $1 (per social action), up to $500,000, via the Global Moms Relay to help improve the health and well-being of families worldwide in support of Shot@Life, UNFPA, Girl Up, UNICEF USA, and Nothing But Nets.
My hope for girls around the world is that they continue to have the confidence to believe in themselves. I think women and girls all across the world are powerful, smart, and can do a lot of good in this world. It's all about having that self-belief, that confidence, and really going after your goal.
There are so many girls out there who are afraid to be athletes or be better than a boy. My wish would be for them to have the confidence and know that they can be great and reach for the stars. I think soccer is a platform for many women to help inspire many different people, whether it's girls, boys, other athletes, or teammates. It can bring everybody together, empower women, and promote equality.
The world we live in right now, women are working towards equality, and I think if we can all work together, we can definitely achieve that.
Carli Lloyd is a two-time Olympic Gold medalist, a FIFA Women's World Cup Champion and a two-time FIFA Player of the Year. The New Jersey native was named the Captain of the U.S. Women's National Soccer team in 2016. Carli has been a Johnson & Johnson ambassador since 2016, promoting charitable initiatives like Donate a Photo and the #CareUnited Challenge
You share, they give: Each time you 'like' or share this post via the social media icons on this post, watch this video or comment below, Johnson & Johnson will donate $1 (per social action), up to $500,000 divided equally between Shot@Life, UNFPA, Girl Up, UNICEF USA and Nothing But Nets. The Global Moms Relay was created by the United Nations Foundation and Johnson & Johnson with support from BabyCenter, Fatherly, Global Citizen, and Charity Miles to help improve the lives of families around the globe. Share this post with the hashtags #GlobalMoms and #JNJ, and visit GlobalMomsRelay.org to learn more.
You can also use the Donate A Photo* app and Johnson & Johnson will donate $1 up to $40,000 per cause when you upload a photo for Shot@Life, UNFPA, Girl Up, UNICEF USA or Nothing But Nets, to a maximum total of $200,000. You can help make a difference in seconds with the click of your mouse or snap of your smart phone.
* via the Donate A Photo app for iOS and Android. Johnson & Johnson has curated a list of trusted causes, and you can donate a photo to one cause, once a day. Each cause will appear in the app until it reaches its goal, or the donation period ends. If the goal isn't reached, the cause will still get a minimum donation.