Capturing Magic in Motion at Disney's Hollywood Studios
A professional photographer and his family of three capture the magic at Disney's Hollywood Studios.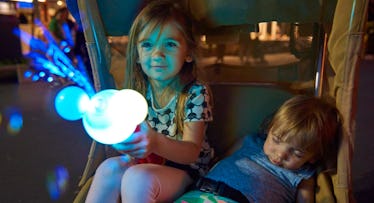 The following was produced in partnership with our friends at Walt Disney World Resort, who invite you to discover a world of magic and memories the whole family will share.
Ah, the Walt Disney World family vacation. The character-filled days, fireworks-filled evenings, surprisingly great food and drink for parents, and that joy — plastered to your kids' faces for the duration of the trip. This last part is what Walt Disney World is really all about; awe-filled spells that are the stuff of life-long memories. Seeking to capture these moments, we sent a professional photographer and his family to Disney's Hollywood Studios. Gregory and Betsy Brouillette took their 8-year-old boy, Thomas, and two girls, Clara (3) and Simone (1), for one long magical weekend to document the thrills along the way for the rest of us. This much is clear — this is a trip that will have a lasting impression for the five of them.
Thomas had been to Disneyland before with his parents, but it was a first visit to Disney's Hollywood Studios in Orlando for this California-based bunch. This meant there was that added anticipation leading up to it all — including Thomas wondering how the two resorts would differ, early packing (above, Clara makes sure Woody comes along), catching up on Disney Junior at home and on the plane, and talking non-stop about what characters they wanted to meet once there.
The look a kid gets when they meet a beloved character in real life — of admiration and reverence and joy — is something all parents should experience. For Thomas, this came to be for his favorite Star Wars characters: Kylo Ren, BB-8, Darth Vader, and Chewbacca. "He has been a mega Star Wars fan since he was about five-years-old," says Brouillette. "Seeing these characters in person was mind-blowing for him, and the Jedi training was a great way to feel a part of a fantasy world."
Clara, the 3-year-old, had her sights on Cinderella. "From the moment we told her we were going to Walt Disney World she couldn't stop talking about meeting Cinderella. She was so happy when she finally did. Her last words before falling asleep that night were 'I met Cinderella,' with a smile on her sleepy face."
The 1-year-old had her fun with characters too. "We weren't sure how Simone would react to the characters," says Brouillette. "She can be a bit shy at times, but she practically leapt out of my wife's arms to run to Doc McStuffins. Our older daughter watches Doc a lot and Simone must have recognized her." Unsurprisingly, the Disney Junior – Live on Stage! show was enjoyed by all as well. "My 8-year-old enjoyed the Disney Junior show just as much as my 3-year-old," says Brouillette. "The kids grow up knowing these Disney characters so well and seeing them in person is exciting. "
Brouillette's top tip is to try and get on as many rides as possible. To do this, "fast passes are a must," he says. "Book as many as you can as they do speed up ride times. For times when we didn't have fast passes, we used the My Disney Experience app and could see which rides had short wait times and just headed to those instead of having a set agenda." The bottom line: "Being flexible is definitely key to having a successful vacation with kids." Above all, Thomas was particularly fond of competing with dad in the Toy Story Midway Mania! ride while Simone took great pleasure in riding on Dumbo the Flying Elephant.
The fun starts everyday at the hotel. Before the kids even crossed the threshold into Disney's Hollywood Studios they could revel in one of the two pool areas at Disney's Wilderness Lodge, where they stayed. The pool became a daily ritual for the family, where they took many breaks from the park's festivities and splashed and relaxed.
"Walt Disney World is so much excitement for little ones," says Brouillette. "Rest is key, and some downtime can really help make everything more fun for everyone" — especially if it means making it out to bask in the glow of the nightly fireworks.
The Brouillettes Take on Disney's Hollywood Studios: A Long Weekend Itinerary
Friday:
The Brouillettes drive from their home in South Pasadena to Los Angeles, where they hop on a plane to fly to Orlando, arriving in the evening.
The family heads straight to Disney's Wilderness Lodge, fresh off Disney's Magical Express, gets a bite, splashes in the pool, and goes to bed to ready themselves for two big days ahead.
Saturday:
Sunday:
All photos by Gregory Brouillette