Boris Kodjoe is Begging You To Just Wear a Freaking Mask
Just in case you still need one, the 'Station 19' star has launched his own line of masks.
by Donna Freydkin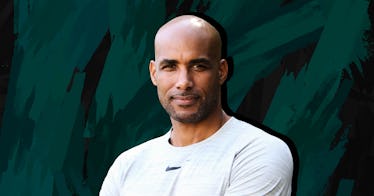 GETTY
Masks reduce the spread of COVID-19. There's something oddly grounding, amidst the endless upheaval and turmoil of the news cycle, in knowing that one simple, cheap piece of cotton can get what seems utterly unmanageable, under control. None other than the mostly apolitical Dwayne "The Rock" Johnson — whose entire family contracted coronavirus — advocated for wearing face coverings in a widely shared clip. "It has nothing to do with politics. Wear your mask. It is a fact. It is the right thing to do," said the Rock in an Instagram video.
It's a common sense stance that resonates with actor Boris Kodjoe, who plays a fire chief in the Grey's Anatomy spinoff Station 19. When production shut down as COVID-19 spread, Kodjoe launched his own line of masks, Gymwrap; for every one sold, one is donated to frontline workers.
"It was a way to get people comfortable with wearing masks. And it was a way for us to give back and do something during the pandemic. Masks have become politicized but they're the best way of stopping this thing. Just wear a mask," says Kodjoe. "If we all wore masks, we could shut this thing down and get back to normal."
He sounds equal parts frustrated and flummoxed when asked why he thinks the issue has become so ugly, so incendiary, so toxic. To normalize mask-wearing, his kids Nicolas, 13, and Sophie, 15, became part of his Gymwrap endeavor. That way, masking wasn't up for discussion.
"I wanted to get my kids involved, and they wanted to be involved. It's our way of contributing. So many people are struggling right now. We're all in this together and we have to work together to end this thing," says Kodjoe.
Being home with his teens during the pandemic has been eye-opening. "Watching my kids grow up and having these deep conversations with them — I see them process things, ask questions, and question what's happening around them," says Kodjoe.
That, of course, includes the Black Lives Matter protests, which galvanized the country in the wake of George Floyd's murder. Kodjoe discusses race with his kids and recounts how his daughter, when she was younger, refused to play with Black dolls because she thought they were dirty.
"We have those conversations often. They're heavy, but the kids see what is going in. They want to understand it. They've seen their mother be questioned by police," he says.
As for Kodjoe's ABC series, Station 19, the new season will tackle both COVID-19 and racial injustice. "We want to tell stories that resonate with people," says Kodjoe.
This article was originally published on