9 Books About Dogs To Read To Your Kid Who Wants A New Pet
by Seth Simons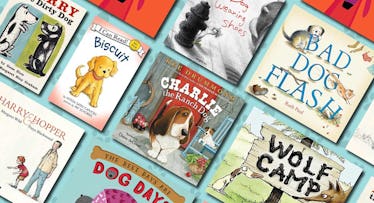 It's safe to say that your kids love dogs. Like, love them love them. Because dogs are like kids: They're silly, they like to explore, and they basically stand eye-to-eye. (Not to mention they often poop in places they shouldn't.) So it's no wonder why so many children's books center around man's best friend. Since you're familiar with the Cliffords and Poky Little Puppies of the world, here are 9 lesser-known pooch-centric books.
Oh No, George!
From the author of such gems as Little Owl Lost and Goodnight Everyone comes this timeless tale of a good dog seduced to the dark side. Like all who have broken bad before him, George simply cannot say no to his baser instincts: scarfing down cake, chasing cats, digging holes, and just generally making a mess of things. By the way, do you know where your dog is right now?
Ages: 2 – 5Oh No, George! By Chris Haughton ($11)
Harry, The Dirty Dog
In Gene Zion's G-rated adaptation of Dirty Harry, a clean dog gets dirty — so dirty his own family doesn't recognize him anymore. It's a comedy of errors that rivals Shakespeare, with the poor pup trying every trick in his little doggy book to get a bath (and his family back). The lesson might be a little on the nose, but it's an important lesson nonetheless: Baths are good!
Ages: 4 – 8Harry the Dirty Dog By Gene Zion
Biscuit
Perhaps like a certain member or members of your own family, Biscuit doesn't want to sleep. No, he wants to play. He also wants a snack. And then another snack. Then Biscuit wants a kiss. And Biscuit wants to play again! Will it ever end? No spoilers. (Fine – he goes to sleep eventually).
Ages: 3 – 5Biscuit By Alyssa Satin Capucilli ($4)
Charlie The Ranch Dog
It can take decades to master the delicate art of irony, but Charlie the Ranch Dog offers a whimsical head start. Charlie, a perpetually sleepy bloodhound, narrates the story as though he's hard at work around the ranch – fixing the fence, herding the cattle – when in fact he's usually settling down for a nice snooze. Not only does this book make for a chuckle-filled story time, but it teaches your kids a valuable lesson about working with contractors.
Ages: 4 – 8Charlie the Ranch Dog By Ree Drummond And Diane deGroat ($14)
Harry & Hopper
Warning: This is a tear-jerker. A touching parable about letting go, Harry & Hopper uses simple language and soft, faded colors to tell the story of a boy and his departed dog. Freya Blackwood's charcoal illustrations cast Harry and Hopper in dreamlike scenarios, often cornered at the edge of the page. It's fitting for a tale about the memories that live on in dreams, suggesting that the ones we've loved and lost are always a turn of the head away.
Ages: 2 – 5Harry & Hopper By Margaret Wild And Freya Blackwood ($15)
A Dog Wearing Shoes
Imagine a dog wearing shoes. Picture it real good. Part one: a dog. Part 2: some shoes. Got it? Great. Such is the world imagined in A Dog Wearing Shoes, Sangmi Ko's spritely story about a dog wearing shoes. But not just any shoes — yellow shoes! What color did you picture? Red? Ha, as if. Oh, and the book features a young girl who learns a lesson about responsible pet ownership. It's got the works!
Ages: 4-8
A Dog Wearing Shoes By Sangmi Ko ($14)
Bad Dog Flash
Like many dogs before him and many dogs after, Flash can't help himself. He just loves getting into mischief! He chews up shoes and tears up laundry. The neighborhood cat? You bet he's gonna get chased. Ruth Paul presents Flash's shenanigans in rhythmic verse – "Still cat, / dull cat. / Fast cat, / fun cat. / Run, cat!" – that make for a suspenseful read, especially in group settings.
Ages: 3 – 8Bad Dog Flash By Ruth Paul ($13)
Wolf Camp
Wolf camp is sort of like band camp, except instead of teens hi-jinxing their way into adulthood, its dogs learning how to be wolves. They've got howling lessons, hunting class, all the good stuff – except good food, as Andrea Zulli's protagonist, Homer, quickly finds out. The book may raise some troubling existential questions (If you revert to your animal nature, can you ever truly revert back??), but the vibrant watercolor illustrations provide a reassuring distraction.
Ages: 4 – 8Wolf Camp by Andrea Zuill ($12)
The Best Days Are Dog Days
Aaron Meshon's bright acrylic drawings and hand-lettered prose give energetic life to the simple story of a puppy and his companion, a young girl. Every day is a dog day for these buddies, which means – you guessed it – every day is the best day. It's pure optimism, but what's wrong with that?
Ages: 3 – 5The Best Days Are Dog Days By Aaron Meshon ($13)
This article was originally published on