The Best Spring 2018 Family Travel Destinations: Bodega Bay, California
The $400-a-night NorCal gouging can be avoided. Just drive up the 101 highway from Santa Rosa and shack up at Bodega Bay.
by Dan Friedell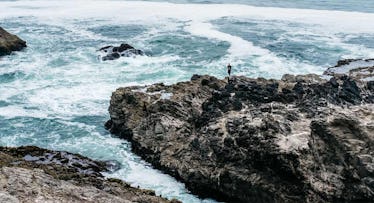 Napa Valley and Sonoma County are home to some of California's best quality, most notable, and highest priced wineries and restaurants. The joy of a visit is undercut by the expense. But the $400-a-night gouging can be avoided. Just drive up the 101 highway from Santa Rosa and shack up at Bodega Bay. To do so is to join an on-again-off-again community of deeply tanned wine-swilling beach bums. To do so is to find a sustainable way to enjoy the Northern California coast and to want to come back.
Matt Villano, a freelance travel writer with three young daughters, returns regularly, heading to the fishing village — it's a real fishing village, not a facade — walk on the trails of Bodega Head, and buy fresh Dungeness crab off the boats. There's a rugged vibe, but it's really just a vibe. Toddlers can handle the trails and the town is purposeful without being rough. Fans of the Discovery Channel's fishing shows will feel right at home. This is California with a bit of Alaska thrown in to spice it up. It's not just small-time boats steaming out of the harbor: The annual king salmon harvest is a huge part of the coastal economy.
The other big attraction is quite small: sea glass. Perhaps Villano's three girls love hunting in the sand around Goat Rock State Beach near the town of Jenner for colorful pieces of glass smoothed out by the waves. The best hunting ground for sea-dulled bottle scraps is at the mouth of the Russian river about 10 miles from Bodega Bay. Villano warns, however, that the beach has a reputation for rogue waves and is therefore not good for swimmers. It is, however, very good for wanderers and pick-it-uppers, and look-at-the-horizoners. If mellow isn't the goal, there's a colony of seals on the north side of the beach that's worth a visit. The rocks feel like another, only slightly wilder fishing town.
From higher ground, kids can spot the spray as whales surface on their trips south towards breeding grounds or north towards feeding grounds.
It's not a bad idea to pack a picnic lunch for a day wandering the coast, since restaurants can be a little touristy. But for those with kids who crave fried clams or fish and chips, a stop at Spud Point Crab Co. will help you fuel up before a walk around Bodega Head. The Tides Wharf & Restaurant has a more diverse menu. Even picky eaters who might not be into pounding shellfish should be able to find something they can enjoy (835 Coast Highway One, https://innatthetides.wpengine.com/tides-wharf-restaurant/). The important thing is to come ready to eat and ready to walk and, well, ready to spend some time in the car driving up and down the wild coast.
The other important thing is to — if you plan on lingering, and you should — dwell a bit on AirBnB. There are worthwhile hotel options, but the truth is that Bodega Bay is exactly the type of place that AirBnB has made more accessible and more fun to be for families by allowing them to enjoy a community at their own pace or simply hang out on the porch of an A-frame with a view.
Bodega Bay works as a destination because it's a jumping off point. Jump north towards rugged beauty, east toward wine and food, west into the water, or south towards the friendly environs of Merin County and San Francisco. Whichever way you go, you're doing fine. And you don't wind up overpaying for the privilege.
PERFECT FOR: Parents with young-ish children exploring northern California who want to spend a day in a true fishing village with easy hikes and fresh seafood at the ready.
WHAT TO DO
Hike Bodega Head (trailhead on Westshore Road) and stop to peer through the binoculars of the Stewards of the Coast and Redwoods Whale Watch Public Education Program who are available from January through Mother's Day in May to answer questions about the whales. Walks are about a mile.
Fly a kite: Bodega Bay is the home to two kite shops — Candy and Kites and Second Wind — and has some of the best kite-flying conditions on the west coast. There's even a Castles and Kites festival on May 8 at Doran Regional Park that includes kite-flying demos and experts making sand sculptures.
Walk
WHERE TO STAY
Reserve early if you want a spot at Casini Ranch Family Campground along the Russian River.
If you have a large group, The Inn at the Tides should be able to cover you in comfortable and attractive accomodations right in Bodega Bay.
The small town of Guerneville has a little of everything and more nightlife than you would expect for a small town. It has an active LGBTQ community and outstanding restaurants. There are active listing for vacation home rentals through Airbnb. Villano calls it "Castro north.".
HOW TO GET THERE
Bodega Bay is about an hour's drive from Santa Rosa, and only about 90 minutes via Highway 101 from the Golden Gate Bridge. Mid-March flights to San Francisco from major east coast cities are in the $400 range.
This article was originally published on