Bobby Cannavale On Acting With His Son, Parenting and Not "Overthinking It"
"I rely on my son to tell me things and fill in the blanks for me."
by Donna Freydkin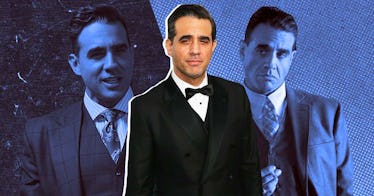 Getty / Netflix / HBO
Rose Byrne and Bobby Cannavale have what can only be called a parental debrief every night, or a cabinet meeting, if you will. It's when they ruminate over the shenanigans of their two sons, Rocco, 5, and Rafa, 3, and all the cute stuff the boys did that day. "It fills me up to watch those guys grow up," says Cannavale, who's also the dad of Mandalorian bounty hunter Jake Cannavale, 25.
His children enchant him. And this time, as an older father, he has the time, the focus, the presence of mind to remember all those fleeting moments that happen, and then disappear into the ether: The first bath, the first crawl, the first tumble.
"It's obviously so different. I'm so much older. I was the youngest dad in the class and showing up at schools the first time. Jake was an only child for a really long time. So that dynamic is just very, very different," says Cannavale. "When you have kids that far apart, everybody asks you, 'Hey, what was Jake like when he was that age? What did he do?' Rose would ask all the time, 'When you gave Jake his bath for the first time, how did you feel?' I don't remember — you just don't remember and having kids 20 years later…they're so full of life and they have so many interests now, they do things that make me remember the things that Jake did."
Cannavale was born and raised in Union City, New Jersey, only 30 geographical miles from the millionaire celebrity enclave of Alpine, but for all practical purposes, several galaxies removed. He's the self-taught guy who can do anything and be anyone, from playing Will's boyfriend on Will & Grace to the volatile gangster Gyp Rosetti on Boardwalk Empire (you might remember him beating a mechanic to death with a tire iron for ostensibly insulting him) to a pugilistic San Francisco cop in Ant-Man. Now, he's in the Netflix comedy Thunder Force, opposite Melissa McCarthy and Octavia Spencer, playing a narcissistic mayoral candidate supervillain trying to rig the election in his quest for power (sound familiar?).
He talks to Fatherly about being an older father, getting acting tips from his son, and how his kids finally figured out what dad does for a living.
Greetings from Brooklyn, our mutual home base during normal times. Where are you these days?
I'm in LA, but I literally check the weather every single day in New York. So I know it's 65 there. I love this time of year, man. So good. Right? It could be snowing tomorrow. It's the best. I think we're coming back next month in April. I'm coming back actually on the red-eye on Saturday for my first time in eight months. So I can't wait. I have to come back for a week just to do a few things, but I can't wait. We have not been home. We've been on the road.
I saw you and Rose in Medea at BAM. It was literally our last outing before the world shut down.
That's one of those things that a lot of people said was their last thing that they saw. We closed on March 8th. March 15th, we were driving upstate. We went to see the Bob Dylan musical and then everything shut down. Medea was a lot of people's last thing. But thanks for coming. I knew it was in the air, but, but very quickly it turned into Defcon. And then the next minute you couldn't get eggs. And there was like a line around the block at Union Market and weird shit was happening.
And now here you are, playing a supervillain. It's nice to see you in such a crazy comedy and reunited again with Melissa McCarthy.
Melissa and I met doing Spy and Rose and Melissa met doing Bridesmaids. So when I came on, when we did Spy, they already were friends. So she and I became fast friends and we had to shoot a scene that took two days to shoot. It is huge, the climactic fight in the helicopter. I'm trying to fly the helicopter and we have this fight. It takes two days to shoot. It was so hard. And we laughed so hard doing that, that I just knew I'd work with her again. And when she called for Superintelligence, I was very touched by that because no one ever calls me to play the romantic guy in anything. That's the only romantic comedy I've ever been in. (Ben Falcone and Melissa McCarthy) see me in different ways. And so they asked me to do different things. I feel like I'm in pretty good hands with them.
Ben (Falcone, who directed the film) and Melissa are just — if you're lucky enough to just be on someone's speed dial and they call you…I've been really fortunate in my career. I've had that happen a lot. I have a lot of friends who do this and I've known them now for a really long time. So that's how that happened. That was just a call. You get to play a bad guy. You get to wear big muscles. You get to pick Melissa up and squeeze her and almost kill her.
Given that your son Jake was on the Mandalorian, did you hit him up for any tips on playing such a larger-than-life character?
I do rely on Jake to tell me things and fill in the blanks for me. Which he does — he's not giving me the acting notes yet. But I did show this to him to ask him because he does watch all those movies and he was like, 'This is funny, dude.' I got the seal of approval from him.
He got his start playing your son on Nurse Jackie. Any qualms about having him follow you into acting?
I had no qualms because I certainly never pushed it on him when he was a kid. He took a summer acting thing and he didn't love it. So when he went to college, I said, 'What are you going to do?' And he really is a writer. And so he wanted to work on his writing up there. So the acting thing, when he brought it up to me, I've told this story before, but you know, he was staying with me.
He was in high school when he did Nurse Jackie with me. He was helping me with my lines. It was the first time he ever asked me about if he could try it. He went in, he got that part, they made the part bigger and he was awesome in it. But I wouldn't say that it's still his first love — he's not obsessed with it. He really loves writing and he's the kind of writer that gets up in the morning and writes. So he's got a real discipline for that. I'm glad that he enjoys being an artist because a lot of being an artist involves being okay with rejection and with things not panning out. And, and he seems to be oblivious to that in a way that's helpful to being an artist.
You have Jake, who's 25. And now you're raising preschoolers. How different are the two experiences for you?
I'm so grateful for that because it does spark my memory. I like being a dad. I like that being the top priority in my life, especially because I do this. And, you know, at the end of the day, I take my acting very seriously, but the acting is just part of the job, right? There's so much else that goes along with it, making decisions and then promoting it. My favorite thing in the world is the acting so having a kid for me takes up my energy in a way that really suits me well.
We do the catch-up every night, Rose and I, about the day and the kids and I go, 'I saw Rafa experience something for the first time today.' It's really hard to explain how exciting that is, but it's exciting to me, it's exciting to watch another human being learn about something and be surprised by the normalcies of life. I find that to be very profound and it's very helpful to me as an artist. It's what I enjoy.
And you're in Sing 2. I mean, Sing is the epic kids' equivalent of The Godfather in terms of impact. You play a ruthless wolf music mogul. I assume you'll watch it with your younger boys?
Am I going to watch it? I'm it. I'm in it. So they're starting to understand this whole acting thing that mom and dad do now. They're just starting to understand.
Right, because you also voiced Valiente, a fighting bull in Ferdinand. You're like a rock star to kids.
Rocco's obsessed with my voice because of Ferdinand. We've been watching Ferdinand for a couple of years now, but he's only recently put it together, even though for two years, I've been repeating the line after I say it and he still doesn't get it. We've seen Sing 50, 60 times. So Sing 2, we'll probably watch just as much. And I can't wait for that movie. You kidding? I just watched like a minute of it and I couldn't believe it. I was jumping out of my shoes
I feel like you can play anyone and do anything. Do you have any roles you're pining to play?
I don't think about the screen. I do think about it on the stage I would like to play. I was supposed to do A Streetcar Named Desire last year, and then that got wiped away. I've always wanted to do A View from the Bridge and I was supposed to do that last year as well, and that went away. I'm not a big generator. I'm too busy with these kids.
I love reading books. So my biggest regret is going to be that I didn't get to read all the books I want to read. I have to always be reading a book. So as you know, reading a book takes time and it takes concentration. So, and I have a 3-year-old and a 5-year-old, and a 25-year-old. And a wife whom I love very much. And so I want to be involved in that as well. So it leaves me very little time to think of the things I want to do as an actor. I don't overthink those things either.
Your list of credits is impressive, and that's not me blowing smoke.
I'm very, very lucky. And like I said, I've followed my gut along the way. I've done so many projects with people that I've known for 30 years. Do you know what I mean? I'm certainly trying to pick interesting things.
It does get harder to find things that you haven't done before. I'm terrified before I go to work. I've never been the most comfortable person on a set. You go to a set and you're just sitting around all day. And so I'm always afraid, that I am going to lose my concentration and do something that I've done before. Because I'm not prepared or I don't have the mojo today. It's very scary to me. So I'm really glad I have the theater.
Thunder Force is streaming now on Netflix.