Bob Odenkirk On Getting Shredded For 'Nobody' and His (Brilliant) Parenting Philosophy
"Your kids are always changing and it's hard to see that as a parent."
by Donna Freydkin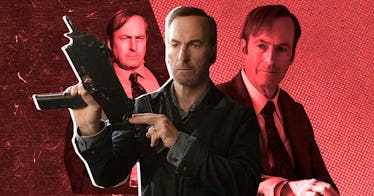 Universal Pictures / Sony Pictures Television
If you crossed the relentless vigilante father, with his "very particular set of skills," played by Liam Neeson in Taken with the chillingly berserk Michael Douglas in Falling Down, you might get close to approximating Hutch Mansell, the mild suburban desk jockey who reverts to being a deadly assassin in Nobody. Yeah, we said reverts because Bob Odenkirk, the comedy writer best known for playing crafty criminal lawyer Jimmy McGill in Better Call Saul, has a whole crazy (in the best sense) back-story that will connect with every dad out there. Every dad who's been ignored by his spouse, mocked by his kids, cornered into working the kind of desk job that makes Dunder Mifflin seem riveting, and forced to go on the attack after a break-in ignites his dormant rage.
Ok, so maybe that's not quite every dad. But the movie is pretty damn badass. And in it, Odenkirk undergoes the kind of transformation that leaves you slack-jawed. That's him, ripped and shredded, and throwing around punches while evading a vindictive drug lord. In short, it's the perfect film, featuring the perfect character, when we're all desperate for escapism. Odenkirk, who's got two kids (Erin, 20, and Nate, 22) with wife Naomi, talks to Fatherly about the sheer tedium of building muscle, and what being a good dad means to him.
What's tougher, doing these junkets or drinking fake urine, like you did in Better Call Saul?
Oh, this is much harder. It's really a unique desensitizing experience. If you like the sound of your voice, you should do it. And you won't like yourself at the end.
I know you've talked about this quite a bit but damn, Bob. You are in killer shape in this movie. Which makes sense, since you play a former hitman.
I really did train a lot. Here's what happened. Saul is an earnest guy. He never quits and he's kind of got his heart on the line, even though he's a con-man. He's really earnest and direct and not ironic in his desires at all. I thought, there's a version of that here. That's an action hero.
If I could learn to fight and I'm in good shape — I don't have bad knees, I didn't hurt my back. The only thing stopping me is you'd have to just train a lot. And I don't love being at the gym. I'm a comedy writer, but I'm willing to do it. And also I'm older. And how great would that be if I just get in good shape because I have to.
I know this film was inspired, in part, by true events.
I had this break-in in my home and I had this resentment and anger towards this person who disturbed my family. I thought I could turn that into a movie character. I had such a lot of strong feelings there. I had this book I'd read about a DEA agent and all these adventures he'd gone on. And I thought, 'What if you were a guy like that and you had that in your past, plus you had a break-in now, you'd be dangerous.'
Back to the whole workout thing. Talk me through it. Dads want to know.
I went to this gym called 87eleven Action Design, where Keanu Reeves trains. Where they do all the planning for fight sequences in John Wick and Atomic Blonde and Deadpool. And the truth was, it was hard. It was hours and hours and hours. And it was basics, basics, basics, simple basic stuff that is stressful on your body. I did develop muscle tone, but really I developed the skill of stretching and movement. The hardest part, aside from the physical exertion, was the boredom of it.
You just have to do a thousand of these moves or 10,000 of them. And I was kind of feeling embarrassed because you're in this gym, right. And everyone else in the gym is a stunt person, a professional, the best in the world. And there you are in a corner and you're just a beginner really. And you have to do this stuff and you can't help but feel like you must look like an idiot. What do I think I'm doing here?
Especially because things take forever to happen in Hollywood.
It was two years before we shot the movie. It was a full-on commitment. In Hollywood, things don't get made. You prepare them and they fall apart. So this whole time my wife is like, 'Where are you going?' I'm going to the gym again today. But I just knew that if they did say yes to it, I had such a long way to go. I had to put in the hours.
Did your wife appreciate your appearance?
She did. And I didn't want to get ripped like the guys in the Marvel universe and DC. One of the things I wanted to do was play an action star who you think — he's kind of a person I would know like he could be sitting next to you on the subway back when we took the subway.
A lot of action heroes fight like machines. I didn't want to do that at all. I said that in my first fight, I want to get hurt. I want to slip. And I want to hit my head on something like a dad would do if he tried to swing at someone. So on that bus fight, the first thing I do is I hit my head on a bar and miss.
Speaking of dads, you have two grown kids. How did you approach fatherhood, and how did you know you did something right?
I didn't really have a dad. My dad had problems with alcohol and he wasn't around very much. And I was pretty thankful that he wasn't around. Being a dad was supremely important for me — it was the biggest thing I've done in my life. It still is. And I think for me trying to be agile and trying to listen and pay attention to what's happening in the moment, it can be very hard.
You can get locked into certain ways of thinking or ways of managing that job. And you just need to be awake and see what's really going on. Because your kids are always changing and it's hard to see that as a parent, that they're growing and they're different from yesterday and they're different from two months ago. So you've got to try to stay on your toes.
That's one of the smartest things anyone has said about parenting.
For me, that might be a response to my father not being around — my goal was to simply be available. That means that my kids know where I am. Not that I know where they are, but that they know if they need to call me if they need to tell me something, they know where their dad is right now. And it's not even physically where you are, but to know where dad is emotionally. To know he'll pick up the phone. To know he'll listen to me and he'll hear a small thing or a bigger thing and he'll hear it. And just to be that resource, whether they use it or not, I think that can provide a massive, deep degree of security for a person.
Nobody is out in theaters now. It is expected to hit video-on-demand sometime in mid-April.
This article was originally published on