The Best Valentine's Day Project for Your Kids: 'I Love You This Much' Hands
Nothing says 'I care' ⏤ or kills 20 minutes ⏤ like a kid making a homemade card.
by Alexis Barad-Cutler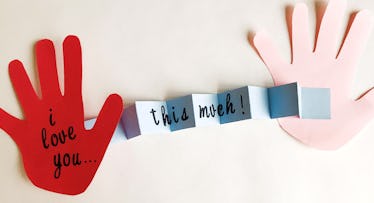 Valentine's Day isn't always about romance. For kids, it's more an opportunity to show their parents, friends, and family how much they're loved. Or, at least, liked enough to get a tiny Snoopy card that reads, "The Kissing Bandit Has A Kiss With Your Name On It."
And one way to help kids show that love ⏤ not to mention get into the Valentine's Day spirit ⏤ is by giving them a fun, doable (read: not crazy complicated) creative project, preferably one that can also be given as a gift to a parent. But what's the absolute best thing a kid could make their parent for Cupid's big day? A caterpillar made of hearts, perhaps? A giant paper hug? An intricate molten lava cake with a dark chocolate drizzle and powered-sugar finish. All fine choices.
But none are as fantastic a homemade Valentine's Day gift as this 'I Love You This Much Hands' card. Not only does it convey a fun expression most kids and parents use often, but as a project it's straightforward, can be done in about 20 minutes (or longer if you'd like to kill more time), and involves minimal materials. Here's how you can help them make it.
What You'll Need:
Colorful construction paper (make sure it is colored on both sides), about 3 to 5 pieces in case of mistakes
Scissors
Ruler
Stick-on letters and/or a Sharpie
Markers, stamps, crayons, or stickers for decorating
Glue (glue stick or regular glue)
How To Do It:
Stack two pieces of construction paper on top of one another. You can use two different colors, or the same color, depending on how you want the hands to look.
Trace your child's hand onto the top piece of paper, and have them cut along the outline while keeping both pieces of paper together. You should end up with two hands that are mirror images of each other (i.e. a left hand and a right hand).
Cut out a strip of paper that's about 1-1/4″ wide by the horizontal length of the paper. This will be the arm that connects the two hands. Obviously, if you want your child to love their parent more, by longer paper. Either way, we suggest using a different color than the hands. Fold paper like an accordion.
Depending on the child's age, have them either write the words, "I Love You . . . " on the left-hand cutout using the Sharpie or spell it out with stick-on the letters. Then apply stick-on letters or hand-write, "This Much!" on the accordion-folded strip of paper.
Decorate the hands and/or paper arm as desired, or leave as is. (Hint: Decorating makes the activity last longer.)
Glue each end of the"This Much!" paper strip to the back of each hand.
Let card dry, and you're done! When the card is folded up, the right hand should match up to the left hand so that all the fingers touch. And when the card is opened, the strip folds out to reveal the rest of the note inside (i.e. "This Much!"). Trust us. This gift is a real keeper.
This article was originally published on