10 Toy Stores That Are So Fun, You Won't Notice How Much Money You Just Spent
by Alison Zeidman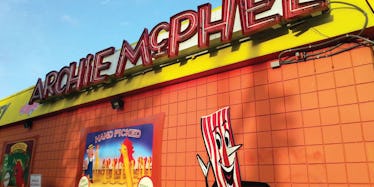 The last thing your kid needs is more toys (unless they're really young, in which case they totally need more toys) — but that doesn't mean they'll stop asking. Instead of setting them loose in the mall like they're going on a Super Toy Run with your credit card, how about heading to one of these destination mom & pop shops that still believe in specialization? From a Boston-area model railroad Mecca to Seattle's weirdest novelty shop to a Minnesota store that has both a carousel and a mini golf course, these places offer something ordering on Amazon can't: Fun IRL.
Playthings Etc., Butler, PA
Playthings Etc. is designed to look like a B-2 stealth bomber, which happens to be your son's favorite Defense Department boondoggle! Now just wait until you tell them about all the unique toys inside. Pretty much everything is out on display for customers to take a test run with inside the store. Don't be surprised if the employees invite you to sit down for a board game or go outside and fly a helicopter drone. Also don't be surprised when they decline your offer to go for a beer later.Playthings Etc.
Charles Ro Supply Company, Boston, MA
The Charles Ro Supply Company is part-model train store, part-model train. The 30,000 square foot space is bigger than the Island of Sodor and happens to be the country's largest train store. Head up to the second floor where you can find a 3-level garden chock full of choo-choos. Just make your purchases before you head up, because your kid shouldn't get the idea you can build one of these full-scale replicas. That's a trestle-bridge too far.
Archie McPhee, Seattle, WA
Buying your child their first whoopie cushion is a truly special (gassy) moment. Archie McPhee — the most bizarre toy store you've ever seen — has aisles and aisles of novelty gifts. Grab some "Finger Hands" finger puppets, unicorn-head masks, and plenty of fake vomit and poo. Kids will even love the assortment of Existentialist-themed coloring books. Go ahead, son, color outside the lines, because God is dead!Archie McPhee
The Dinosaur Farm, South Pasadena, CA
If your kid is in a dinosaur phase (it usually happens between the ages of 3 and 47), the Dinosaur Farm in South Pasadena is their one-stop shop for Jurassic-themed toys, puzzles, clothes, books, decor, and other things branded with a thunder lizard. There's also wide-variety of non-dino toys, after all, these creatures have been gone for a long time. Maybe it's time to let the healing begin.The Dinosaur Farm
Nintendo World Center, New York, NY
New York may have lost it's iconic FAO Schwartz, but it managed to hold on to it's slightly less iconic Nintendo World at Rockefeller Center. Brave the throngs of tourists with signs for the Today show to enjoy a fully immersive video game store experience. Your kids can jump on consoles to try out the latest releases. You can wax nostalgic in their museum of old memorabilia and games (remember the N64?). This would be an opportune moment to tell them the story of how when you were a kid, there were only 8 bits and you liked it — you loved it!Nintendo World Center
Toy Joy, Austin, TX
As you'd expect, this place has thousands of toys and games (as toy stores are wont to have), but it also features a ton of stuff for sale fits with the whole "keep Austin weird" thing this town has going on. Hit up the glow-in-the-dark room with light-up moons and stars. Shell out some cash for a giant plush microbe. Or just load up your daughter with Frida Kahlo temporary tattoos and send her off to SXSW while you head over to Franklin's for some much-deserved brisket.
LARK Toys, Kellogg, MN
LARK Toys was recently named the best toy store in the state of Minnesota, but it might be a contender for best amusement park as well. In addition to the toy store, there's a hand-carved carousel, sick mini golf course, ye olde fudge shoppe and a candy store all under their roof. Come for the handmade heirloom wooden toys and educational books, stay for the everything else. Your kid's going to want to hang for a while.
O.P. Taylor's, Asheville, NC
O.P. Taylor's is "The #1 Toy Store in the South" and one of the 10 best in the country — at least according to USA Today, your favorite newspaper left outside a hotel room door. O.P.'s put all of that fun inventory on the floor, stacking boxes to the ceiling and threatening your kid with the most fun way to get buried alive. Check out the giant toy soldiers who man the doors like whimsical security guards. They saw you pocket that penny candy.O.P. Taylor's
Quake Collectibles, Chicago, IL
This place may be more for you than for them. Chicago's Quake Collectibles has all those modern toys your kids will love, but it's also full of vintage stuff from your own childhood. Yes, you finally found the place your mom sent all of the stuff from the basement. Original Transformers, G.I. Joes, and Star Wars figures line the walls. Whether or not they come out of their boxes is up to you. Which will it be, this mint condition Admiral Ackbar or a preschool soccer class?Quake Collectibles
Red Balloon Toy Store, Salt Lake City, UT
One Yelp reviewer described this beloved local fixture as a "tiny, low budget FAO Schwarz," which is great, because the humongous, big budget one ran itself into the ground. This store isn't just about fun and games, though. They also organize their toys by your child's developmental needs in categories like Cause & Effect, Cognitive Stimulation, Language/Vocabulary and Fine Motor Skills. And you shouldn't feel bad about asking for some assistance — Red Balloon reportedly only employs well-mannered teenagers. Because, Utah!Red Balloon Toy Store
This article was originally published on