The 9 Best Shows On Sprout For Your Preschooler
by Alison Zeidman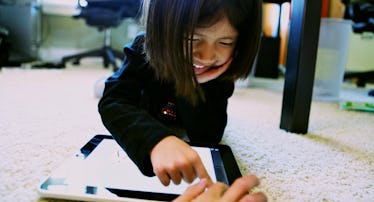 Flickr / Marcus Kwan
When you were young, you knew morning cartoons were over was when All My Children came on. Sprout, the 24-hour TV channel for preschoolers (check your local listings), shows nothing but age-appropriate content at any time of the day. Even if your kid likes rising on the early side of 5 AM, there's going to be something fun and educational that allows you to sleep in. Since there are a lot of offerings, here are the top animated and live-action shows — from talking trucks and planes to a chicken puppet who co-hosts a morning show. (Hey, he's better than Kelly Ripa.)
Terrific Trucks
Take your kid's things-that-go obsession to the next level. Terrific Trucks stars 5 live-action trucks (with sort of strange animated features) who work together on real job sites. Your kid will learn how their favorite things on 4, 6, and 18 wheels dump, scoop, front-end load, and excavate. They'll also picking up lessons about teamwork and problem-solving, without picking up any new catcalls.
Ages: 3+
Nina's World
Like your family, Nina is big on her heritage. You can think of her like Dora, but if Dora had 3-generations of family members living with her instead of a weird monkey. The best part about Nina's World is its portrayal of proud Latinos in a diverse neighborhood. How diverse? Well, Mandy Patinkin shows up.
Ages: 3+
Super Wings
Jett and his friends the Super Wings demonstrate that cargo planes are aren't just mail trucks with wings. These aircraft zip around the world delivering packages while introducing your kid to global cultures, languages, and landmarks. And no, the landmarks aren't just international UPS Stores.
Ages: 3+
Dot.
Get your kid to put down the iPad long enough to watch Dot pick up hers. Based on the book series created by Randi Zuckerberg (yes, Mark's sister), Dot is an 8-year-old with better tech-life balance than you have as an adult. Her adventures will teach your kid when technology tools can be helpful and useful for exploring and learning, and when it's time to power down.
Ages: 4+
Floogals
The Floogals have traveled through space and time to land on Earth — and they have a lot of the same questions about how the world works as your kid. These lil' GGI alien dudes insert themselves into live-action settings as they explore "hooman" (they even talk like your kid) mysteries. Is there an alternate universe behind the bathroom mirror? Maybe. Note they usually get stuff wrong on the first try, but like you and instruction manuals, they keep failing until the solution presents itself.
Ages: 5+
Ruff-Ruff, Tweet, and Dave
A puppy, a panda, and a baby chick walk into your living room … That's not a setup, that's the premise of this show. The characters ask your kid a question. And then another. And another. If there's a punchline, it's that your 3-year-old learns something. Memory skills and age-appropriate trivia challenges are presented throughout each adventure. Are you smarter than a PreK-grader?
Ages: 4+
The Furchester Hotel
Elmo, Cookie Monster, and Phoebe put their fuzzy heads together to solve their guests' many challenges and demands at this British hotel that would be terribly rated on TripAdvisor. This is what happens when the Happiness Hotel is taken over by the hospitality group that ran the Grand Budapest Hotel.
Ages: 3+
Astroblast
Ever wondered what happened to those animals we shot into space in the 50s? They're all fine and working at a space shuttle/smoothie bar. Animal pals Comet, Halley, Sputnik, Radar, and Jet welcome space travelers from across the galaxy to their interstellar clubhouse, and show your kid how to deal with friendship challenges that are bound to come up when you're stuck in orbit.
Ages: 3+
Sunny Side Up
Billy Bush has made it so your kid can't even watch the Today show, so Sunny Side Up, a live TV morning show geared specifically for preschoolers, is a viable option. Chica the chicken and her human co-hosts celebrate viewer birthdays, play games, make craft projects, and let you sleep for another 30 to 45 minutes.
Ages: 2+
This article was originally published on