The 6 Best Ballparks To Visit This Spring Training Season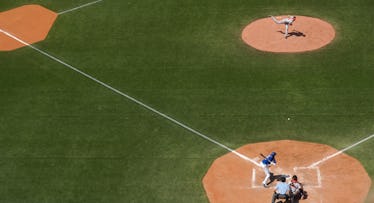 Antoine Schibler
The bats are swinging, the scent of pine tar is in the air, and the only thing bigger than the paychecks of top prospects are the wads of chaw lumped inside the batting coaches' cheeks. That's right — it's spring training season.
Spring training offers some of the best baseball fans you will see all season. Why? Because minor leaguers get to mingle with All-Stars, most players actually play because they're competing for slots, and, well, the stadiums are not only a fraction of their size of major league counterparts but also let you score tickets for about the price of a Yankee Stadium hotdog.
All of this amounts to a pretty good reason to make a pilgrimage with your kids. All 30 MLB teams have pre-season games in Florida and Arizona. But which stadiums should be at the top of your list? With suggestions from Stephen Jermanok, a 17-year travel-writer with the Boston Globe and Red Sox superfan currently on his annual spring training tour of Florida, here are the 6 stadiums you need to slide into this season.
Goodyear Ballpark, Cincinnati Reds/Cleveland Indians (Goodyear, AZ)
This baseball oasis is a must-see for Ohio MLB fans. Craggy mountains loom over the warning track, and an open walkway encircles the entire field, giving visitors 360º of great views. Jermanok says kids can roam freely throughout the complex, which includes a Wiffle ball field as well as batting cages, pitching games, and a miniature rideable train. As if the game isn't exciting enough, there's an air force base across the parking lot that hs plenty of cool retired planes for the kids to look at.
Spectrum Field, Philadelphia Phillies (Clearwater, FL)
The only spring training stadium to sit directly on the water, BHF is a great place to relax pre or post-beach. Simply take your towels, chairs, and reposition them on the outfield berm. There aren't quite as many activities here compared to other Florida parks, but it's a great place to unwind when your family vacation "starts to exhaust you." Your kids take in the Philly Phanatic's latest antics while you take in the extensive, cheesesteak heavy concessions as well as the rummy cocktails from the left field tiki bar.
The springtime fields of baseball's greatest rivals pay tribute to their iconic stadiums. If your kid is a devoted fan of either franchise, they'll get a kick out of seeing a miniature replica of their favorite place on earth.
JetBlue park features scaled-down versions of Pesky's Pole and the Green Monster, as well as a manual scoreboard once used in the real Fenway. It's still got that spring training magic, though – Jermanok says his kids ran right into Big Papi himself as he was entering the park.
And Steinbrenner Field is an homage to the old Yankee Stadium, with a scalloped grandstand façade, a miniature Yankees hall of fame with bronze statues of the greats, and true dimensions: 318 feet out to left field, 408 to center field, and 314 to right. Thanks to the loyal fan bases of both teams, the atmospheres here are some of the most electric in spring training.
As far as family friendly parks go, it's hard to beat one located on the grounds of Disneyworld itself. The home-away-from-home for the Atlanta Braves sits inside the ESPN Wide World of Sports Complex, just a 10-minute drive away from the Magic Kingdom. The middle of each inning features on-brand distractions like Lion King karaoke contests, Frozen character mascot races, and some of the more challenging Aladdin trivia this side of Agrabah. Despite the toon-town vibe, Jermanok says Champion is "an intimate setting where you'll feel very connected to the players." If you're the type of parent who delights in everything Disney, Champion Stadium could be just the thing.
There's a lot for young baseball fans to get into at the only spring training ballpark with a designated kids' club. Kids can try their hand at all sorts of baseball skills tests while entering other contests to win free tickets to games and meet-and-greets. In an age when spring training autographs are getting to harder to snag, Jermanok gives PSC the thumbs up for being one of the few stadiums with a designated "autograph alley" where fans can get signatures from players as they exit the field.
Salt River Fields Stadium, Arizona Diamondbacks/Colorado Rockies (Scottsdale, AZ)
The newest stadium in the Cactus League has the feel of a botanical garden that just happens to host major league baseball games. The extensive grounds feature a huge lake full of fish and amphibians and gardens full of native cacti and succulents. Best of all, Jermanok says free sunscreen dispensers keep you cool in that surprisingly hot March sun. And he says the stadium is carefully designed so every seat has an amazing view of the infield.