The 7 Best Sports Movies for Kids
Kid's sports movies that adults will love too.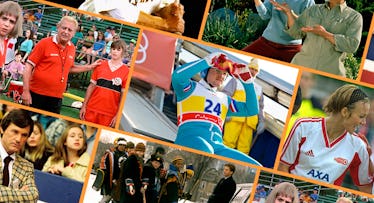 Sports movies have a knack for plumbing the depths of the human condition. Audiences can't help but find themselves emotionally invested, pulling for the protagonist to overcome on- and off-field adversity. How else do you get those triumphant fist pumps and tears of joy when all that hard work and determination bears fruit? While the genre's Oscar-baiting adult fare — I Tonya, Foxcatcher, or The Wrestler — take their beats from the dark side, kid-friendly movies about sports stick with the positives: teamwork, self-esteem building, and the value of perseverance. If you're looking for a few picks for your next family movie night dripping with guts, glory, and the requisite stirring pep talk from Coach, we've got you covered.
RELATED: The Three Most Expensive Sports for Kids
Karate Kid
The new kid in school, Daniel LaRusso, is having a rough go at it but his fortunes turn when he befriends Mr. Miyagi, the maintenance man in his apartment complex. Miyagi schools him in the martial arts while simultaneously giving him an education in car detailing and fence painting.
Inspirational Scene: You may be missing the empathy gene if you don't have tears welling up in your eyes during the finale. Daniel-son is writhing in pain after suffering another cheap shot to his already injured leg. He hobbles in attempt to find his footing and then strikes the crane pose as his sensei nods in approval and, well, the rest is cinematic history.
ALSO: 23 Best Kids' Movies Adults Will Enjoy
D2: The Mighty Ducks
After a busted knee puts the kibosh on Gordon Bombay's dreams of playing in the NHL, he gets tapped for a gig coaching Team USA at the Junior Goodwill Games. He uses the opportunity to reassemble the Ducks nucleus alongside a few new quirky additions to take the rag-tag team to the next level. While the sequel retreads the "you got to have fun out there" mantra of the first sports movie for kids in the series, it doubles down on the wackiness making for a much more entertaining kid flick.
Inspirational Scene: The "Ducks Fly Together" locker room pep talk is a whole other level of inspiration. "We're not goons, we're not bullies. No matter what people say or do we have to be ourselves," preaches coach. Hear, hear.
Bend it Like Beckham
Ah, David Beckham. The megastar who spawned the mid-1990s metrosexual revolution also inspired this witty Golden Globe-nominated film about two soccer-mad teenage girls who follow their hearts and pursue their dreams despite their parents' best efforts to stifle them.
Inspirational Scene: Jess's older sister's wedding falls on the same day as her team's league finals and her father refuses to let her play. Halfway through the wedding, he finally has a change of heart and lets her go. She gets to the pitch to find her team down 1-0 with thirty minutes left to play … You can guess the rest.
The Natural
Robert Redford plays Roy Hobbs, a middle-aged rookie with a gift for knocking the cover off the ball in this baseball fairytale adapted from Bernard Malamud's book of the same name.
Inspirational Scene: It all starts with the foul ball that breaks "Wonderboy" in half and ends in shards of stadium lights and fireworks.
Miracle
Kurt Russell's hockey hair gets put to good use in Miracle where he stars as the intense and analytical University of Minnesota coach who is hired to assemble the now-fabled 1980 U.S. hockey team. This is the squad who triumphed over a formidable Russian squad backstopped by the legendary Vladislav Tretiak en route to clinching the gold medal against the Finns.
Inspirational Scene: The commentator says it all: "Do you Believe in miracles?! Yes!"
Eddie the Eagle
After failing miserably in attempts at a variety of Olympic disciplines, Eddie Edwards happens upon ski jumping, a sport that Great Britain hasn't fielded a competitor in for six decades. Through sheer willpower and DIY perseverance, he overcomes every obstacle thrown in his path and qualifies for the 1988 Games.
Inspirational Scene: When he lands his first jump at the Olympics, setting a British record (but coming in dead last), he can't contain his jubilation. His excitement, contagious enough to make him a real-life folk hero, is perfectly captured on the big screen.
Ladybugs
Rodney Dangerfield, scrubbed of his rough edges for the role, convinces his girlfriend's son Matthew to put on a wig and join a girl's soccer team he's coaching to curry favor with his boss. But can Matthew (now Martha) get the job done?
Inspirational Scene: Dangerfield's motivational speech comes at a clutch moment in the game: "You don't need a boy to help you win! You're women! You don't need anyone! You're liberated! You got the vote! You can burn your bras! When you get them!"