The Best Short Movies For Kids Under 90 Minutes
From Netflix to Disney+ to Paramount+ and beyond, here's where to find movies for your kids that aren't too long.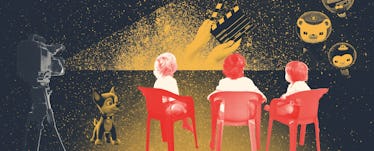 In a cruel, ironic twist of parenting rules, your child's attention span is equally and exactly as short as your patience. So what to do when you have exactly 1.48 hours before dumping (I mean, lovingly chauffeuring) your kids off at grandma's for the weekend? Short movies to the rescue! Looking for the best short movies for kids that aren't too short but aren't super long either? Here's what we've got.
It's a classic and contemporary mix, with each movie all under 90 swift minutes and in descending running times order. We think these movies will keep your young one's interest when time (and their ability to sit still) is limited. We've included streaming links here from each of the major streaming services, just in case you and your little one have a "channel" preference. Here we go!
HBO Max: My Neighbor Totoro
If you have designs to raise the next Scorsese, introduce your future auteur to this 86-minute whimsical masterpiece by Hayao Miyazaki about sisterhood and a cuddly forest spirit in the countryside that only kids can see, featuring real-life sisters, Dakota and Elle Fanning. This is a movie truly for everyone, for both the young and young at heart, or anyone in need of an animated reminder of the magic and mystery of childhood.
You can stream My Neighbor Totoro on HBO Max right here.
Paramount +: PAW Patrol: The Movie
A feel-good puppy-populated action movie packed with speed, adventure, and teamwork, sure to feed your preschooler's PAW Patrol addiction in just 86 panting minutes. Ryder and crew are back at it again to save Adventure City from the evil grips of classic Bad Dude, Mayor Humdinger. Props to the filmmakers for adding a new female Dachshund to the litter, who rides a mean pink motorbike and has pretty epic hair.
You can stream PAW Patrol: The Movie on Paramount+ right here.
Hulu: Shaun the Sheep Movie
This one is pretty great. If you've not introduced your kid to the off-beat charm of Shaun the Sheep, you can't do much better than this 79-minute romp. If you're trying to get your kid primed for loving Monty Python when they're a bit older, start right here.
You can stream Shaun the Sheep Movie on Hulu right here.
Disney +: The Great Mouse Detective
Yeah, you forgot about this one, didn't you? Clocking in at only 75 minutes, this Sherlock Holmes-inspired Disney movie is epic. Unlike the Disney films that followed, this one only has one big musical number, while the rest of the movie is all about Basil (the titular Mouse Detective) solving an amazing mystery. One note: Ratigan, the rat-version of Holmes' archnemesis, Moriarity, is a little scary. That said, if you want your kid to understand why Sherlock Holmes is so awesome, you can do no better than this 1986 classic.
You can stream The Great Mouse Detective on Disney+ here.
Amazon Prime: Clifford's Really Big Movie
Sometimes you gotta take one for the Toddler Team. While many parents might find this oversized canine to be a bit of a doggy bore, your labrador-loving kiddo will definitely disagree. So for 74 minutes, maybe take a nap with your eyes open, as this ginormous pooch paws his way into "Larry's Amazing Animals" traveling show. Some auditory consolation: a little Three's Company nostalgia via Clifford, voiced by the late and great, John Ritter.
You can stream Clifford's Really Big Movie on Amazon Prime here.
Netflix: Octonauts: The Ring of Fire
Based on the hit TV show, the Octonauts are back with their most risky underwater journey ever to explore The Ring of Fire, (which I now know are) a bunch of volcanoes both above and below the Pacific. Featuring vicious tsunamis and rare whale rescues, this 72-minute seaweed-laden adventure is also the opportune interdisciplinary moment to introduce your mini marine life junkie to your go-to Johnny Cash karaoke song. Plus, this one concludes with all the Octonauts joining together in a Voltron-like contraption that is equal parts cute and awesome.
You can stream Octonauts: The Ring of Fire on Netflix here.
PBS Kids/Amazon Prime: Dinosaur Train: What's at the Center of the Earth?
Head underground for 53 minutes with your favorite Pteranodon family to answer the age-old, titular question: what's at the center of the earth? Also, kill two birds with one stone with this swell home school geology lesson, elucidating what comprises the layers of earth, courtesy of a Mesozoic Mole. There's also the innocently-emphatic testimonial of the youngest dino, Don: "This is going to be the best hole ever."
To stream this PBS Dinosaur Train special, your best bet is Amazon Prime.
Apple TV+: Here We Are: Notes for Living on the Planet Earth
Allow Meryl Streep to take your kiddie entertainment to the next level with an animated short based on the stunning book by Kid Lit superstar, Oliver Jeffers. In just 36 slight minutes, you can whisk your kid along a glittering, guided tour of earth and together, appreciate the awe-inspiring world with shinier eyes. Heartwarming and thought-provoking, this ambitiously brief adaptation celebrates both unity and difference, with the bonus message to protect our precious planet.