9 Road-Trip Books That Will Keep Kids From Asking If You're There Yet
Because they can only watch so many episodes of 'Nature Cat' on your iPad.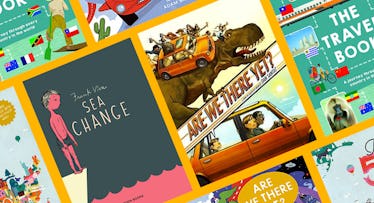 It's pretty much a given that when you're traveling with kids you're bound to have at least one Clark Griswold moment. Since you can't just tell them that Florida is closed, you're going to have to figure out how to keep everyone calm. Because if you think you have it rough in the driver's seat, try to remember what it must feel like to be a small ball of pure kinetic energy that's buckled up for hours at a time. Below is a list of the best books about traveling that can help your passengers relax when the answer is, "No, we're not there yet."
Are We There Yet?
Caldecott-winner Dan Santat captures what it feels like to be crammed in the back of station wagon with nothing to do but pick your nose. For the kid in this book, time actually moves backwards as his bored mind starts to wander on the drive to Grandma's house. Things start to get weird, and pages are even flipped upside down — but hey, it's something to do to pass the miles. Ages: 4 – 8Are We There Yet by Dan Santat ($8)
Pinny In Summer
The story is just a day-in-the-summertime life of Pinny — a kid who has nothing to do but chill out, watch clouds, feed seagulls, bake cakes, and asks rocks for wishes. And while it's a good transitional title from picture books to chapter books, you'll be damned if it won't make you feel super depressed about not having a two-month summer vacation. Ages: 4 – 7Pinny In Summer by Joanne Schwartz ($7)
Sea Change
Remember that one summer you were sent away to spend the season in Point Aconi, Nova Scotia, helping on your great uncle's fishing boat? No? It doesn't matter, because while the details may be Canadian, the themes are universal. Bullies, girls with secrets, strip mining, and corporate overlords are somehow all touched upon in a beautifully illustrated book for your preteen who can handle these more adult themes. Ages: 8 – 12Sea Change by Frank Viva ($2)
Lonely Planet's Travel Book
You used to carry Lonely Planet books in your back pocket when you did young, fun, things — like backpack through Europe. Now it's your kid's turn to enjoy one of their guides loaded with facts, figures, and pictures of more than 200 countries (even exciting ones whose sovereignty is disputed) but aimed at a younger audience. The Travel Book documents some of the most far-out places your kid will hopefully visit one day. Don't worry, you'll get to go to them with the rest of the retirees in 40 years. Ages: 8 – 12Lonely Planet Kids Travel Book ($15)
50 States
As promised, 50 States features bright, stylized illustrated maps and infographics that cover the continental United States (as well as bonus states Alaska and Hawaii). Teach your kids the story of the John Muir Trail! The significance of Fort Sumter! The birthplace of Bruce Lee! Author Gabrielle Balkan makes a point of highlighting more than just what the state tourism bureau puts in its brochures. After all, if you've seen one Civil War battlefield, you've seen them all. (They look like fields.) Ages: 7 – 1050 States by Gabrielle Balkin ($20)
Little Island
Margaret Wise Brown of Goodnight Moon fame has another book that your kids probably haven't read yet. In The Little Island, a cat learns a profound lesson about how a rock in the middle of the ocean can be interconnected with all of the other bigger rocks (like, say, Asia) on Earth. Hopefully, their little brains will wrestle with this concept all the way to the next rest stop. Ages: 3 – 7The Little Island by Margaret Wise Brown ($8)
Are We There Yet?
Why can't we have just one normal trip to Grandma's house? In this tale of a bored kid who has a pretty interesting imagination (much like the other "Are We There Yet"), illustrator Adam McCauley peppers each page with recognizable details from previous ones, but put through a funhouse lens. The closer they get to the grandmother, the more psychedelic things become. Where did all of these bats come from?! Ages: 4 – 8Are We There Yet by Nina Laden ($16)
Cars And Trucks And Things That Go
Good 'ol Dick Scarry and his gang of anthropomorphic animal friends drive the best cars, trucks, and heavy machinery — including the impractical banana car — through each page. Follow the pig family as they go from their house, through an airport, military training ground, and snowstorm just to find themselves at home again. Hey papa pig, you're kind of a terrible driver. Ages: 3 – 7Cars and Trucks and Things That Go by Richard Scarry ($11)
Alpha, Bravo, Charlie
Pop that collar on your best pastel polo and slip on those Sperrys — it's time to get nautical. If you're boating, you'll need to introduce your kids to the color and confusing world of maritime communication with this book. Nautical flags, morse code, the phonetic alphabet, and semaphore signaling are explained in terms that even you can understand. Unless you're just taking the wave runners to the lake. Then feel free to ignore the rules like a jackass. Ages 8 – 12Alpha, Bravo, Charlie by Sara Gillingham ($14)
This article was originally published on