The 13 Best Podcasts For Dads Interested In Art, Science, Engineering, And Sandwiches
As a dad, you need to (pretend to) be an expert in everything. Listening to these podcasts will make it no problem.
by Jacob Breinholt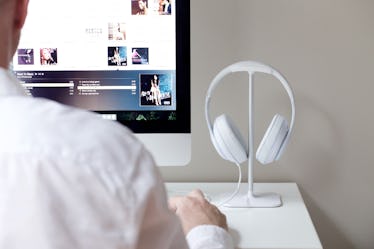 Once you've blown through all kids podcasts, and the parenting podcasts to listen to about kids, you probably want a podcast for dads that has nothing to do with kids. And because you live in an age where anyone with a halfway decent microphone and an opinion can broadcast, it's hard to know what's worth your precious minutes.
Below are a few of the podcasts that are not only worth your time but will arm you with a skill set that's complimentary to being a dad. Can't figure out how to make work-life balance happen? Listen to Stew Friedman. Don't know enough about the universe to build a fifth grader's diorama? Neil DeGrasse Tyson does. Don't have a come back to "is it a sandwich?" Ask Dan Pashman. Does the pace of technology give you moderate to severe anxiety? Manoush Zomorodi will figure it out. Everything else, you're on your own.
Best Podcast To Balance Your Work With Your Life
If you're working more than living, then you need to listen to Stew Friedman's podcast. The Wharton School professor and head of their Work/Life Integration Project sits down with policy experts like Anne Marie Slaughter at the New America Foundation, Bulletproof CEOs like Dave Asprey, and deep thinkers like Emily Esfahani Smith, author of The Power of Meaning: Crafting A Life That Matters, to discuss ways you can approach this lifetime balancing act like one of those Cirque Du Soleil mimes.
Best Podcast To Debate Whether Their Hot Dog Is A Sandwich
Seriously, is a hot dog a sandwich? Is a taco? Is a burrito!? James Beard-nominated food writer, Dan Pashman, tackles eating ephemera like this and more in his podcast that's more everyday than Gourmet. Each episode tackles subjects like a cuisine's cultural roots or role in political campaigns, without being too foodie about it. It doesn't matter whether your kid is gumming rice cereal or flipping over a plate of broccoli, this is where you start to engage your picky eater about more than mac and cheese.
Best Podcast To Talk To Them About Space-Time
British scientist duo Brian Cox and Robin Ince record this 30-minute live podcast together with a panel of experts/comedians, because some people don't find science funny enough. Cox and Ince dive into practical applications of the known universe while simultaneously trying not to making your tiny, insignificant brain explode. This could be useful in answering your kid's questions about everything from how the universe was formed to why farts stink. Hint: They're related.
Best Podcast To Focus Your Kid's Artistic Abilities
In 99 Percent Invisible, host Roman Mars addresses the psychology and social schools of thought behind ubiquitous items that you generally give little thought to — like that plastic tag on your loaf of bread. Mars reveals some of the whys and hows that these things exist, and how they're changing how you live in weird and, yes, invisible ways. Your kid asks questions about everything, so at least know you'll know the real reason why Chinese food delivery comes with fortune cookies.
Best Podcast To Sound Smart About Space And Stuff
NASA meets the Star Wars in this podcast hosted by world-famous astrophysicist Neil deGrasse Tyson. Sure, you'd like to know about the latest developments in space exploration — but can you use a Death Star metaphor to explain it? Tyson's past guests have included scientists, celebrities, and celebrity scientists who all attempt to put a popular spin on space nerdcore.
Best Podcast To Make Them Something With Your Own Two Hands
Hit Home Depot for more than just oversized rolls of duct tape and new lawn furniture. The hosts of Making It will instill in you the notion that the average person can still pick up tools and make useful things with them. Rather than being a how-to show for specific projects, the show focuses on the creative process and fabrication methods from a high level. (If you need to know which side of the saw is sharp, YouTube is a better resource anyway.) This year you're going to have a pinewood racer that Elon Musk would throw money at.
Best Podcast To Relearn Social Studies
If your kid comes home asking which America Trump is trying to return us to (fair question), you can take your cue from historians Ed Ayers, Peter Onuf, and Brian Balogh in this a 'back to basics' refresher on history. They tackle everything from "who was Hamilton?" (Thanks Lin-Manuel Miranda!) to "where did the idea of political correctness come from?". It's a little less hardcore than Dan Carlin's Hardcore History — because you want to revisit a moment in the past, not take a tour through it in real-time.
Best Podcast To Know What's Happening In Your Kid's Brain
Psychology has come a long way since the days of Freud and his pervy ideas about your mom. Keep up on the latest studies on how our minds are affected by modern technology, culture, and education with host, Shankar Vedantam, science correspondent for NPR. The episode on narcissism may come in handy if you happen to have a toddler.
Best Podcast To Give Some Context To Your Bedtime Stories
Before Frozen (or even Hans Christian Andersen) your kid's favorite fairy tales were reinterpreted versions of much older folk tales — with less dancing snowmen. Jason Weiser is a folklore buff who combines his research and passion to create a podcast that's half history lesson, half bedtime story. When you become addicted to the podcast, just don't make the mistake of telling your friends that you are hooked on adult fairy tales. They may get the wrong idea.
Best Podcast So You Know What Pokemon Go! Is Doing To Them
You already spend most of your waking life wrestling technology to the ground and making it do your bidding. Manoush Zomorodi can help as she navigates how the digital world is affecting the analog one. In the "tech show about being human," she cares less about which apps to download, and more about investigating topics like as biohacking, cybersecurity, and why computer scientists have no problems picking a restaurant.
Best Podcast to Hear About the Realities of Parenting
The Mom and Dad Are Fighting parenting podcast, brought to you by Slate, isn't afraid to get down to the not-so-pretty realities of raising children. Recent episodes include advice on what to do if you hate your friend's kids and how to deal with your kid rejecting you. The three hosts– Gabriel Roth, Rebecca Lavoie, and Carvell Wallace – dig deep into these questions. A podcast for any dad who wants to listen to thoughtful answers to the problems parents are often faced with – and may not know how to handle.
Best Podcast for Dads Struggling in the 21st Century
Being a dad in this day and age has its own challenges. This podcast, by the City Dads Group – which brings fathers together in 16 cities – takes those difficulties head on, bringing in guests such as psychologists, authors, and journalists to talk about them. Another podcast for the listener who wants to hear discussions on fatherhood's tough questions.
Best Podcast to Learn How Other Dads Do It All
Of course, this list would not be complete without a mention of yours truly. Editor-at-Large Joshua David Stein sits down with notable fathers to chat about parenting and family. He also delves into the science behind parenting issues and gives advices to make your job as a dad seem less impossible. Guest have included Ken Burns, Laird Hamilton, and Gay Talese.