The 9 Best Indoor Play Spaces In America To Get Kids Running Around In Any Weather
by Aaron Stern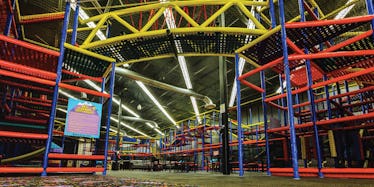 Winter is coming, and with it is the need to entertain your little Wildlings without the usual playground circuit or soccer practices. Perhaps you live in a perfectly temperate climate, but there's rain in the forecast. That's fine too. Because all of these indoor play spaces exercise kids' minds and bodies even when the weather is cold, wet, or the dreaded "wintry mix." Here are 9 sheltered play areas across the country that are almost as good as the great outdoors.
Exploratorium, Skokie, IL
Your kids may run out of gas before they get to experience everything here, which means a quiet car ride home. It has installations like a Lite-Brite-like peg board, an engineering station where kids can experiment with magnets (how do those work?), a water play area for all kids — including babies — and a dress-up area full of costumes. There's also a 2-and-a-half story network of tubes and tunnels, so if you lose them it's not really your fault.
The Big Playhouse, Westwood, NJ
More like a big play town. At the Big Playhouse kids socialize and work together on Main Street (while those other kids take advantage of them on Wall Street). There's a Cozy Cottage to play house, a stuffed animal triage (paging Doc McStuffins), pitch hay in a barnyard, race cars at Tom's Speedway, or go pretend-grocery shopping. Basically all the things adults do driving home.
Splash Zone, Chelsea Piers, Stamford, CT
Who doesn't like swimming in winter? Kids. Adults. Anybody who is warm-blooded. If you want to enjoy some fun in the winter sun, Chelsea Piers, Stamford — just up the road from Chelsea Piers in Chelsea — has a 6,000 square foot "Splash Zone" that features 3 waters slides. Downside? You must be 42-inches tall to ride. Upside? Towel rentals are only $2.
The Art Farm In The City, New York, NY
Another knockout attraction in the city, the Art Farm In The City is an indoor petting zoo where kids can pet and feed a litany of tiny critters (chinchillas, lizards, rabbits, turtles, and guinea pigs. It's located on the Upper East Side, where chinchillas are common, but are usually in coat form and worn by elderly women with Met memberships.
Paradise Park, Lee's Summit, MO
This sprawling facility just outside Kansas City (Missouri — the confusing KC) caters to toddlers to age 8. It's got bumper cars, an arcade, mini bowling and a multi-level foam factory with air cannons and the requisite foam pit. All that and a 12,000-square-foot edutainment center that features a new, seasonal theme each week for its art projects and cooking lessons. Although your kid will probably choose air cannons over ovens.
Mt. Playmore, Austin, TX
Is everything really bigger in the Lone Star State? This massive indoor gym here claims to be the largest in Central Texas, so that puts it in the running for biggest indoor gym in the country. There are leather couches in a seating area for you. A 3,000 square foot playspace for them. Also very Texas? The weekly reptile show each Wednesday, where kids can get up close and personal with a wide variety of snakes and other reptiles. Sorry — varmints.
Imajine That, Lawrence, MA
Just an hour up 93 from Boston is an interactive kid's center that features a pint-sized Whole Foods, a science station, a giant dinosaur climbing structure, a hospital-themed play space and an arts table. The education thread runs through Spanish immersion classes for infants, toddlers and preschoolers. How 'bout them manzanas?
Kids Cottage, Dover, DE
The mini-village is the big draw for drop-in play at this facility, which doubles as a daycare just in case you want to leave — and eventually come back. But this isn't just a way for your kid to while away the hour. It has a pretty extensive indoor play area looks like it was inspired by both Norman Rockwell and Tommy Caldwell.
The Coop, Studio City, CA
Parents in Los Angeles are cooler than you. Sorry, but does your Gymboree have a Third Wave coffee barista, EDM dance floor, and the chance you'll run into a Kardashian? Besides all this going for it, the Coop also features a rope-climbing tunnel, and bounce house with a basketball hoop — just in case they get their hands on your triple espresso.