The 5 Best PBS Shows of All Time
Just in case you forgot, PBS is awesome.
by Jordan Obey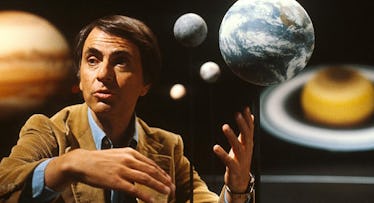 Cosmo Studies
Parents can rest easy if their kids are watching the Public Broadcasting Service. Consistent, quality programming that educates as much as it entertains. Award-winning news coverage that's measured, balanced and well-produced. Muppets. PBS offers something for everybody. Since 1969, the nonprofit PBS has aired some of the best content on television, and not just in a single field. Whether your family is into science, cooking, investigative news, or live music PBS has you covered. Which is why we want to celebrate it by highlighting 5 of its best shows in the last 49 years. Now, PBS has tons of great shows not listed here, but this list is a cross section showing off the sheer variety PBS offers. If you're already a PBS fan and want to convert non-believers, or if you want to start watching but don't know where to begin, check this out.
Sesame Street
When Sesame Street premiered in 1969, using cute characters and catchy songs was already a tried and true method of holding kids' attention. But creators Joan Cooney and Lloyd Morrisett wanted to harness that attention-grabbing power and use it to do good. The result was Sesame Street, the iconic television show and titan of children's programming. For 49 years, live cast members alongside famous Henson muppets like Big Bird, Elmo, and Oscar the Grouch made themselves at home in television sets everywhere. Through short video segments, sketches, and songs the ensemble of Sesame Street continues to bring smiles and inspire laughs, all while teaching kids scholastic and moral lessons. Calling it a TV show doesn't do it justice, at this point, it's part of the fabric of American life.
Contemporary episodes of Sesame Street are streaming on PBSKids.org.
Frontline
Frontline is the gold standard in investigative documentary filmmaking. For 35 years the show has contextualized the world's biggest news stories to produce hundreds of hours of provocative, meaningful content. Frontline coverage has helped free people from prison, affect policy reform, and inspire social change. It's kind of the shit. In a time when the integrity of journalism is constantly questioned, all you have to do is turn to Frontline to remember that it is still very much alive and well.
You can watch FrontlinePBS.org right here. on
Cosmos: A Personal Voyage
Cosmos is a documentary series with 13, hour-long episodes full of awe. Hosted by astrophysicist and expert mindblower Carl Sagan, Cosmos changed the documentary game. Mixing Sagan's ability to translate his passion for science into poetic narration with cutting-edge visuals helped the show raise the bar for science programming. Alongside the breadth of knowledge the show offered, was a strong humanistic ethos. In the final episode, titled "Who Speaks for Earth," Sagan urged viewers to cherish life and warned of the looming threat of nuclear warfare. The show didn't just celebrate science, it celebrated life.
The original Cosmos is streaming on Hulu.
Mister Roger's Neighborhood
Like a soothing balm of sanity applied over the course of a half hour, Mister Roger's Neighborhood starred the soft-spoken and sneaker-clad Fred Rogers as, honestly, just himself. Which, of course, was part of the show's magic. Even though the show was produced for an audience of children, Rogers never pandered or spoke down to his viewers, instead of donning a special character, he spoke plainly and without airs. He sang songs, and introduced friendly puppet characters like Prince Tuesday and King Friday XIII to help tackle topics as wide-ranging as death – something other kid shows shied away from – and how to deal with anger.
The vast majority of Mister Roger's Neighborhood is streaming on Amazon Prime.
Masterpiece (Masterpiece Theatre)
This iconic anthology series is the longest-running drama in America, which is kind of funny considering it mostly presents British productions (hence the original title's spelling of 'theatre'). Masterpiece is like a televised version of the classics section in a library or bookstore, often featuring filmed adaptations of well-respected novels. Which is why in pop culture, Masterpiece gets made fun of for seeming like TV for snobs. Whenever you see parodies of exaggerated haughtiness on TV, you're probably watching a take on Masterpiece. Snobbish or not, Masterpiece has top quality productions and some of the best writing you'll find on any program which is why it's endured for so long.
Most Masterpiece material is streaming on PBS.org. (Though, stuff like Downton Abbey doesn't stay on there forever.)