12 Awesome Activities To Do With Your Kids
Dominate the go-kart track! Build a robot! Get a hole-in-one!
by Fatherly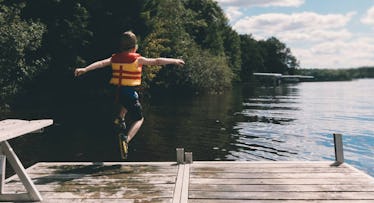 1152. That's that total number of hours of weekend bliss waiting for you in the coming year. And while it sounds like a lot, they vanish pretty quickly. So to help you make the most of them, here are 12 awesome activities to tackle with the family. Each is easy for you to do with your kids and loaded with tips from ridiculously overqualified experts. Robot engineering? There's a pro-builder to help with that. Make use of that telescope? A NASA scientist has your back. Go all Mario Andretti at the go-kart track? Here's another Indycar racer's point-by-point instructions. In other words, your 2017 social calendar is now full.
January: Create Fast-Flying Paper Airplanes
If a good, old-fashioned paper airplane chuck-off sounds boring to your kid, check out the creations of John Collins, a father and world record holder for paper airplane distance. He shows off a swan plane, space shuttle plane, cylinder plane, and — sorry, did that one just boomerang back to him? His keys to the ultimate paper plane are sharp folds, clean lines, symmetry, and forward momentum.
— A World Record Paper Airplane Thrower's 3-Step Plan To Help Your Kid Rule The Skies.
February: Build A Chain-Reaction Machine That Does Chores
Joseph Herscher has created ridiculous mechanized solutions for things like licking stamps, turning newspaper pages, and even getting dressed. He's been featured on things your kid likes to watch (Sesame Street) and things Kanye likes to watch (the Venice Biennale). Here are his tips on making your own unnecessary, but entertaining, machine with your kid.
— How To Build Easy Rube Goldberg Machines From Household Objects
March: Construct An Army Of Duct Tape Creatures
Beyond its use as a repair-all, duct tape is also an artist's medium as versatile as paint or papier-mâché. And over the course of nearly 20 years, Professional duct tape artist Todd Scott Scott has crafted everything from a "leather" jacket for The Fonz to 4,750-square-foot, 1,120-roll American flag. Here's his advice on how you and the kids can use the tape you already have in your garage for something more fun than fixing the water heater
— How To Make Duct Tape Wallets, Sculptures, And More From A Master Of The Medium
April: Transform Your Backyard Into An Insect Exploratorium
Kids just happened to be fascinated by things that are gross and tiny — like them! This is why Dr. John Guyton, professor of biochemistry at Mississippi State University and Chair of the Entomological Society of America and director of a summer camp with bugs wants your kids to appreciate the insect world. And even if your kids decide not to pursue a degree, bug-hunting is way more fun than being an exterminator.
— How To Turn Your Backyard Into An Insect Exploratorium
May: Build Your Own R2-D2
It's entirely possible for you to impart those in-demand STEAM skills on your kid without actual steam coming out of your ears. Take it from Jenny Young, founder of Brooklyn Robot Foundry, a school (now 3 schools, actually) where kids age 2-to-however-old-you-are learn to solve problems, get STEAM educated, and, most importantly, make things. Specifically, things that go, "Beep-boop" and help save the universe from the Death Star. R2-D2 isn't on the syllabus yet. But if you follow Young's simple tips, you can empower your kid with a fighting Jedi spirit through trial-and-error and building.
— You And Your Kid Can Build R2-D2 With These Tips From A Robot Engineer
June: Go All Mario Andretti At A Go-Kart Track
Juan Pablo Montoya, a veteran of the IndyCar, Formula One, and NASCAR circuits, started out driving Go Karts in Colombia. Now, he's passing the torch by coaching his son in competitive go-kart racing. Montoya says that whether you're on a pro track or at the "family fun center", your kid can learn the basics of how to grab the checkered flag. Because you're the weirdo that brought their own checkered flag.
— Show Your Kid How To Dominate The Go Kart Track With These Tips From An IndyCar Champ
July: Grill All The Meats
July is a great time to instill a love of cooking in the kids – so says New Yorker editor John Donohue, author of the cooking anthology Man With A Pan and the food blog Stay At Stove Dad. Unless you have 2 food-related honorifics to your name, you'll want to heed his advice.
August: Get Your Kids To Shoot Par
Want to get your kids out of the sand trap in less than 19 strokes? Or simply have them hit more than a dribble off the tee? Gary Cressend is a PGA member and certified golfing instructor at Augusta Country Club. In 2014, he was named one of the top 50 junior golf instructors in the country by U.S. Kids Golf. He's got some driving, chipping, and putting tips that will get your kid on course … on the course.
— Make The Long Game Short And Other Tips From A Top PGA Juniors Coach
September: Take Them On An Interstellar Tour
You don't have to be an astrophysicist to enjoy the infinite cosmos with your kid. Don't believe that? Just ask one. Brian Koberlein is a father, RIT professor, and yes, astrophysicist with a simple 3-step process you can follow to start stargazing with your kid. Those experiences, he says, will shape them far beyond their ability to crack up a campsite with some well-timed Uranus zingers.
— Turn Anywhere Into An Observatory With This 3-Step Guide To Stargazing
October: Perfect Your Paper-Folding Skills
Robert J. Lang is a former NASA physicist who has spent years perfecting the art of origami. Need proof? Just look at his incredible folding portfolio that includes such original designs as origami Darth Vaders and Jimmy Carters. So yeah, he has the skills to let your kid fold their way to a new pet pegasus, airplane, or life-size paper best friend. If nothing else, it'll make them more useful come laundry time.
— Show Your Kid How To Fold Paper With A Guy Who Made An Origami Jimmy Carter
November: Up Your Bedtime Story Game
What happens when you've exhausted all the fairy tales you know and are now recycling Game Of Thrones plotlines (minus some of the nudity)? Ask Jeff Kinney, author of the hugely successful Diary Of A Wimpy Kid book series (and the recently released Diary Of A Wimpy Kid: Double Down). He may have sold 180 million copies, but at home, Kinney was expected to produce original work. And although his boys are now past the age where they want to listen to his stories, Kinney still has a lot of professional advice for the dad who suffers from nightly writer's block.
— How To Make Up Bedtime Stories From The Author Of 'Diary Of A Wimpy Kid'
December: Throw A Perfect Strike
If you live in suburbia, then you live near a bowling alley. And if you live near a bowling alley, chances are your kid's social life is about to include a lot of 10-pin-themed birthdays. Parker Bohn III, is a Professional Bowlers Association (PBA) hall-of-famer, 35-time PBA Tour title winner, and father of 5 who, threw 105 career-perfect 300 games in 2015. Here are his some tips for to take your kids from bouncing off bumpers to picking up a spare.
— How A Hall Of Fame Bowler Taught His Kids To Throw More Strikes Than Gutterballs
Look back at the Best Activities In 2016