The Best New Music for Kids
And you thought all music for kids was made by a guy named Raffi.
by Tobias Carroll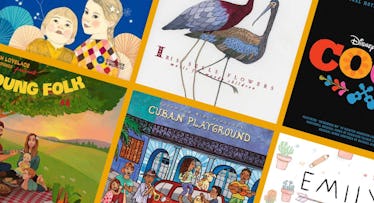 What makes for memorable music for kids? To an extent, that's a question that will vary from child to child: someone's favorite song might be entirely unappetizing to one of their closest friends, and vice versa. Still, there are some general rules of thumb to follow: Melodic, uptempo music that's fun and easy to follow along with is where you should start, says Dan Storper, founder and CEO of the label Putumayo World Music, who has released a substantial selection of music for children. Then, find the regions and styles that resonate the most with your kids. "We find African and reggae music often generates the most immediate positive response," he says. Here's a look at some notable recent kids music that might just be perfect for your child.
RELATED: Metal God Zakk Wylde Talks Music He Learns About from His Kids
Josh Lovelace, Young Folks
Inspired by writing music for his own young children, the songs on Josh Lovelace's album Young Folks quickly coalesced into a project incorporating Lovelace's family, friends, and musical influences. The result is a sing-a-long-friendly collection of music for kids rooted in acoustic guitars, wry humor, and a sense of community.
PLUS: 12 Awesome Kindie Rock Bands You've Never Heard
Various Artists, Under the Moon: Jazz Standards and Lullabies
It's never too early to introduce your kids to some essential music history – especially if doing so helps get them to sleep faster. This collection of 1950s jazz is designed to sooth young minds and help ease them into slumber. If it also means that they know who Nina Simone is from a young age, well, so much the better.
Emily Arrow, Storytime Singalong Vol.2
With an eye towards storytelling and a penchant for simple, catchy melodies, Emily Arrow writes songs that take a cue from children's books and fall into the realm of storytelling themselves. Throw in Arrow's clear, precise vocal delivery and you have a terrific collection of kids music that younger listeners can lose themselves in.
Various Artists, Coco
Music and performance are at the center of the hit Pixar film Coco, so it's no surprise that the movie's soundtrack has resonated in a big way with listeners of all ages. The soundtrack album includes both songs from the film and selections from Coco's score — it's the perfect way to relive favorite moments from the big screen at home.
Cass McCombs & Mr. Greg, "Wave a Flag for Harvey Milk"
This song has its origins in the classroom: as his name suggests, Mr. Greg is a preschool teacher in San Francisco who'd lamented the lack of a kid-friendly song about Harvey Milk's importance to the city and the country. Out of that need came this song, which he recorded with acclaimed singer/songwriter Cass McCombs. The end result is a folky, upbeat sing-a-long that hearkens back to Woody Guthrie's music for children.
Various Artists, Songs in the Shade of the Olive Tree
The songs on this collection come from musicians in Morocco, Algeria, and Tunisia, and give a great sampling of music from the Maghreb region of northern Africa, with songs ranging from catchy and upbeat to quietly sentimental. The accompanying book includes lyrics and translations — making for a listening experience that's also educational.
Various Artists, Cuban Playground
The songs on this compilation provide a solid overview of styles associated with music in Cuba, and the result is a wholly compelling, immersive listening experience. Uptempo polyrhythms, beautifully-played horns, and crooned vocals can all be heard, and the end result is something decidedly catchy, and a solid overview of Cuban music for those unfamiliar with it.
Kristine Barrett, Iris Sells Flowers: Music for Moody Children
The appeal of this collection of songs is right there in the subtitle. Barrett's music has a penchant for revisiting older melodies and folk songs, but she also brings an unpredictability to its sound. Add an abundance of clattering percussion and some soothing vocals and you have kids music that can hold your child's attention even as it keeps them on their toes.
Michael Hearst, Songs For Extraordinary People
Perhaps your child has an interest in history. Perhaps they also have a penchant for under-explored corners of history and catchy pop melodies. In that case, this album from Michael Hearst might be the perfect choice for them. It's a selection of songs written about, as the title suggests, extraordinary in some way — from having committed previously-unthinkable milestones to surviving lightning strikes. And, really, who doesn't love a good song about that?
This article was originally published on