A Definitive Ranking Of The Best Puppets From Movies And TV
"Back in my day you could see the strings!"
by [email protected]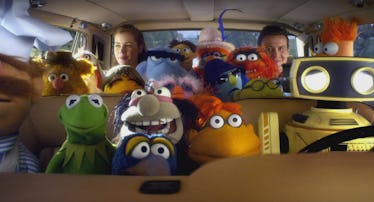 To hell with screen time limits — showing your little kid puppet movies and TV shows is solid parenting. First, the characters are cuddly, approachable, and offer positive messages. Second, your kid should get comfortable with the idea of being controlled by outside forces as you helicopter towards their 18th birthday. Lastly, kids in the golden age of computer animation deserve to know the joy of "a very special episode" from the golden age of visible puppet strings. To get you started, here's a definitive ranking of the 12 best puppets from old-school films and TV shows. If there were a Puppet Hall Of Fame, this would be the inaugural class (and it would probably be a shoebox diorama stage in Jim Henson's old garage).
Two notes here: First, this is a starting point. If you want a list of every muppet who ever tried to get to Sesame Street, break out your old PBS tapes and start listing. Folks have other stuff to get done around here. Second, "Definitive" in this case means "Loosely defined by an arbitrary set of rules that completely ignores stop-motion (that's a whole other list) and cult classics most people haven't actually seen but pretend to love because RIP, David Bowie." With that, it's time to meet the puppets.
1. Kermit The Frog
There are puppets, there are Muppets, and there's Kermit towering above them all like a green felt-covered (very small) colossus. From humble, swampland beginnings to international acclaim as a television, film, and recording star, Kermit's rags to riches story is as well-worn as the discarded ladies' coat that begat him (saying nothing of his many celebrity girlfriends). There's a reason he introduces himself as "Kermit THE Frog." There's only one.
2. Yoda
Frank Oz voiced many Muppets opposite Kermit (including Miss Piggy, Fozzie, Cookie Monster, and Bert), but his greatest role was another green, googly-eyed swamp-dweller. Oz voiced and primarily performed Yoda, though many puppeteers helped because it takes a village, even in exile on Dagobah. Yoda taught kids to value brainpower (his face was partly based on Albert Einstein) and remains the only threat to unseat Kermit since he can literally do so with his mind.
3. E.T.
He was ugly, he ruined the phrase "Phone home," and he's primarily responsible for the cross-promoting, merchandising cash grabs blockbuster films have become. But damn it, that awkward, waddling space clown had heart — a big, red, glowing one that made E.T. simply one of the greatest movies ever. It'll teach your kid vital lessons about trust, growing up, and Reese's Pieces being delicious enough to eat off the floor, 5-second rule be damned.
4. ALF
If you created a sitcom about a residential alien a few years after E.T. rewrote the rules of kids' movies, what would you have called it? You'd have called it anything that could be reduced to a cute acronym, which is how the world got a Melmacian named Gordon Shumway, better known as "Alien Life Form," or simply "ALF," to his friends. And he had plenty, because the show ran for 4 seasons and won 2 Kids' Choice Awards. Kids ate up ALF like ALF ate up cats, which was an actual running joke on the series. What the hell, 80s?
5. Gizmo
They just don't make quality horror-comedy like they used to. Do they? Hell if you know, you're old. But your kid needs to know, even if that means being momentarily scared shitless when they see what happens when you feed a mogwai after midnight. It's still less scary than realizing a toy version of Gizmo might already be spying on your family.
6. Daniel Striped Tiger
Before his son increased your kid's emotional intelligence, the OG puppet tiger held court in Mr. Roger's Neighborhood Of Make-Believe. Okay, he meekly cowered in a clock while King Friday held court, but everyone paid attention whenever Daniel finally piped up. Plus, your kid's favorite show wouldn't exist without him. If they won't respect you, at least they'll respect their favorite characters' elders.
7. Lamb Chop
You might have noticed this list sorely lacks women. #PuppetsSoMale, right? Fortunately, a 6-year-old sock puppet sheep girl began trailblazing in 1957 when another pioneer, the late Shari Lewis, premiered the character. Lamb Chop's Play-Along ran for 5 years in the 90s on PBS, and Lewis won the Emmy for Outstanding Performer In A Children's Series in all 5. It's classic. Just know the closing theme is called "The Song That Never Ends" for good reason.
8. Stick Stickly
Nineties kids remember Stick Stickly as the high-strung host of Nick In The Afternoon, a block of shows about how homework sucks, which you watched instead of doing your homework. Remind your kid how captivated you were by an anxious popsicle stick with googly eyes before they build one that lights up and walks across the room — without a puppeteer.
9. Mr. Moose & Bunny Rabbit
Fortunately for these 2, it's not required that the best film and TV puppets of all time actually be good puppets. What they lack in appearance and quality construction, they make up for in impact, having helped Captain Kangaroo pave the way for the quality kids' programming of your youth and beyond. Everyone remembers the classic "Ping Pong Ball Drop," and these 2 ended up in the Smithsonian, so clearly they did something right. But, seriously, woof.
10. Falkor
Falkor is a luckdragon, a dog/lion/Oriental dragon hybrid that doesn't do anything cool but has super good luck. They can sleep while flying, so in addition to teaching your kid the value of loyalty, Falkor is a great role model if you have a flight to the in-laws coming up. If you have a flight to Oktoberfest coming up, Falkor is movie lot prop you should totally ride.
11. Howdy Doody
Does your kid even care? Do you? Probably not, but you know what they say: those who fail to learn from creepy marionettes of the past are doomed to repeat them. Okay, that's not fair. The puppet star's namesake show was a color TV pioneer and one of the first shows to use audience participation (from the literal "Peanut Gallery" full of kids). Besides, you know you and the kid have countless "Howdy Doody" jokes.
12. Elmo
Sesame Street forever altered its neighborhood, Christmas shopping, and the entire children's media landscape when it introduced its first "Baby Monster" (his original name). He's the reason Kermit left for good! To be honest, Elmo is the one puppet you should not introduce to your kid if you can help it, but you can't, and it's his powerful mental chokehold over parents everywhere that will keep Elmo on this list. Forever.