The 12 Best Makerspaces In America Where Kids Learn To Create
You can't spell creative without "create."
by Gabriel Bell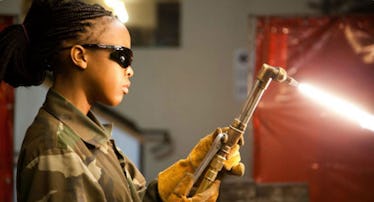 The Crucible
Every kid is capable of brilliant creation and utter destruction. Kind of like the universe. Or a new menu item at Burger King. So why not take them to a place where they can do both while getting a good grasp on some STEAM skills? "Makerspaces" are basically workshops where creative kids can design, develop, code, and construct whatever springs from their imagination, and they're probably closer to you than you think. And, while most target adults, here's the shortlist of best makerspaces for kids preschool and up. Because if you're not allowed have an arc welder in a garage, you may as well play with someone else's.
The Crucible, Oakland, CA
The Crucible has regular, highly supervised classes, camps, and afterschool programs for kids ages 8 to 17. But they're not doing some macrame bullshit. Student here will learn the finer points of construction, welding, pottery, glass blowing … blacksmithing! If you were wondering who was going to finish that Hattori Hanzo knockoff for you, now you know.
HeatSync Labs, Mesa, AZ
From hacksaws to hacking — HeatSync Labs focuses more ons tate-of-the-art digital programs including coding fundamentals, 3D printing, and battling robots. But is there an opportunity for you to build a senseless killing machine to fight alongside your kid in a BattleBot dome? Short answer: Yes. Their philosophy is "no babysitting, no lectures" at the Young Makers workshop — so it's kind of a win/lose situation.
Harold Washington Library Center, Chicago, IL
Kids 8 and up will find focused workshops that cover the latest in technology and programming skills. Act now and get down there to make an LED Jack-O-Lantern — because when you have thousands of dollars worth of laser cutters, 3D-printers, soldering irons, and more, the right answer is "carve a pumpkin with it."
FamiLab, Longwood, FL
An esteemed makerspace just a bit outside the House of Mouse. This place is a bit more hands on and hardware oriented than HeatSync. Circuitry and soldering means it's mostly for kids 12 and up who are ok with getting singed here and there. And if you're eyeing that national Maker Faire prize, this would be the place to prep.
The Children's Museum, Easton, MA
Located in an old fire station (which bodes well if something blows up) there's a focus on "hands-on" learning, collaborative project building, and a focus on more on crafting than construction. The Children's Museum also offers the combo of indoor and outdoor space that's pretty unique in the flourescent-lit maker world.
Genspace, Brooklyn, NY
In this variation of the makerspace concept, teens at Brooklyn's Genspace don white lab coats and focuses on the biosciences. Biohacking, synthetic biology, and other disciplines that you read about in a Michael Crichton novel. There's also a unique tutoring program for older teens who are interested in learning more about how to prevent future zombie outbreaks.
Sector67, Madison, WI
For the future mad scientist in your family, Sector 67 goes deep with programs for kids 6 to 12 in programming, chemistry, electronics, and more. The focus here is lovably practical. A kitchen chem class offers up lessons in how to make your own soda (intriguing), another has kids building their own flashlights (useful), and yet another has them whipping up mini Christmas trees with voice-activated LED lighting (impressive). There's also a class in lockpicking, but that's probably not for the best.
Vocademy, Riverside, CA
When playtime is over, it's time to find a job. At Vocademy, high-schoolers get practical training in trade skills related to fabrication, construction, electronics, welding, programming, and even costume-and-prop making classes. Middle-schoolers learn nuts and bolts ok making robots. And if your kids are elementary school age, their future career track is most likely going to be heating and cooling repair — on Mars.
The KID Museum, Bethesda, MD
Located inside the Davis Library, the KID Museum is more of a fully-stocked makerspace with afterschool crafts, woodworking, and electronics workshops, than a place to look at old bones and Farraday cages. If all science centers offered lessons in properly handling power tools and basic carpentry, you'd probably be more apt to spend the $8 on admission.
Double Union, San Francisco, CA
Double Union doubles down on crafting and roundtables on leadership, decision making, and other feminist issues in addition to the normal offering of fabrication and electronic tutorials. Yup, this is the place your daughter can learn from professional, techie women — and not just guys with beards and retro NASA t-shirts. It's mostly for teens, but they welcome adult-supervised kids, too.
Small Factory, Fair Haven, NJ
So your kid's more into music and movies than gears and servos. Guess what — it's called filmmaking. Small Factory is a full-service multimedia training center with classes ranging from Claymation, to video-game design, to songwriting. There are also the traditional tutorials in web programming, engineering, fabrication, and 3D printing — because those GCI effects don't create themselves.
The Maker Mill, Boston
Located inside an old mill that shapes minds instead of grind flour, the Maker Mill features an all-girls course in computers, evening "parents' night out" drop-off events, and party-hosting options for maker-themed, building-oriented birthday parties. No need to buy party favors — the kids will make them.
This article was originally published on