The Most Thoughtful, Engaging Feminist Picture Books for Kids
That are actually fun to read.
by Donna Freydkin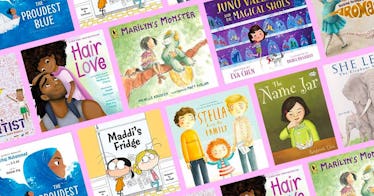 Kids are sponges. They soak up their idea of the world by observing what's around them. And they look at the people in their lives for cues about how gender functions and what roles people play in society. This is a fancy way of saying that if kids don't see girls and women as leaders, they simply won't truly grasp that yes, girls can grow up to be Supreme Court justices, ambassadors, film directors, neurosurgeons, or, now, vice-presidents. For that reason, boys and girls should be exposed to diverse feminist books — everything from stories about women leaders to picture books with girl protagonists —as they develop their understanding of gender.
"For this reason, it is crucial that girls read, or are read, books featuring strong, empowered female characters," says Laura K. Zimmermann, a developmental psychologist and professor at Shenandoah University who studies children's media, chronotype, and STEAM learning in young children. "Research has shown that media messages can shift children's views in a non-stereotypical direction as easily as a stereotypical one. Books are one way to get those messages out there."
Now, when it comes to books, you can load up on painfully earnest but miserably tedious books that bludgeon kids over the head with messages encouraging them to become activists or crusaders. Too many of these tomes mean well, but wind up being heavy-handed and just plain boring. The best feminist books are the ones that everyone loves to read, so pick buoyant, lively stories featuring cool gals doing cool stuff.
"Girls need to see strong female characters in books that they relate to in different activities, careers, and social interactions. They also need to be introduced to the diverse experiences and perspectives of other girls and genders," says Zimmermann. "The most important thing as you choose books is to be aware of what you are choosing. When you look at your child's bookcase and books borrowed, do you see empowered characters from a diversity of backgrounds and experiences reflected? Because children are influenced by what they read and are read, even if they don't realize it."
These books, featuring diverse characters, fit the bill.
Every product on Fatherly is independently selected by our editors, writers, and experts. If you click a link on our site and buy something, we may earn an affiliate commission.
This article was originally published on