The 9 Best Kid-Friendly Coffee Shops In America Where Everyone Can Take A Break
These 9 coffeehouses across the U.S. are the places where you can get a caffeine fix and your kid can run around like they're on a double shot of espresso.
by Aaron Stern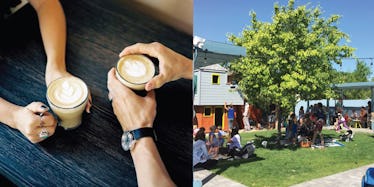 Coffee is to parenting what carbon is to the universe. It's what makes life possible and if it were taken away the whole sum of humanity would perish. Also, it's delicious! Because of this bean's importance to your daily routine, it only makes sense that coffee shops and kid-friendly zones would go hand in jittery hand. Here are the best spots around the country where you can order coffee and your kid can play in a fun, safe space — so you stay and finish that cup.
Cool Beans Indoor Playground & Café, Palm Beach, FL
American Ninja Warrior has nothing on this indoor playground that has slides, playhouses, a foam pit, and an in-floor trampoline. Infants and toddlers get their own, less-kinetic area. Sip that latte while they go to a science-oriented session that teaches them to make marshmallow sculptures, volcanic eruptions, or a halfway decent Cortado.
Four Kids Coffee, Canton, OH
There's a plush area for children to chill, but it's the allergen-free menu that's the draw. The owners' daughter struggles with a variety of foods, so they created a place where other parents can confidently order anything from the menu. From scones to soups, everything is gluten, dairy, soy, wheat, egg, peanut, tree nuts, fish, shellfish, artificial flavor, and refined sugar-free. The coffee still contains caffeine.
Green Bean Coffeehouse, Seattle, WA
A non-profit, community-minded brewhouse that exists in Starbucks' backyard? Green Bean features all those hippie things you'd expect: Patrons' local artwork, a 'non-profit of the month' wall, and an open-mic nights where you can workshop those #dadjokes. The kid amenities feature a train table, an arts-and-crafts zone, and if you get there Tuesdays, sit your ass down for story time.
Kidstreet At Grounds For Hope, Lisle, IL
Grounds for Hope knows what's up. Which is why they built an entire indoor playground adjacent to their coffee shop. First coffee, then Kidstreet, a 3-story climbing area, tree house with a slide, tunnels, and a WonderHouse for kids 2 and under stuffed with toddler-centric toys. It's also free on weekends — assuming you have time between stops at Target, Home Depot, and Whole Foods.
Radio Coffee & Beer, Austin, TX
Choosing between coffee and beer is a real parenting Sophie's Choice (which, to be fair, was also a parenting choice). No playground, but it does have a large, grassy yard where you can order alcoholic or nonalcoholic beverages (or combine them). Rows of picnic benches give you the ample perch you need to take a load off while you watch your kids get grass stains.
Sovereign Grounds, Minneapolis, MN
Redesigned in 2014 as a toddler-oriented, shoes-off zone full of soft toys, standing play tables, and other age-appropriate diversions. Parents can grab a spot at a surrounding couch or table and settle in with a cup of coffee and a slice of the chocolate chip pumpkin loaf, which is apparently delicious.
St. Elmo's Coffee Pub, Arlington, VA
This spot just across the Potomac River from D.C. features a toy-stocked play corner for little ones, flanked by a 'take a book, leave a book,' shelf with adult and children's titles. Appearances from local kid-rockers The Rainbow Rock Crew on the third Monday of each month turn the kid's corner into the world's most adorable mosh pit.
The Teapot, Phoenix, AZ
The Teapot feels like you're in someone's house — but not in a breaking and entering kind of way. It makes sense because this his brick bungalow was formerly someone's home. They wisely turned it into a coffee shop with a kid's corner inside and a 2-story playhouse with spiral slide. Order a Red Eye and for $2-per-child more they can slide down it.
The Wormhole, Chicago, IL
This Wicker Park coffeehouse is one big homage to the 80s pop culture of your youth: Old-school movie posters, lunchboxes, toys — a goddamn DeLorean. Kids have to keep their hands off the He-Man still in the box, but you can challenge them to a game of Super Mario Bros hooked up to an era-appropriate TV. Winner buys the coffee. (That would be you.)
This article was originally published on