The Best Dad Beards of 2021
Here are the celebrities who redefined the dad-beard game in 2021.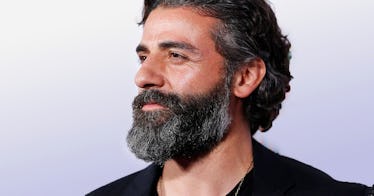 GETTY
If this year has taught us anything it's that we have almost no control over anything in our lives. From managing that unruly inbox to managing an unrulier family, everything is feeling pretty, well—unmanageable. Now that 2022 has the nerve to hurtle towards us with a new variant, perhaps the only way more dads to construct the illusion of certainty or control in your bummed out, socially-distanced life is painstakingly simple: you must grow some hair from your face.
Instead of a more traditional, numerically descending Dad Beard ranking, this list is more akin to a high school yearbook composed only of bearded superlatives. The qualifications for this illustriously-lustrous facial hair list is pretty unscientific:
said-dad must don said-Dad Beard in the year 2021
said-dad must demonstrate a history of exhibiting A+ Fathering
So technically and retrospectively, maybe this article isn't even about beards. It's a tribute to great dads who happen to have beards. Onto the unshaven!
Ben Affleck: The Love is Not Dead Dad Beard
For a while, it was looking like Ben Affleck's most successful and committed relationship was going to be with his much-documented daily Dunkin Donuts iced coffee. But then this lucky bastard got struck, twice, by one of Cupid's most sizzling arrows. Almost 20 years later, Affleck's getting another shot with Jennifer Lopez. While canoodling all over the world with JLO, Affleck has been sporting his shaggy-yet-manicured Dad Beard in all the paparazzi snaps. Sure, he recently pissed a lot of people off in his Howard Stern interview by seemingly shading ex-wife, co-parent, and National Treasure, Jennifer Garner; but even when he puts his foot in his veneer-filled mouth, Ben also puts his three kids first and foremost, prioritizing them over everything in his life (he even credits them for his sobriety). Photographic evidence abounds of Affleck on copious school pick-ups or sharing quality time with the kiddos. His brood has even been seen on outings with JLO's offspring as a unified front of a doubly-famous blended family.
Will Smith: The Vulnerable Dad-Bod Dad Beard
Will Smith has really been laying it all out there as of late, opening up about his quarantine weight struggles, detailing his forever-rumored open marriage with Jada, and expressing the remnants of his childhood trauma. In Best Shape of My Life, a six-episode YouTube series, Smith sets out to shed 20 pounds in 20 weeks but ends up going far deeper than a diet or exercise overhaul, instead of capturing a man on a mission to peel back the layers and pursue personal growth. Throughout this journey, Smith's Dad Beard is in full fluffy force (possibly for his role in King Richard, playing another well-known father, dad of tennis legends, Serena and Venus Williams). Smith's reputation as a dedicated father to children, Trey, Jaden, and Willa has long been noted, especially because the younger ones are also in the public eye. However, he has never been so raw about fatherhood. In a scene both painful and powerful, Smith reads to his children through tears, an excerpt of his forthcoming memoir, sharing the moment he made the decision to become the father he never had but wanted to be. His kids literally reach out across the table to hold him up so he can get through the passage without completely breaking down. It's a remarkable and touching display of honesty and emotion.
Oscar Isaac: The Dad-Crush Dad Beard
Admit it, you have a throbbing Man Crush on Óscar Isaac Hernández Estrada. I mean even that musical string of four names is unbearably swoony. From a Shakespearean stage to the Star Wars screen, Issac has been absolutely crushing it in the acting world; but he's also knocking it out of the Facial Hair Park. Behold the thickness and sheer regality of his slightly salt-and-peppered Dad Beard in Dune! In his actual life, Isaac and his wife, Elvira, are parents to two sons in the Cool Kids Town of Williamsburg, Brooklyn, where bearded dads (in tattoos and hoodies) are as ubiquitous as French Press coffee. Isaac is so awesome, he's not even on social media, which means he'll never post embarrassing Tik Toks or selfie bombs of his children without their permission. Admirably private, our "movie dad of the moment" understands that the dreamiest dad is the one who zips his lips and minds his kids' p's and q's.
Dwyane Wade: The MVP Dad Beard
Dwyane Wade has been hustling into overtime on his Instagram. He's encouraging people to get vaccinated, promoting his photographic memoir, DWYANE, and (sure, why not!) a holiday wine collection. He even has time for the occasional ab-tastic thirst trap, all the while rocking his classic athletic scruff. But it's his pictures with his sweet baby girl, Kaavia, that most tug at the heartstrings with snaps of this daddy-daughter duo in the pool, on the court, and playing a little piano duet. Wade is a proud husband to Gabrielle Union as well as a dad of four, but his recent moves as a father in the spotlight have garnered tremendous publicity as well as respect. In an incredible act of outstanding parenting (especially as a revered athlete), Wade publicly announced his proud allyship with the LGBTQ Community, demonstrating unwavering support of his child, Zaya, who came out as transgender at age 12. On or off the courts, this man is a champ in every sense of the word.
James Van Der Beek: The Lifetime Achievement in Instagram-Dadding aka The "Van Der Beard" Dad Beard Award
Even if Van Der Beek didn't have a beard, I'd slap him on every single goddamned Best Dads List. Huge kudos for the way he openly shares about his family's devastating history of multiple miscarriages, normalizing this kind of loss that is often kept a shameful secret. Van Der Beek recently moved with his wife Kimberly and their kids from Hollywood to Texas, immediately quadrupling the unlikelihood of this troupe of super-blondies becoming serious fuck-ups. And not only can this former Dawson's Creek teen heartthrob shake his ass off, as demonstrated by his stint on Dancing With the Stars, but he can also teach you how to calm down a crying baby! True, Van Der Beek's Dad Beard is more goatee than a full-fledged beard, but the guy has six children. I repeat SIX children. He can do no wrong (except for maybe the beanie-wearing). All hail the Van Der Beard!
Ryan Reynolds: The Sabbatical Dad Beard
Nope. Not gonna do it. Thought I could do it, but couldn't. Impossible not to shout out the bearded celebrity most likely to accost his children with incessant dad jokes. Famous for hilariously trolling his wife, Blake Lively, Reynolds recently showcased his low key and accessible (and therefore on-brand) Dad Beard on a talk show appearance poking good fun at current and fellow- "Sexiest Man Alive," Paul Rudd. Much to the chagrin of his legions of fans, Reynolds is taking a break from acting. He's even one-upping Van Der Beek, as Reynolds not only chose to geographically leave La La Land (he lives in suburban New York), he announced that he's taking a "sabbatical" to achieve more balance and spend time with his Cute AF family, replete with three daughters. Henceforth: the Best Hollywood Dad is the one willing to ditch Hollywood, thereby providing ample opportunity to grow his Dad Beard to an unconscionable, dad-tastic length.
Jason Momoa: The Hero Dad Beard
Whether he was playing Aquaman in the Synder Cut of Justice Leagueor swinging a sword as Duncan Idaho in Dune, Jason Momoa remains the dad fantasy dad we wish we all were. He told Fatherly this year that his kids saw him beardless because he was forced to shave for certain scenes in Dune. He's also not ruling out coming back for a Dune sequel, depending on how things go with Dune: Part Two. There's also plenty of more Aquaman coming, which means Momoa will continue to school everyone in the ways of the dad beard.
We've always loved Momoa's beard, but in 2021, the fact that we saw him without one in Dune just reminded us of one simple truth: Bearded men can pull off not having a beard…but only for a little while.