The 11 Best Comic Books And Graphic Novels For Kids That Aren't About Superheroes
Check out these not-so-graphic novels.
by Elijah Brumback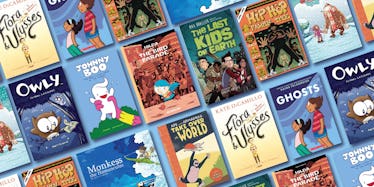 Your parents throwing out all your comics when you went to college was tough. Good news — it's time to indoctrinate the next generation into bagging and boarding. Comics have made a resurgence in recent years (thanks Hollywood). But this trickle down comic-nomics has led to a rise the indie presses churning on unique new stories aimed entirely at young (and younger) folks. It's a comic bonanza out there and here are a bunch of stories told the way they should be — in illustrated panels.
Ape & Armadillo Take Over The World
Check out any of the Toon Books comics and you're going to strike young reader gold. But the latest release from James Sturm answers that age old question: What would happen if an ape and armadillo tried for formulate a plan for global domination? Ostensibly it will teach your kid a lesson on how to compromise — although those people make the worst dictators.
Ages: 6 – 9Ape & Armadillo Take Over The World by James Sturm ($13)
Flora & Ulysses
A New York Times bestseller from Newbery winner Kate DiCamillo, Flora & Ulysses follows a sardonic female youth (think MTV's Daria) and her secret relationship with a squirrel who develops uncanny powers, including flight … and the ability to compose halfway decent poetry.
Ages: 8 – 12Flora & Ulysses by Kate DiCamillo ($5)
Owly
Just like your kids, owls also have a rich inner emotional life. At least according to this comic which wasn't written by an ornithologist. Through this series of lengthy graphic novels, young Owly takes on the slings and arrows thrown at a little bird. With sparse text and simple black and white images, don't be surprise if non-readers are up late reading this with a flashlight.
Ages: 5+Owly by Andy Runton (from $3)
Ghosts
Raina Telgermeier has proven to be something of tween whisperer, particularly with young girls. And while most ghost stories are fantastical, this one has an element of reality that makes it more than just a scary tale. Ghosts centers around Catrina, who moves with her family to Bahia de la Luna on the Northern California coast to benefit her sister with cystic fibrosis. The sea air is good for her health, the ghosts that haunt the place are probably less so.
Ages: 8 – 12Ghosts by Raina Telgermeier ($7)
The Last Kids On Earth
This is the much a milder version of The Walking Dead graphic novel series that spawned the AMC show you're frustrated with. There's also more humor, less braining zombies — because kids are impressionable. Note that author Max Brallier regularly contributes his skills to the absurdly hilarious Adventure Time.
Ages 8 – 12The Last Kids On Earth by Max Brallier ($8)
Monkess The Homunculus
According to Webster's Dictionary, a homunculus is a tiny human. Hey, you have one of those. You should also know that there's a whole genre of Manga dedicated to this, so a comic about a Homunculus isn't out of the blue. But, despite not being able to pronounce it, your kid should love this girl and her puffin friend who go on adventures together, and not care about the part about growing up in "scientific installation/commune on an island in the South Pacific."
Ages: 3+Monkess The Homunculus by Seth Hahne ($18)
Johnny Boo
In this series from author James Kochalka, Johnny Boo (Johnny Bravo, but with ghost hair) and his spirit animal Squiggle tear off on random, brightly illustrated adventures — like battling a pink and yellow ice cream monster. As it turn out, ice cream ain't so bad. (Unless you've got that late night, kill a pint of Ben and Jerry's habit.)
Ages 4 – 8Johnny Boo by James Kochalka (from $10)
Fairy Tale Comics
In Fairy Tale Comics, rising cartoonists including Raina Telgermeier, Brett Helquist, and Cherise Harper come together for a compilation of classic children's stories, like Puss In Boots, Little Red Riding Hood, and Goldilocks, retold in each's individual comic style. (Although, if they got Jim Lee, Red would come out blazing in spandex and guns against the Big Bad Wolf.)
Ages 6 – 12Fairy Tale Comics by Various ($15)
Hip Hop Family Tree
This illustrated version of The Get Down isn't really for kids, but it's still pretty kid-friendly if you're the type of parent who thinks it's absolutely essential your kid understands the importance of Kool Herc. Biz Markie gives it the seal of approval calling it, "the comic of all time" — but he might be biased.
Hip Hop Family Tree by Ed Piskor ($22 for Book One)
Hilda
The vibrant and acclaimed series from UK author and illustrator Luke Pearson is headed to Netflix in 2018, so there's a lot to look forward to. Hilda is mostly about strange worlds and stranger adventures. Director Guillermo Del Toro says it's like John Stanley's Little Lulu merged with Miyazaki. If that means something to you, your family is the audience.
Ages 6+Hilda by Luke Pearson ($9 to $20)
Abigail And The Snowman
With somewhat a of B-movie vibe, new to town 9-year-old Abigail befriends a Yeti named Claude (possibly of French-Canadian origin), and is suddenly drawn into a dark conspiracy with a shadow government on Yeti's trail. Bigfoot, this is bigger than all of us.
Ages 6+Abigail and The Snowman by Roger Landridge ($6)
This article was originally published on