The Best Clean-Up Songs For Kids
You can at least try to make cleaning up a mess a little more fun.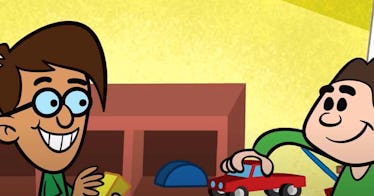 Getting toddlers and pre-schoolers to clean-up isn't easy. Every high is followed by a crash. You and your kids may have been having the time of your lives baking a three-tier cake, building a monster-sized Lego set, or playing a tw0-hour game of Monopoly. But once the frosting is dried, the cityscape built, the game won, then the real clean-up work begins. This is why you need some clean-up songs for kids.
The imminent clean-up was always lingering in the back of your mind throughout all the fun, unbeknownst to your kid. Luckily, you (try) and delegate the post-activity clean-up to your children! And, even if you end up singing the clean-up song while you do most of the actual cleaning-up, kids will learn that helping out can be as fun as singing a little song.
You don't want them to get sick of a specific clean-up song though, and part of the fun is the novelty. On top of that, maybe they just didn't like the clean-up song they learned in daycare or school or whatever. You need some clean-up song alternatives. So, here are the best renditions of clean-up songs for pre-schoolers to listen to the next time you're ambitious enough to take part in some messy fun.
"Clean-Up" (Medley)
Miss Nina is an expert at composing unique renditions of traditional clean-up songs for kids. Not only is she a talented singer and guitar player, but she offers a sweet introduction that prepares your kid for the task ahead.
"It's Time to Clean Up!" by Harry Kindergarten Music
For shorter clean-ups, this rendition by Harry Kindergarten Music is a great way to keep your kids focused even just for a few minutes. And if it ends up taking longer than expected, you can always press repeat.
"Clean Up is Fun" by The Learning Station
This song gives specific instructions for different activities, like putting books back on the shelf or putting toys away. Of course, you may have to chime in with your own specific house-rules if they aren't fitting.
"Clean Up Song for Children" by ELF Learning
This simple and repetitive tune is ideal for preschoolers who can easily follow along to the song's instructions. It also encourages teamwork during playdates or group hangouts by motivating everyone in the room to get involved.
"Clean Up Song" by The Singing Walrus
This song is particularly effective because of its interactive nature. With intentional pauses, parents are instructed to chime in with specific instructions and the kids respond with "It's time to clean up!"
"Tidy Up Rhumba Song" by Musical Playground
Make clean-up time double as a dance party with this fun salsa-like rhumba. Its dramatic Spanish beat may be a good way to introduce your kid to a new genre of music, too.
"The Clean Up Song" by Singing with Shari
If you don't already know this song by heart, you will after one listen. The catchy clean up song uses repetition so it's easier for your kid to remember and sing along to while they're tidying up.
"Clean Up Song Medley" by Jbrary
Jbrary is known for her fingerplays but her youtube channel is also one of the only places to find the traditional version of "clean up, clean up, everybody, everywhere!" This medley is a great one to start out with to teach your kid the words.
"Tidy Up Song" by Little Baby Bum
Little Baby Bum has a song for everything. Coupled with polished animations, their instructional songs keep your kids entertained while doing chores. The only caveat is your kid might get too distracted by the video to stay focused on the task at hand
"Clean-Up Song" From Dora the Explorer
Dora's clean-up song is a classic. The catchy tune has been a staple within the house since the Nickelodeon show first came out in 1999. Its lasting power is definitely saying something.
This article was originally published on