The Best Children's Books of 2018
The books that made us and our kids laugh, think, dream, wonder, and forget about the world for a while.
by Fatherly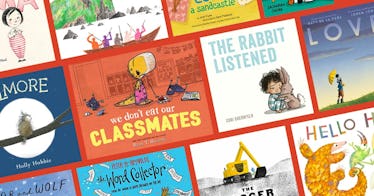 The best children's books are better than any toy, film or TV show. For the very young, books are simpler and more magical than any other gift they could yearn for. And the best books not only help young readers understand themselves and the world better, but make them giggle, think, worry, consider, and engage all their other feelings, too. This is no easy trick, but it feels natural when a book pulls it off with grace. And there have been dozens of releases this year that do just that.
RELATED: These Are the Very Best Books for 2-Year-Olds
2018 has been a great year for children's books, with familiar authors and newcomers alike exploring topics and themes with style, wit, and sensibility that resonate far longer after the last page is reached. They also are engaging enough that you won't mind reading them 100 times over if your little one is elated with them. Below, then are our favorite children's books of the year, aimed at kids aged 2-7 years old. These are books that made us and our kids laugh, think, dream, wonder, feel calm, and forget about the real world for a time. Take a look.
Hello, Hello by Brendan Wenzel
Wenzel's Caldecott winning They All Saw A Cat, which explored the different ways various creatures perceive a wandering housecat, was an exercise in empathy. Hello, Hello is an exercise in enthusiasm: Through vibrant illustrations and simple rhyming text, Wenzel walks young readers through a menagerie of exotic animals (including 30 of which are on the endangered species list) all of which share something in common. It's a simple, joyous book that celebrates the diversity of wildlife.
We Don't Eat Our Classmates by Ryan T. Higgins
Penelope, the classmate-eater to which the title refers, is a cute dinosaur who's just beginning school. And, yes, she does indeed devour her classmates. But only because she doesn't know better and, well, kids are damn tasty. When her teacher does tell her not to do it, Penelope subsequently hocks them out (they're fine, if a bit slimy). In the clever tale that follows, Penelope learns how to act in her new environment, even if she stumbles and scarfs down a classmate a few more times.
Love by Mat de la Pena and Loren Long
How do you capture love and all of its various permutations on the page, let alone make it palatable for young readers? Somehow, Pena and illustrator Loren Long are able to do both in this book. As a collection of poems about the titular emotion, this book is successful because de la Pena is a good writer and a great observer who documents love in all its forms; from a baby hearing his parents' voices to a child looking in the mirror. The poem dances on the precipice of precious but sticks the landing. And even if you think love is a battlefield, the illustration by Loren Long will soften you enough to let this one in.
El Chupacabras by Adam Rubin and Crash McCreary
This bilingual tale, written by Dragons love Tacos co-writer Adam Rubin and illustrator Mark "Crash" McCreery the Hollywood monster-creator who did the creature design for such films as Rango, Terminator 2, and Jurassic Park, is a blast. A whimsical tale about the legendary Mexican goatsucker, its prose is a tangled form of English and Spanish ("This all happened a long time ago, en una granja de cabras.") that is good fun, and the illustrations, particularly the goats, which are deflated, inflated, and grow to enormous proportions, will keep kids coming back for more.
Drawn Together by Minh Lee and Dan Santat
Grandfather only speaks Thai. Grandson only speaks English. After some trying and failing to communicate through language (the grandfather's words are shown in Thai characters; the boys in English) the two realize they can connect through art. The boy draws his version of a wizard; grandpa draws his version of a wizard. From there, the story morphs in a language-barrier art battle of sorts except the two build a bridge and create a new world that's beyond, well, words. It's a great story, one that's made all the more engaging by Santat's illustrations.
The Digger and The Flower by Joseph Kuefler
Crane, Dozer, and Digger are the anthropomorphized construction equipment of this story but Digger is the only one with a thumping heart. It is he who stumbles upon a single blue flower growing on the last bare patch of land in the city and subsequently saves it from harm before nurturing it back to life. It's a spare story about protecting nature told without much humor but instead, like its main character, a lot of heart and compassion.
Circle Rolls by Barbara Kanninen
This breezy story starts with Circle rolling, bumping into Triangle then popping, turning thereby into smaller circles that cause Square to sneeze a flurry of shapes — Diamond, Star, etc.. — that bounce into and bend Line. Eventually, Octagon has to break everyone up and Heart has to straighten Line and repair Circle. The illustrations are as simple as the story, playful and clear. It is clearly a book written to conform to the wishes of children, not how we wish children to be, but nonetheless adeptly communicates both geometry and personal responsibility.
The Rabbit Listened by Cori Doerrfield
Rare is the story that's able to nimbly explain how children process difficult feelings. But Doerrfield sticks the landing. After a toy brick-stacking tragedy strikes Taylor, the young child is approached by a variety of animals each of whom has intentions to help. However, all they do is talk at Taylor. The bear yells and tells Taylor to yell. The snake hisses and tells Taylor to hiss. They all have good intentions but it's not what Taylor requires. What Taylor really needs, however, is someone who will listen, which is exactly what the rabbit provides. This is a wonderful story on its own, and one that becomes all the more powerful when young children are confronted with and need to work through tragedy.
Don't Blink! by Amy Krause Rosenthal
Amy Krause Rosenthal, a novelist, TED talker, radio host, and children's book author, died in 2017 after battling ovarian cancer. She gave the world many gifts. Don't Blink!, her latest children's book, is a gift to parents at bedtime. A bedtime book that dares children to stay awake, it presents a plea bargain to kids who don't want to go to bed: if you don't blink, you don't have to go to bed. The catch? Every time they do blink, they must turn a page. Reach the end and its night-night. A big-eyed owl acts as the guide, offering a variety of fun tactics for the postponement of blinking and therefore bedtime. It's a cleverly constructed story, one that should always arrive at the same ending: with heavy eyelids and a head on the pillow.
Elmore by Holly Hobbie
Elmore is a young Hedgehog who can't convince anyone to be his friend. The reason? His quills are too intimidating. Eventually, with the help of his uncle, Elmore eventually shows everyone why his quills are nothing to fear — and learns to appreciate himself, too. It's a classic story of learning to love thyself, made all the better because Elmore is never a sadsack. Rather, he's a plucky, problem-solver who takes matters into his own hand.
Alma and How She Got Her Name by Juana Martinez Neal
A simple tale about knowing who you carry with you, this story concerns Alma, a young girl who is tired of having six different names. That's waaaay too many names, she thinks. At least she does until it's explained to her who each name pays homage: her grandmothers, her grandfathers, her history.
Lazybones by Claire Messer
A dog goes, or doesn't go, for a walk in this charming book by English author and illustrator Claire Messer. There's much to endear Lazybones to the young reader, from Messer's bright prints to the (relatable) reluctance of the titular Lazybones (real name: Robert Exelby Perdendo). Oh, and two boy dogs in love is no big deal here. Why should it be? After all, it's just puppy love.
Bear & Wolf by Dan Salmieri
As the illustrator to the wildly popular title Dragons Eat Tacos, Salmieri's aesthetic has already wormed its way into your kid's subconscious. But with his authorial debut, Bear & Wolf, the Brooklyn-based Salmieri exposes a tender side as well. The tale of an unlikely friendship, a long walk through the snowy woods, and a sad goodbye, Bear & Wolf has all the makings of a modern classic. It's the Amos & Boris for the modern age.
Niblet and Ralph By Zachariah O'Hora
Even if we didn't spot the Tribe Called Quest and Mingus vinyl in the background, Zach O'Hora's tale of mistaken identity — Ralph for Niblet; Niblet for Ralph — has enough sophistication and nuance to amuse adult readers while the sweet simple message (be neighborly) and O'Hora's strong illustrations (turquoise, ochre, thick black line) make it kiddie catnip.
How to Code a Sandcastle by Josh Funk and Sara Palacios
Funk is a software engineer with the nonprofit Girls Who Code so it's no surprise that computer language saves the day in this story. While many would stumble with such an earnest conceit (coding is great kids!) this story, in which a young girl and her robot buddy solve a sandcastle building problem via coding techniques, introduces basic knowledge in a way that doesn't feel forced or anything but genuine.
Square by Mac Barnett Jon Klassen
This second entry in Barnett and Klassen's planned shape trilogy grapples with such topics as anxiety, the nature of art, friendship, and imposter syndrome. Heady stuff, to be sure, but in the hands of Barnett and Klassen, who are responsible for some of the best children's books of the past decade, it's charming, funny, and beautifully wrought. And Square, who tries everything to impress Circle and, in the process, experiences an existential doozy that would cause most to ask for a double scotch on the rocks, is a character any kid would love: fragile, but full of hope and energy.
Brick, Who Found Herself in Architecture by Joshua David Stein
Written by Fatherly editor-at-large Joshua David Stein, Brick follows a young Brick as she searches for her place in the world. Inspired by the idea that "Great things begin with small bricks," she visits castles and churches and walls and apartments around the world, searching for places she might fit in. It's a fun book with a heap of great illustrations by Julia Rothman and it's about much more than architecture and fitting in. Yeah, we sort of had to mention it because Joshua works for us. But, if he didn't, we would've included it on this list anyway.
Grandma Gatewood Hikes the Appalachian Trail By Jennifer Thermes
"Grandma" Gatewood is finally getting her due. Just this summer, the New York Times gave a long overdue obituary of Emma Gatewood, the first woman to hike the Appalachian Trail by herself in one season (at the ripe old age of 67). Gatewood was a mother of 11, a grandmother, and great-grandmother when she first hiked the trail. By the time she died 16 years after her first hike in 1973, she had completed the AT three times — setting the record as the first person to ever complete the trail more than once. Her story has also, finally, made it's way to a children's book this year, one whose clear, sparkling prose and beautiful illustrations by Jennifer Thermes give this real-life tale the inspirational platform it deserves.
The Long Island by Drew Beckmeyer
The history of the world was built upon the backs of explorers — those who give in to their every curiosity to make the world a bigger place for us all. The Long Island captures the explorer in all of us with a spare, haunting book that shows the wakening of a monstrous curiosity in a group of people who simply want to see what's on the other side of the island. Reminiscent of Where the Wild Things Are in its spare prose and powerful imagery, it's a book that takes your breath away — before leading to deep discussions about the tantalizing unknowns in our world.
The Word Collector by Peter H. Reynolds
Peter Reynold's story of Jerome, a logophiliac young man, is one of the few books out there that delights in language. Though many children's books are written beautifully, relatively few are about words themselves. (A major wonderful exception is 2014's The Right Word: Roget and His Thesaurus.) In Reynolds's story, however, Jerome collects scraps with words on them, finding joy in each syllable and multi-syllable word. He is a reader reading and his pleasure in words is mirrored by those who read of his vocabularistic adventure.
Corduroy Takes a Bow by Viola Davis
Fifty years after Don Freeman introduced the lovable bear to the world, actor Viola Davis updates the series. Davis, who grew up poor in Rhode Island, used to spend her afternoons at the library where Freeman's stories of the bear and his benefactor, a young African American girl named Lisa, kept the young actress company. Now she returns the favor with Corduroy Takes A Bow in which the bear takes a much-belated interest in the world of theater.
Door by JiHyeon Lee
Magic doors are everywhere in children's literature, and for good reason: they take courage to pass through and lead to new, fascinating worlds. In this word-free tale, a small boy finds a key and is led to a mysterious, forgotten door by a tiny bug. When he musters the strength to go through it, he ends up in — and must navigate — a fizzy, thrilling world that, as he explores its wonders and diverse inhabitants, celebrates everyone's similarities, differences, and humanity. Much like Lee's debut story Pool, it's a wordless masterpiece.
Poe Won't Go by Kelly DiPucchio and Zachariah OHora
An elephant (wearing a tiny hat!) plunks itself down on a busy road and refuses to move in this lovely story that's written in the style of local news updates. All the townspeople and commuters stuck in traffic are nothing but gruff and annoyed with the big guy's blockage. It's only until a little girl walks up asks him why he did it does the meaning become clear. It's a sweet, small tale, one that highlights the importance of simply listening to others in their time of need.