Best Cheap Wines that Taste Good
These bottles are perfect for anyone with expensive taste but an aversion to being broke.
by Jayme Moye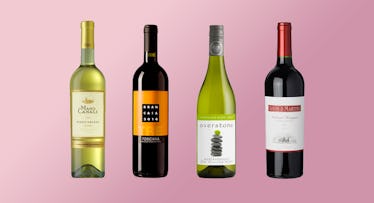 It's a fact that you can't judge a wine by its price. At the same time, many cheap wines taste, well, cheap. But you like the occasional drink, right? So the trick is knowing which affordable bottles taste the best. We tapped two trusted sources on the topic — Ed Gromacki, the general manager of the Lobby Bar at the JW Marriott in Austin, Texas, and Marco Cingolani, owner of Justice Snow's in Aspen, Colorado. They shared their favorite $15-and-under bottles of wine, the kind you'll find stocked at their own high-end bars. (Where you won't find these spill-proof glasses, by the way.) Without further ado, here are the best cheap wines worth drinking.
Chateau St Jean Cabernet Sauvignon
Unbeatable as an everyday drinking wine, this $13 Cabernet Sauvignon comes from Sonoma Valley, California. Pair it with beef and venison.
Maso Canali Pinot Grigio
This $15 award-winning white wine comes straight from the source — the Maso Canali estate in Trentino, the birthplace of the Italian Pinot Grigio. Pair it with white fish or pasta dishes with white sauce.
Matua Sauvignon Blanc
From the first winery to commercially plant Sauvignon Blanc—a vibrant, zesty white—in New Zealand in 1969 comes what could be the most affordable wine ($12) with a Wine Spectator rating of 90 points or higher.
Brancaia Tre
Brancaia Tre is an approachable red from Tuscany, the land of elegant, complex wines. Take a sniff — along with the fruit and berry aroma, you'll catch a hint of tomato leaf. It'll put you back just $15.
Louis M. Martini Sonoma Cabernet Sauvignon
This is a well-respected bottle from the Martini family, who has been crafting world-class cab-sauv in Napa and Sonoma vineyards since 1933. This $15 bottle goes perfect with steak.
High Note Elevated Malbec
High Note, located in the Andes foothills of Argentina, focuses exclusively on Malbec and it shows. Give this $12 bottle some time to open up after popping the cork. Goes well with grilled anything — dark and light meats and vegetables.
Overstone Marlborough Sauvignon Blanc
This classic sauv blanc from New Zealands's famous Marlborough wine region consistently wins international awards and rates in the mid- to high-80s with Wine Spectator despite being just $12. Served chilled.
Wente Morning Fog Chardonnay
Named for the morning coastal fog in San Francisco that's responsible for moderating this vineyard's climate, this beautifully balanced $13 Chardonnay is an aromatic and flavorful wine that goes perfect with chicken.
This article was originally published on