The 5 Coolest Castles Families Can Rent In the United States
It's every kid's dream to spend the night in a castle. Here are 5 of the best for your next vacation.
by Dave Baldwin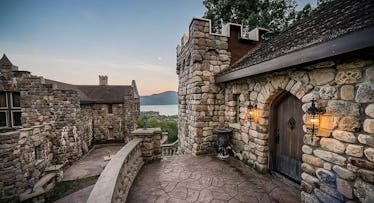 Second maybe to a treehouse hotel, it's hard to imagine a more exciting place to spend the night than in a castle ⏤ for kids as much as for adults. Who wouldn't want to be a knight for a night? And while sleeping in a medieval castle usually requires a flight to Europe (and/or some creative handiwork with a cardboard box), thanks to rental and resort sites like Airbnb, VRBO, and HomeAway, it's as easy as booking a hotel room ⏤ except, of course, it includes a drawbridge.
Admittedly, most castle rentals in the United States are simply houses built to resemble castles (obviously), but they're still fun to stay in and certain to spark the kids' imagination. Not only that, but most are equipped with all the amenities of a modern luxury rental and are absolutely huge, accommodating big groups for a festive family getaway back to the middle ages. With that in mind, here are five of the coolest castles families can rent for their next getaway.
Gothic Castle With 500-Acre Estate
Rindge, New HampshireAccommodations: Sleeps 22 guests, eight bedroomsRate per night: $1,500 Gothic arches. Check. Secret stairways. Check. 500 acres of land for guests to roam and serfs to farm. It's got that too. This luxurious, 11,000-square-foot castle on a hill in New Hampshire is built for big groups and comes equipped with a hot tub, giant pool, and even a bar built into the downstairs game room ⏤ and not a small wet bar, like, a full tavern.
The Castle Cottage Overlooking Lake George
Bolton, New YorkAccommodations: Sleeps six guests, two bedrooms, three bedsRate per night: $495 It may not be the North Mountain or the fjords of Arendelle, but the panoramic views of Lake George and the Adirondacks offered from this gated New York castle cottage are equally as stunning. It accommodates a family of six, is guarded by a giant lion statue, a sits adjacent to the entirely separate Highlands castle. The only catch, the owners restrict kids under the age of 9-years-old.
The Castle
Palmyra, IllinoisAccommodations: Sleeps 21 guests, five bedroomsRate per night: $893 Dating all the way back to the late middles ages of 2004, this modern castle for 21 boasts five wood-burning fireplaces, a game room with a pool table, and even a private observatory. It's also located on a 40-acre forested estate complete with a pond, beach, and pontoon boat.
The Idaho Castle
Hope, IdahoAccommodations: Sleeps 16 guests, five bedroomsRate per night: $350 Overlooking beautiful Lake Pend Oreille in the tiny town of Hope, Idaho, this 6,300-square-foot castle/house on VRBO sits on the side of a mountain (its three striking spires jutting out through the trees) and features an extended front patio, bunk beds for the kids, and a pool table.
Castle In the Woods
Travelers Rest, South CarolinaAccommodations: Sleeps eight guests, three bedroomsRate per night: $91 Hidden in a forest on Tubbs Mountain outside of the South Carolina town of Travelers Rest (about 25 minutes from Greenville), this three-bedroom stone house accommodates eight guests and includes a turret (yes, a turret), wood-burning fireplace, and a library that looks straight out of Hogwarts. The only issue, the host still lives there so you don't get the run of the castle.
This article was originally published on