The 10 Best Car Camping Spots in America
There's no better way to ease kids into the great outdoors than with a summer camping trip.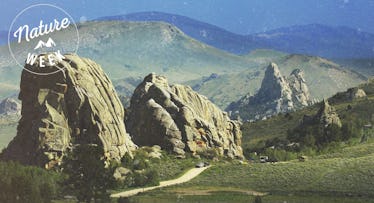 Facebook / City of Rocks National Reserve
No matter how avid a backpacker you were before kids, camping with small children (or a baby) is an entirely different adventure. Not only do tiny legs limit how far you can wander, but even a single night sleeping under the stars now requires exponentially more gear. Whereas you once hiked miles into the backcountry and cut the handle off your toothbrush to save weight, you're now scoping out the sites closest to the campground bathrooms and stuffing your pack with extra diapers and baby food.
And therein lies the beauty of car camping: It offers an easy way to get young kids into the wild. Not only do you have plenty room for a bigger tent, more sleeping bags, and extra equipment, but everything ⏤ including the water, bathrooms, and cold beer ⏤ is closer if something goes wrong. Even better, car camping is doable for almost anyone: No real outdoor experience is required. All you need to know are the best places to go. Which is why rounded up the 10 best car camping sites for families in every region of the country.
Mid Atlantic
Assateague Island National Seashore Campgrounds
Maryland/Virginia
This barrier island on the Virginia/Maryland coast is famous for its sand dunes, bald eagles, and wild ponies. Yes, there are wild horses running around the entire island. Don't try to ride one no matter how much the kids beg. There are also two drive-in campgrounds (on the Maryland side) with almost 100 sites, many of which are practically on the beach, that include amenities such as fire pits, picnic tables, and a cold-water shower/toilets.
Midwest
Harrington Beach State Park
Wisconsin
Harrington Beach State Park is located along the sandy shore of Lake Michigan in Ozaukee County, Wisconsin. There are plenty of opportunities to play between campsite hangouts — including a half-mile interpretive nature trail, a hiking trail around Quarry Lake, a historical trail highlighting the history of the "Stonehaven" mining community once located in the park, and about two miles of cross-country ski trails in the winter. Quarry Lake and Puckett's Pond provide fishing for trout, smallmouth bass, and panfish. Plus, there's an open picnic shelter and sand volleyball court to get kids excited about spending their days outside.
Northeast
Pearl Ponds
Monson, Maine
Opened and maintained by the Appalachian Mountain Club, these isolated campsites near the town of Monson combine the necessary amenities of a campground (picnic tables, fire pits, outhouses, on-site canoes) with the charms of the backcountry (access to five lakes and trails). Gulf Hagas, a 400-foot-deep gorge filled with gushing waterfalls like Screw Auger Falls, is the perfect destination for a day hike on the Rim Trail. No reservation needed, but a $10 fee must be paid at KIJM checkpoints May through October.
Southeast
Blanchard Springs (Ozark National Forest)
Arkansas
Swimming holes, caverns, rolling hills, and accessible wilderness — that's Arkansas' version of the all-natural goods. Take a tour of the Blanchard Springs caverns during the day, find some water to take a dip in during the evening, and enjoy a peaceful night at a $10-a-night campsite. The Sylamore Creek Hiking Trailhead is located in the campground and makes for a great morning wander through the forest. Additionally, campers have access to restrooms, showers, grills, and even tent pads. Not a bad deal.
Southwest
Grand Canyon National Park (Crazy Jug Point)
Arizona
You'd think that Grand Canyon National Park would be the last place with accessible car camping. Not the case. Crazy Jug Point offers lip-of-the-canyon car side camping that blows away the notion that Grand Canyon's grandeur comes with a crowd. Crazy Jug is a hidden gem managed by Kaibab National Forest, which allows dispersed camping and vehicle access along 27 miles of smooth dirt roads. From camp, you can see the Colorado River coming out from behind the Powell Plateau, wrapping around Great Thumb Mesa, and winding far downstream. Plus, the Bill Hall Trail starts less than a mile west from camp for the perfect day hike option. The only downside? No restrooms. The upside? No camping fees, either.
West
City of Rocks National Reserve
Idaho
A national monument, so a lot less crowded than a national park, City of Rocks is home to granite pinnacles and monoliths that stand in excess of sixty stories tall — plus a few drive-in campsites (with vault toilets, showers, and picnic tables ) that put you right in the middle of it all.
Trillium Lake Campground
Oregon
Trillium Lake Campground is a popular campground for a reason: It's nestled in an evergreen forest at the base of Mt. Hood. And although the campsites get busy, those trees still offer the family a sense of seclusion. The facilities here are clean and well-maintained, and the lake is only a 20-minute drive from Government Camp — a cute town on the side of Mt. Hood where you can treat the kids to huckleberry milkshakes after a swim. Head up the mountain 20 more minutes and visit the iconic Timberline Lodge.
Alaska and Hawaii
Savage River Campground (Denali National Park)
Alaska
Denali National Park can be remote, tough, and downright rugged. But it can be tamed just enough to enjoy with small children. Camping on Savage River gives you the opportunity to see the majestic mountain of the park's namesake on a clear day, and it's adjacent to a new trail system so you can explore other areas of the park. Additionally, this campground allows free access to the Savage River loop shuttle to Savage Loop 2 mile trail — plus, it's close enough to civilization to drive to Glitter Gulch for restaurant and shop stops. When you're not staring at the mountain or souvenir shopping, keep your eyes peeled for caribou, bear, lynx, Dall sheep, and other wildlife. Reservations aren't required but can be made on the park's website.
Namakanipaio Campground (Volcanoes National Park)
Hawaii
This eucalyptus-shaded oasis is in high-demand and first-come-first-served, but getting a campsite is well worth the effort. It's the only campground accessible by car in the entire park and campers who get a spot are rewarded with access to the beauty of Volcanoes National Park — the trail to Kilauea Crater is just a half-mile away from your tent. No permit is needed for tent camping, and facilities include pavilions with barbecues and a fireplace, picnic tables, outdoor dishwashing areas, restrooms, and drinking water.