10 Unique American Candy Stores That Offer More Than Just Sugar
No golden ticket required.
by Dylan Love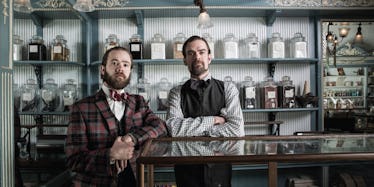 You know how Gene Wilder once said, "Candy is dandy, but liquor is quicker"? Well, if you've already taken your kid to all of the best bars for families in America, it's time to pop back in the best sweet shops in the country. Sure, there's no shortage of sugar from coast to coast, but these stores offer your kid something more than just representatives from gummy, chocolaty, candy-coated, or mallow food groups.
Dylan's Candy Bar, New York, NY
The NYC flagship was founded in 2001 by Dylan Lauren (you may know her dad, Ralph). Outside of the 3 floors of sweets, there's a restaurant attached that features candy-inspired mixed drinks for adults. But do they have Skittlebrau?
Shane Confectionary, Philadelphia, PA
Opened in 1863, this place has the title as the oldest continuously run candy shop in the U.S. They make their own candies right there in the store, with some unique gummies and caramels that are the hometown equivalent of a cheesesteak. They also price most things by piece instead of pound — so they definitely are over there watching you sample.
Boyd's Retro Candy Store, Toledo, OH
The outside of Boyd's resembles a tiny pink castle, but inside the only thing your kid can get medieval on are some old timey cream filberts (a.k.a., mothballs). They also keep a large stock of hard-to-find sodas. So if grandpa hasn't had a Nehi since the war, this would be a good place to relive the glory days.
Albanese Confectionery, Merrillville, IN
Albanese is a family-operated business that touts the "World's Best Gummies." But, of course, you'll have to sample every single one to validate that claim. Walk in and gaze upon their chocolate fountain (and despair). Then head over to their giant selection of single flavor gummies and mix and match like some mad gelatin scientist.
Big Top Candy Shop, Austin, TX
It isn't just a clever name. This 3-ring confectionery circus has all that retro candy your kid knows nothing about, as well as an candy cigarette machine (ooh, un-PC) and an old-fashioned soda bar. It sadly doesn't take this bar theme to the logical conclusion with candy off-track betting or candy Keno.
Sugar Shop, Brooklyn, NY
This classic, minimalistic candy shop is self-serve in the front, party in the back. Literally. There's a party room adjacent to the store where, on most weekends, you can find a bunch of 3-year-olds experiencing a sugar high they may never come down from.
Candyality, Chicago, IL
The 2 locations in Chicago (one in the process of moving to Wicker Park) each have their own merits. Both have dresses made of Skittles or paintings made out of jelly beans. Both have a huge selection of nostalgic and hard-to-find candies. But their big sell is candy personality profiling. They can tell you if your love of Sour Patch Kids explains why yours is pouting in the corner.
Chutters, Littleton, NH
This place has a massive 112-foot-long counter that comes with a Guinness World Record and holds over 500 treats to choose from. Your bag will be full of gummy bears, jelly beans, chocolate before you even reach the end of the first yard.
The Candy Store, San Francisco, CA
The creatively-named shop in SF has your bulk-candy needs covered, but also boasts a variety of imported treats, international candies, and exotic gummies. Tell your kids this is where the real San Francisco treat is — that's your God given right as the guy who makes #dadjokes.
Jelly Belly Store, Fairfield, CA
Millions of pounds of jelly beans translate to plenty of free samples. The variety of flavors rival anything that Willy Wonka came up with (although, science has still not discovered the secret to snozzberry). The real value is taking home a bag of Belly Flops, which are rejected beans that are cheaper (and very edible) but lack the signature "belly" shape.