The 8 Best Books for Toddlers
From 'Can You Make a Scary Face' to 'Wind in the Willows', these are the toddler books your little one will remember forever
by Lauren Steele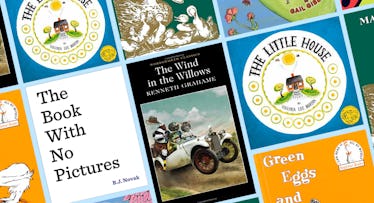 Reading books for toddlers early and often will help your little ones learn to speak, interact, and bond with those around them, as well as learn how to read themselves. The benefits of reading are multi-faceted, but equipping your toddler to better understand the world around them and be empathetic people are well worth the 15 minutes a night spent with Curious George. You just have to know which books are the right ones to get your toddler's attention and keep it.
"Toddlers begin to love real story books — with simple plots that focus on familiar experiences or characters," explains Tim Shanahan, Distinguished Professor Emeritus of literacy at the University of Illinois at Chicago, where he was the founding director of the UIC Center for Literacy, and former director of reading for the Chicago Public Schools. "At these ages, children may follow a particular character from book to book—and wordless books can be fun because it allows kids and parents to make up the stories. Toddlers are nothing if not silly, so they like the absurd." Here's our list of 8 books for toddlers that are silly and smart enough to entertain and educate your child.
RELATED: The 50 Best Children's Books of the Last 10 Years
Can You Make a Scary Face
By Jan Thomas
"Can You Make a Scary Face," is a book that is going to entertain both you and your toddler — if you can stop laughing long enough to actually read it. "Books like this are a hit at this age because they enjoy doing more than just listening," Shanahan says. "Toddlers love that kind of interaction and dynamism with whatever it is they're doing — so embrace the humor of odd sounds and strange names, repetitions, and patterns within stories that capture their attention." This book has you covered on all fronts.
The Wind in the Willows
By Kenneth Grahame
It doesn't have to be all sound effects and goofy names to be entertaining for your four-year-old. According to Shanahan, around this age parents can introduce more formidable chapter books — aka toddler books they'll have to read to the kids, not read with the kids. "Here I'm talking about reading classics like The Wind in the Willows, The Hobbit, or Alice in Wonderland," he says. "Such extended reads expose preschoolers to big ideas, complex language, and require extended attention and place greater memory demands on the kids, while emphasizing the language over pictures."
The Book with No Pictures
By B.J. Novak
This one is highly regarded due to its sophisticated use of the term, "Boo Boo Butt." Penned by award-winning humorist and actor B.J. Novak, reading The Book With No Pictures will turn your toddler into a comedian.
The Little House
By Virginia Lee Burton
Urban sprawl, emotion, happy endings, and heroic moments — there's a reason why this Caldecott Medal-winning book (written in 1942) endures as one of the most beloved reads for kids.
Make Way for Ducklings
By Robert McCloskey
Described as "one of the merriest picture books ever" by The New York Times, this is another timeless book for toddlers that brings the young'uns into a world of fun illustrations, silly characters, and a storyline that will keep them engaged — I mean, who doesn't want to know what happens to a family of ducks that decides to live on an island in a pond in the Boson Public Garden?
Ladybugs
By Gail Gibbons
This is an example of the good things that happen with you find an informational text rather than a storybook that your child can connect with. "This is just one example of good informational reading," Shanahan says. "Some youngsters love pirates or trucks or drones — you can find books on all of those."
Pretty Much Anything By Dr. Seuss
"The best book for a toddler is the one the toddler pulls out of the book box and thumbs through independently or asks you to read with him or her," Dr. Timothy Gentry, internationally acclaimed author, researcher, and educational consultant known for his ground-breaking work in education on topics such as early literacy and the author of Raising Confident Readers, says. "Dr. Seuss stories have heavy support from illustrations, familiar ideas and concepts, and repetitions of phrases such as 'I am Sam, Sam I am.' They offer opportunities for fathers to ham it up and have fun with sound effects or movement such as animal noises of flapping like a bird's wings."
Three More Classics
By Beatrix Potter
Charlie and the Chocolate Factory
By Roald Dahl
By E.B. White
Don't fear the classic chapter books. "Parents can introduce more formidable chapter books to their toddlers as books they'll have to read to the kids," Shanahan explains. "Such extended reads expose preschoolers to big ideas, complex language, and require extended attention and place greater memory demands on the kids, while emphasizing the language over pictures."