The Best Books for Babies
Five drool-worthy books for babies that will get baby off to the right start.
by Lauren Steele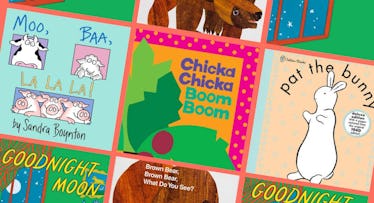 Reading books for babies to your newborn isn't just an important pastime for bonding — it is also crucial for their cognitive development. Reading can teach babies about communication, and provides stimulation to build listening, memory, and vocabulary skills. Plus, books are the perfect way to introduce concepts such as numbers, letters, colors, and shapes in a fun way.
Richard Gentry, an internationally acclaimed author, researcher, and educational consultant known for his ground-breaking work in education on topics such as early literacy and the author of Raising Confident Readers, agrees with the benefits of reading to little ones, but only if you're reading the right stuff. "The ideal books for babies are books to help you build intelligence, vocabulary, concepts and jumpstart reading," he says. "But what's most important is that it's a way that fathers can bond with babies. You and your baby will love each other more by reading together."
RELATED: How to Tell a Bedtime Story That Puts Children to Sleep
According to Gentry, the best books to read with your baby fall into one — or several — of these seven categories:
Books you can chant or sing
Easy-to-read books with predicable, repeated patterns of text
Board books (sturdy for withstanding baby handling and chewing)
Fun story and information books
ALSO: How to Teach Children New Words by Showing Them Stuff
So where to start? These 5 books check all the boxes, and are perfect to share with your baby.
Goodnight Moon
By Margaret Wise Brown
"You will read it 300 times over the next two or three years if it becomes one of your child's favorites and every time your baby will notice or re-engage his or her brain with something new," he says. "Seeing the same words on the page over and over as you do the voice to print match helps children learn to memory read this book, which is a jumpstart to reading."
Moo, Baa, La, La, La
By Sandra Boyton
This children's book is one that that will engage your baby and that you won't want to rip to shreds by the fifth re-read. "I love books like Moo, Baa, La, La, La where dogs say, 'bow wow,' cats 'meow,' cows 'moo' and pigs say 'la,la, la,'" Gentry says.
Pat the Bunny
By Dorothy Kunhardt
"Experience tells me that any book that captures your baby's attention is a keeper," says Tim Shanahan, Distinguished Professor Emeritus of literacy at the University of Illinois at Chicago, where he was the founding director of the UIC Center for Literacy, and former director of reading for the Chicago Public Schools. "Books like Pat the Bunny both sound and feel good. Books with flaps and buttons and different textures and sounds turn books into a kind of toy for babies, which is a good thing."
Brown Bear, Brown Bear
By Bill Martin
Bold simple artwork with bright colors, faces, simple objects, simple language, and simple rhymes is a winning combination for your baby, and for this story. There's a reason why it's an endeared classic.
Chicka Chicka Boom Boom
By Bill Martin and John Archambault
Chicka Chicka Boom Boom is an indestructible classic. It's a cardboard book for babies full of Technicolor illustrations and fun rhymes—all while teaching kids about letters. That means it's perfect not only for entertaining, but educating, your little one (but at this age entertaining them is of the utmost importance, if we're being honest).