The 21 Best Books for 3-Year-Olds
No longer a toddler. Not quite a grade-schooler. What should they read?
by E.L. Kennedy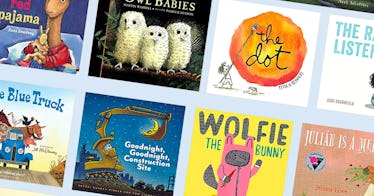 Finding the best books for 3-year-olds is an adventure worthy of its own book. By the age of 3, toddlers can handle increasingly sophisticated books. They can follow more complex narratives and sit still for longer stories than they might have as 2-year-olds. In general, toddlers are ready to dive into stories that are more interactive and layered.
And most 3-year-olds will have stopped eating their books and started devouring stories instead, meaning parents of 3-year-olds can move away from board books and toward early picture books with narrative, heart, and humor. Though they'll still love a simple book about concepts like colors, numbers, or farm animals. (And parents will appreciate a shorter book come bedtime.)
These 21 books for 3-year-olds contain silly, moving, and interactive stories that parents and toddlers will appreciate for years to come. Just be prepared to read them a thousand times.
The Best Books for 3-Year-Olds
Every product on Fatherly is independently selected by our editors, writers, and experts. If you click a link on our site and buy something, we may earn an affiliate commission.